| | |
| --- | --- |
| Distillery | Jim Beam |
| Type&Region | Kentucky, USA |
| Alcohol | 50% |
| Composition | Rye, corn, and malted barley |
| Aged | NAS |
| Color | Dark amber |
| Price | $40(750 ml) |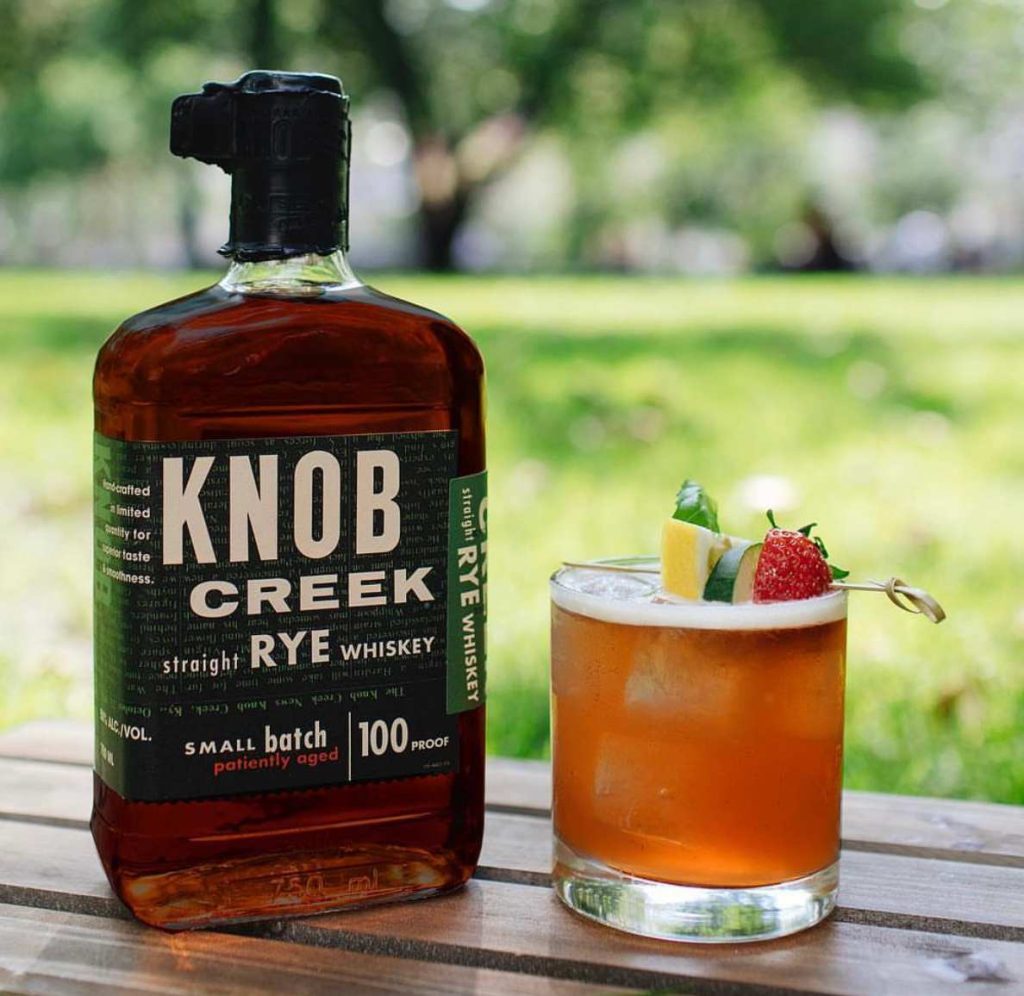 The Art of Making
Knob Creek Rye is made from a blend of rye, corn, and malted barley, all grown in Kentucky. This combination gives the whiskey its signature spicy flavor and smooth finish. The grains are milled and mashed before being fermented and distilled in copper stills for maximum flavor extraction. The distillate is then put into charred oak barrels to age for 9 years in order to develop its color and flavor profile.
The Barrel Aging Process
The barrel aging process is one of the most important steps in creating Knob Creek Rye. The barrels impart a distinct character to the whiskey that would otherwise be impossible to achieve without them. During this time, some of the whiskey evaporates—a natural part of aging called "the angel's share"—which helps concentrate flavors like vanilla and caramel. After nine years, each barrel is assessed by a master taster for quality control before it can be blended with other barrels for consistency across production batches.
Blending & Bottling
Once all of the barrels have been inspected, they are combined into small batches and bottled at proof specified by both federal regulations and Jim Beam's internal regulations. Each bottle also contains a special label noting when it was distilled along with any notable characteristics that make it unique from other batches or bottles produced in that period. With this level of attention paid to every detail, it's no wonder why Knob Creek Rye has become such a favorite among whiskey connoisseurs around the world!
Tasting Notes
NOSE: Seductive caramel syrup and rye spice, coupled with zesty citrus notes accompanied by a gentle hint of sour cherry candy. Balanced oak, clove and raisiny dried fruit are delicate yet present in the aroma. Linger on your tongue as sweet caramel and vanilla drift into view. Eventually settling down to reveal those lingering moments of cocoa and mint that come together to create an unforgettable whiskey experience!
PALATE: Aromas of rye spice, luscious red berries and cherries, citrus peels, oak barrel hints of peanuts and caramel blend with nutmeg and vanilla for a softer profile that also features pepper notes, leather nuances, and refreshing menthol.
FINISH: Spicy, caramelized sweetness with a hint of oak and creamy vanilla.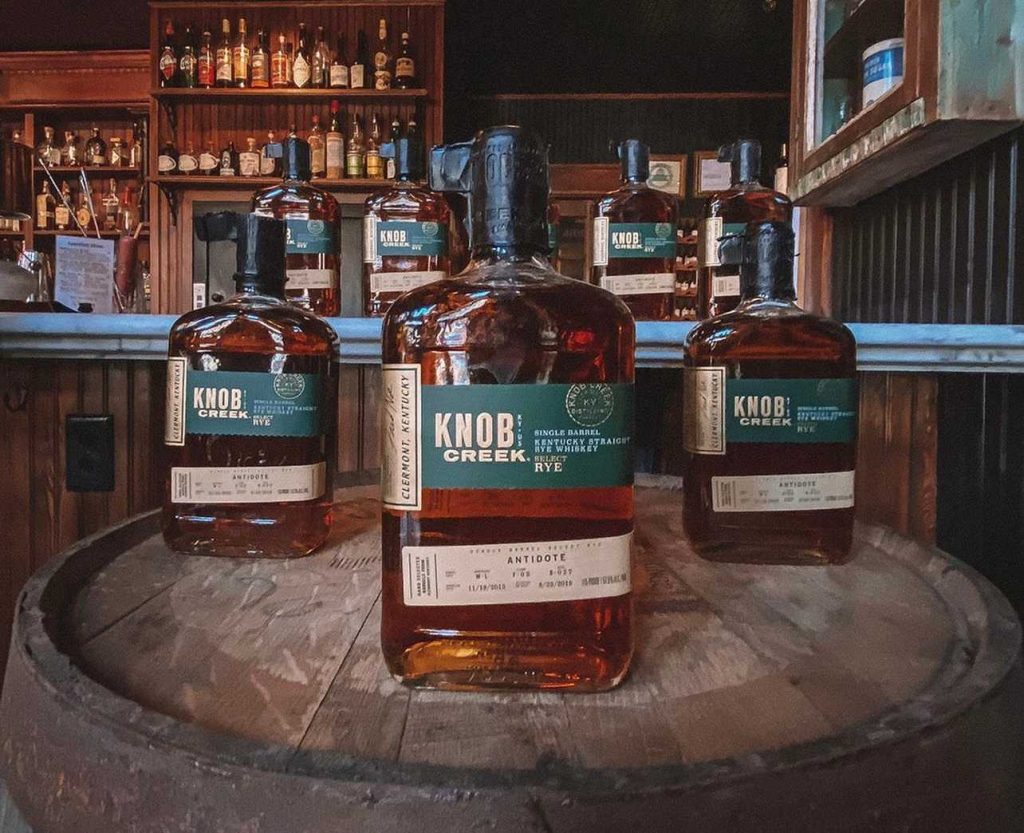 The Complex and Delicious History of Knob Creek Rye Whiskey
Knob Creek was founded in 1992 in Clermont, Kentucky by Jim Beam (now owned by Beam Suntory). Its name comes from the small creek that runs through the property where Jim Beam had his distillery during Prohibition. The whiskey was launched as part of Jim Beam's "Small Batch Collection" which included other labels such as Booker's, Basil Hayden's, Baker's, and Knob Creek. All of these whiskeys are made with high-quality ingredients and carefully crafted recipes to create unique flavors.
Knob Creek Rye Whiskey is made from a mash bill of 95% rye and 5% malted barley. This combination creates a whiskey with an intense flavor profile that is both complex and robust. The whiskey is then aged for nine years in new charred oak barrels, giving it a rich color and a smooth finish.
The Rise in Popularity
In recent years, Knob Creek Rye Whiskey has become increasingly popular among whiskey connoisseurs who appreciate its deep flavor profile and long finish. This popularity can be attributed to its craftsmanship as well as its strong presence on social media platforms like Instagram where it is often featured in photos shared by bartenders, mixologists, and other enthusiasts. The brand also sponsors events such as bourbon festivals which further solidifies their presence among the whiskey community.
Perfectly Mixed Knob Creek Rye Whiskey Cocktails
Old Fashioned
The Old Fashioned is one of the most popular whiskey cocktails and it's easy to understand why. It's simple combination of just a few ingredients make it an easy-to-enjoy drink that highlights the taste of the whiskey. To make an Old Fashioned with Knob Creek Rye Whiskey, all you need is 2 ounces of Knob Creek Rye, 1/2 ounce simple syrup, two dashes Angostura bitters and an orange peel garnish. Start by combining the Knob Creek Rye, simple syrup and Angostura bitters in a rocks glass. Fill the glass with ice cubes and stir until chilled. Then take your orange peel garnish and express its oils over the top before dropping it into the glass as a finishing touch.
Manhattan
Another classic whiskey cocktail is the Manhattan. This cocktail has been around for over 100 years and has graced many bars since then. Made with just three ingredients (Knob Creek Rye, sweet vermouth and Angostura bitters) this drink can be dressed up or down depending on how you prefer your cocktails. To make a Manhattan with Knob Creek Rye Whiskey start by combining 2 ounces of Knob Creek rye, 1 ounce sweet vermouth and 2 dashes Angostura bitters in a mixing glass filled with ice cubes. Stir until chilled then strain into a chilled coupe glass or rocks glass with fresh ice cubes if desired. Finally express an orange peel over top before dropping it into the glass as a garnish.
Sazerac
Like many other classic cocktails, this one only calls for four ingredients – Knob Creek Rye Whiskey, peychauds bitters, absinthe (optional) and simple syrup – making it easy to mix up at home or behind any bar countertop! To make this delicious Sazerac begin by coating an old fashioned or rocks glass with absinthe or Herbsaint (if using). In another glass combine 1 ½ ounces of Knob Creek rye whiskey, 3/4 ounce simple syrup and 2 dashes Peychaud's Bitters together before stirring until chilled . Pour that mixture into your prepared old fashioned or rocks glass along with fresh ice cubes if desired before expressing an orange peel over top before dropping it in as a garnish!
Conclusion
Whether you're new to rye whiskeys or are an experienced connoisseur, you can't go wrong with Knob Creek Rye. With its deep history and bold flavor profile, this award-winning whiskey will satisfy even the most demanding palates. So grab yourself a bottle today and explore what makes Knob Creek Rye so special!