| | |
| --- | --- |
| Distillery | MGP |
| Type&Region | Maryland, USA / Indiana, USA |
| Alcohol | 42% |
| Composition | Rye, (at least 51%), Corn and Malted Barley (blend of MGP's high rye (95%) and low rye (51%) mashbills) |
| Aged | NAS (4+ years) |
| Color | Copper |
| Price | $45(750 ml) |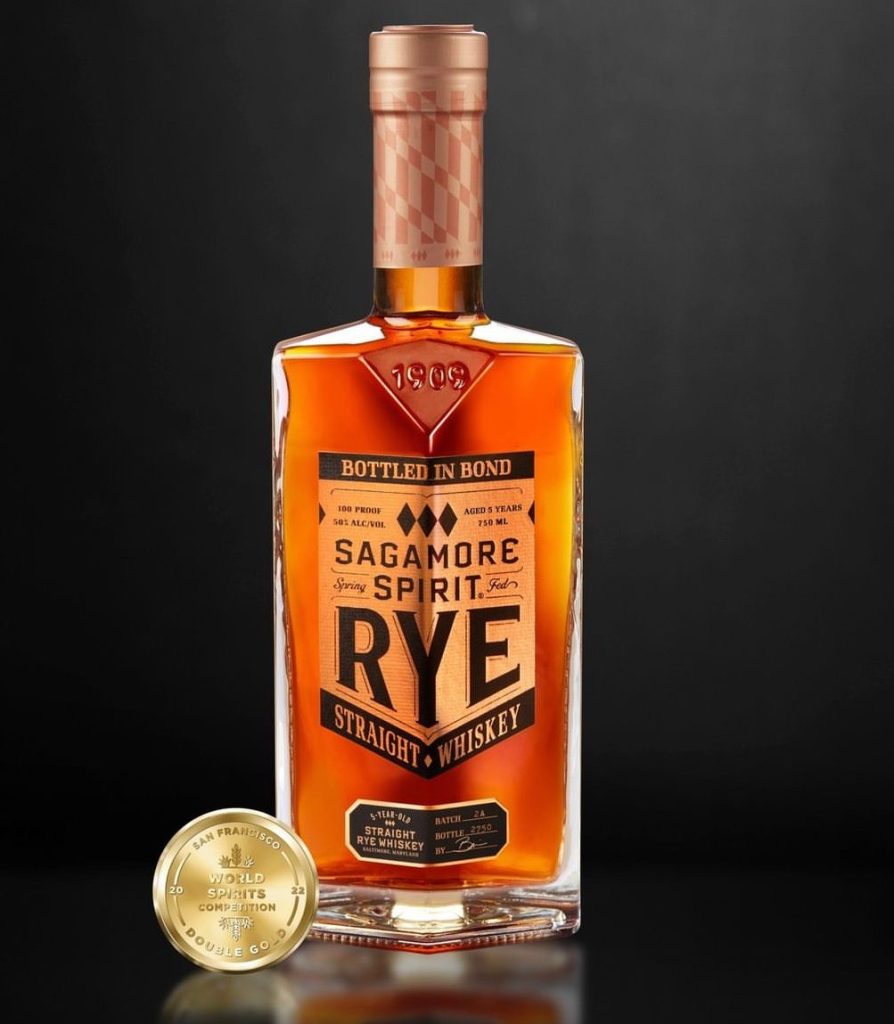 The Art of Making
Sagamore Spirit uses only the finest ingredients for their premium rye whiskey. They source each grain from local farms in Maryland, including corn, wheat, barley, and rye. Each batch is inspected by their team to make sure it meets their standards for flavor and consistency before being approved for use. The grains are then milled on-site at their distillery in Baltimore to ensure they have complete control over every step of the process.
The Distilling Process
Once all the grains have been milled, they're combined with water from a natural spring near Baltimore to create a mash that's ready for distilling. The mash is then brought up to temperature in a copper still before being distilled twice—first through a column still, then through an alembic pot still—to produce a clean spirit with notes of vanilla, caramel, brown sugar, and spice. After distillation is complete, it's time for aging.
Aging & Bottling
Sagamore Spirit ages its rye whiskey in charred oak barrels sourced from Kentucky bourbon producers. This process gives the whiskey its signature flavor profile as well as its deep amber color. Once it has been aged to perfection (typically between two and four years), each batch is bottled on-site at their facility in Baltimore using an automated bottling line that ensures consistency with each bottle produced.
Tasting Notes
NOSE:Sweet caramel, pungent dill, spicy cinnamon, oaky oak, zesty orange peel, creamy vanilla and chalky chalk.
PALATE:An aromatic blend of decadent caramel, oaky undertones, a hint of cinnamon and cloves, the zestiness of dill and orange peel with a sweet finish of vanilla candy.
FINISH: The dominant flavors of this product are a tantalizing blend of spices, oak, dill, clove, menthol and hints of orange peel.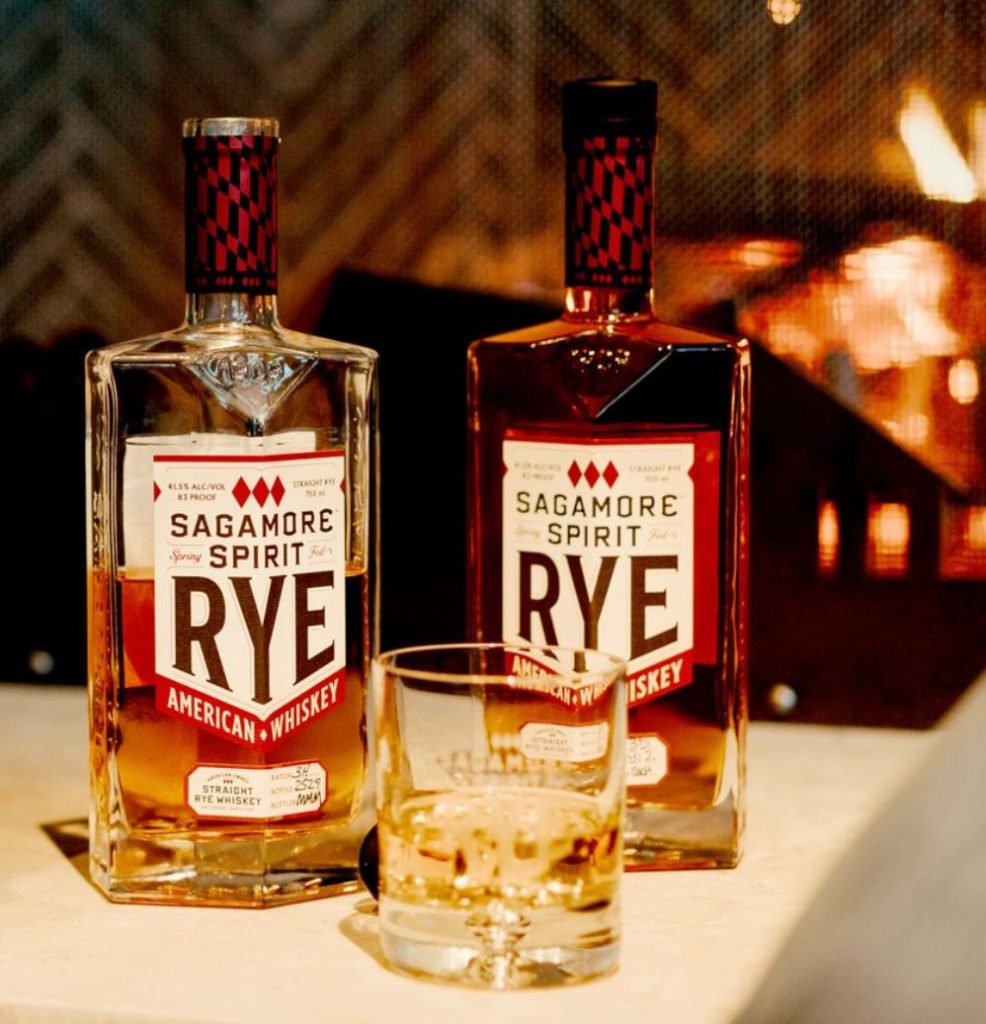 A Visual History of Sagamore Spirit Rye Whiskey
In 2015, Sagamore Spirit released its first batch of limited edition rye whiskey to great fanfare. The whiskey was handcrafted using a combination of local grains and spring water from Sagamore Farm, a horse farm owned by Plank's family for more than 100 years. The flavor profile was unique; it had notes of dried fruit, spice and oak with a smooth finish that left drinkers wanting more. It quickly became a staple in bars and restaurants across Maryland and beyond.
The Rise Of Sagamore Spirit Rye
Since then, Sagamore Spirit has continued to grow in popularity. In 2017, the company released its first full line of spirits including other variations of rye whiskey such as Cask Strength Rye Whiskey and Single Barrel Reserve Rye Whiskey. By 2019, the brand was available nationwide and won numerous awards including "Best American Craft Spirits" at the San Francisco World Spirits Competition and "World's Best Rye Whisky" at the World Whiskies Awards.
The Rise Of Distilling At Sagamore Farm
Today, Sagamore Farm is home to one of Maryland's largest distilleries which produces both raw spirits as well as finished products like vodka, gin and rum. The company also offers tours and tastings for those who want to learn more about the process behind their award-winning spirits. Visitors can learn about everything from grain selection to barrel aging while tasting some of their favorite whiskeys along the way!
Fun Cocktails to Make with Sagamore Spirit Rye Whiskey
The Hot Buttered Rye
This warm drink will be sure to please on colder days! For this recipe, you'll need 2 ounces of Sagamore Spirit Rye Whiskey, ½ ounce honey syrup (equal parts honey and hot water), ½ teaspoon unsalted butter, ¼ teaspoon ground cinnamon, ¼ teaspoon ground nutmeg, 1 dash Angostura bitters (optional). Mix together all ingredients except the rye whiskey in a mug or heat-resistant glass; add boiling water to fill the mug halfway (about ⅓ cup). Stir until butter has melted completely then add in your rye whiskey and top off with boiling water as needed. Finish by stirring once more before garnishing with grated nutmeg or cinnamon stick if desired. Enjoy!
The Manhattan
This classic whiskey cocktail is perfect for sipping on a cold night or as an accompaniment to dinner. All you need is 2 ounces of Sagamore Spirit Rye Whiskey, 1 ounce of sweet vermouth, and two dashes of Angostura bitters. Pour all ingredients into a mixing glass filled with ice and stir until chilled. Strain into a chilled coupe glass and garnish with a brandied cherry. Enjoy!
The Old Fashioned
Another timeless favorite, this drink only requires 3 ingredients: 2 ounces of Sagamore Spirit Rye Whiskey, ½ ounce simple syrup, and three dashes of Angostura bitters. Start by adding the simple syrup and bitters to your mixing glass filled with ice; stir until well combined. Add in your rye whiskey and stir again until chilled. Strain into an old fashioned glass filled with one large cube of ice and garnish with an orange peel or maraschino cherry. Cheers!
Conclusion
From its carefully crafted grain bill to its proprietary yeast strains to its distinctive water source from Maryland's historic Sagamore Farm—it's easy to see why Sagamore Spirit rye whiskey has become one of the most popular whiskeys in America today! With its smooth flavor profile that includes notes of clove, cinnamon, vanilla and oak; this premium spirit will surely delight any serious whiskey lover! Whether you enjoy sipping it neat or mixing it into your favorite cocktail recipe—Sagamore Spirit rye whisky will provide you with a truly memorable experience every time!