| | |
| --- | --- |
| Distillery | Heaven Hill Distillery |
| Type&Region | Kentucky, USA |
| Alcohol | 55% |
| Composition | 51% Rye, 37% Corn, 12% Barley |
| Aged | 6 years old |
| Color | Crimson caramel |
| Price | $50(750 ml) |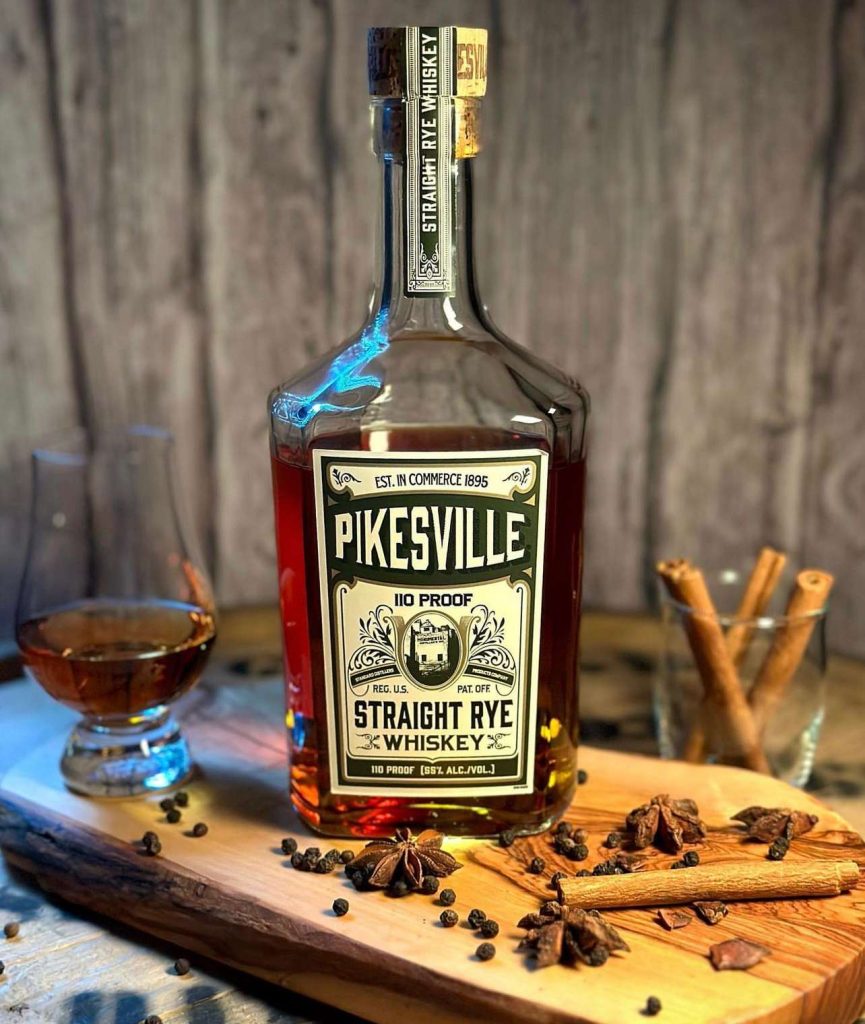 The Art of Making
The process for making Pikesville Rye Whiskey is quite involved and requires extreme attention to detail. The first step is selecting the grain – rye and corn are used in most batches – which must be locally sourced and carefully inspected for quality. Once the grain has been approved, it's milled into grist, mixed with water, then cooked in large kettles to create a sweet mash known as wort. Yeast is then added to convert the mixture into alcohol.
After fermentation, Pikesville Rye Whiskey is distilled twice before entering new charred oak barrels for aging. During this process, it's important that temperature and humidity levels are carefully monitored to ensure maximum flavor development. After aging for at least six years (some batches can age up to 10 years), it's bottled and ready for sale!
Tasting Notes
NOSE: An aromatic blend of rye spice and sweet flavors such as caramel, vanilla, citrus peel, brown sugar, red licorice complemented with woody undertones and hints of fruit and a delicate herbal aroma.
PALATE: Enjoy a velvety intermingling of rye spice and delectable notes of caramel, marzipan, pepper, wood, red licorice and herbal hints. Light undertones of earthy leather and subtle fruit flavours bolster this already multi-dimensional whiskey for an unforgettable taste experience.
FINISH: Long, exotic and tantalizingly aromatic with woody, toffee-like citrus and chocolate nuances.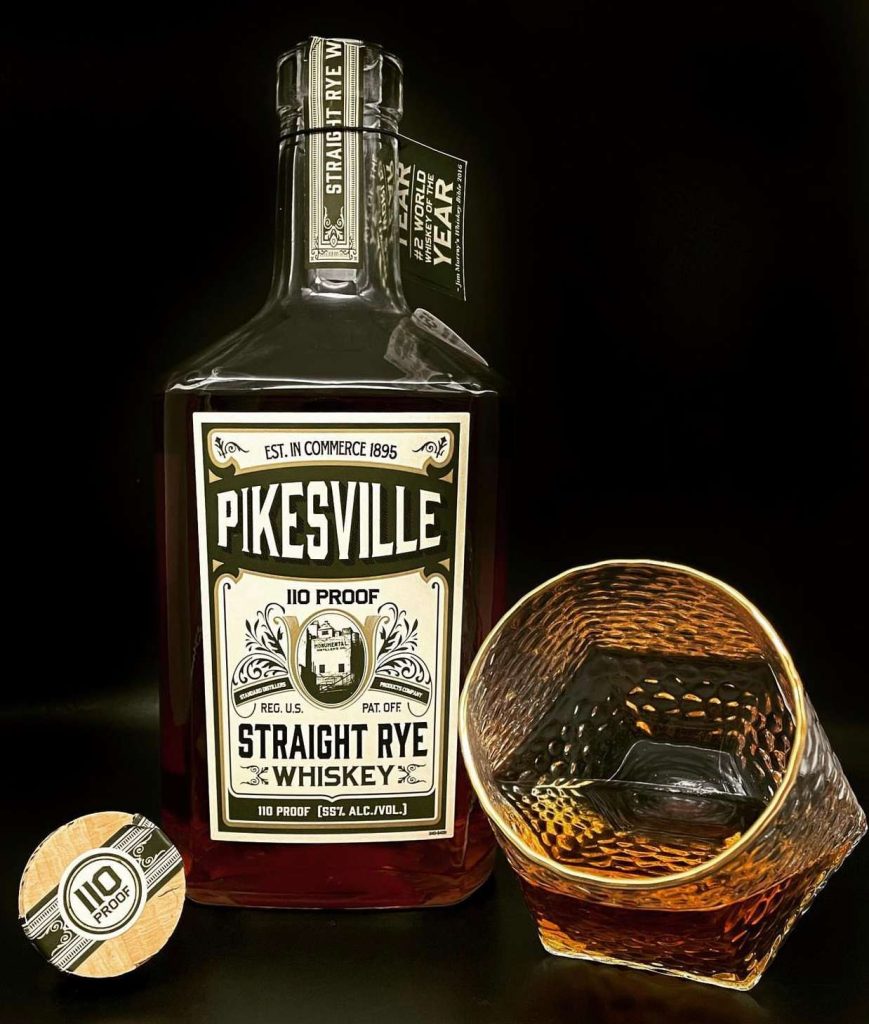 The Origins of Pikesville Rye Whiskey
Pikesville is Maryland's oldest rye whiskey, first produced in 1895 by the Maryland Distilling Company in Baltimore, Maryland. The company was founded by Charles Gesner, who left Germany for the United States at age 22 to pursue his dream of creating his own distillery. He eventually settled in Baltimore and began producing high-quality rye whiskey, which he named after the nearby town of Pikesville. In 1912, Gesner sold his distillery to Joseph J. Storch & Sons, who continued producing Pikesville Rye until Prohibition shut it down in 1920.
The Rebirth of Pikesville Rye Whiskey
After almost 70 years of silence, Pikesville Rye returned to shelves in 1989 thanks to Heaven Hill Distilleries Inc., a Kentucky-based distillery that acquired the rights to produce it from Storch & Sons' descendants. To maintain its authenticity, Heaven Hill used the same formula and production methods developed by Charles Gesner nearly 100 years prior—a commitment that was rewarded when Pikesville won gold medals at both the San Francisco World Spirits Competition and New York International Spirits Competition in 2006.
Today, Pikesville remains one of America's favorite ryes—and it's easy to see why! With its bold flavor profile and smooth finish, it's no wonder why this classic American rye has lasted for more than 125 years!
Pikesville Rye Recipes for Every Occasion
Blog Introduction: If you're looking for something unique to mix up at your next happy hour, look no further than Pikesville Rye whiskey. This premium spirit is the perfect base for crafting some delicious cocktails that will have everyone asking you for the recipe. Whether you're looking for something fancy or just want something light and refreshing, there are plenty of options when it comes to making drinks with Pikesville Rye whiskey. Here are some recipes that are sure to please.
The Manhattan – A Classic Cocktail with a Twist
This classic cocktail has been around since the late 19th century and has been tweaked many times over the years. To make your own twist on the Manhattan, you'll need two ounces of Pikesville Rye whiskey, one ounce of sweet vermouth, two dashes of Angostura bitters, a dash of orange bitters, and one maraschino cherry for garnish. Combine all ingredients in a mixing glass with ice and stir until chilled. Strain into a rocks glass over fresh ice and add the cherry as garnish. Enjoy!
The Sazerac – A Refreshing Twist on an Old Favorite
If you're looking for something light and refreshing yet complex in flavor, then this is the drink for you. You'll need two ounces of Pikesville Rye whiskey, half an ounce of simple syrup, four dashes of Peychaud's Bitters, one dash of absinthe, one lemon peel twist (for garnish), and one sugar cube (optional). In an old-fashioned glass muddle the sugar cube (if using) with three dashes of Peychaud's Bitters. Add two ounces rye whiskey and stir until combined. In a separate glass combine remaining ingredients with ice cubes and stir until chilled. Strain contents into the old-fashioned glass containing rye whiskey mixture. Add lemon peel twist as garnish and enjoy!
The Perfect Martini – A Sophisticated Choice For Any Occasion
For those who like their cocktails with a little less sweetness but still want something sophisticated enough to impress their friends or family members, this martini is sure to do the trick. You'll need three ounces of Pikesville Rye whiskey (or any premium rye whiskey), half an ounce dry vermouth (or more if desired), two olives (for garnish). Pour both ingredients into a shaker filled with ice cubes and shake until chilled; strain contents into chilled martini glass; add olives as garnish; enjoy!
Conclusion
From its origins in 1895 to today's modern iterations, Pikesville Rye has remained one of the most beloved whiskeys in America thanks to its unique flavor profile and production process. Whether you are looking for something special for your next cocktail or just want to try something new, Pikesville Rye is sure to delight your taste buds with its bold flavors and smooth finish! So why not pick up a bottle today? Cheers!