| | |
| --- | --- |
| Distillery | A. Overholt & Co |
| Type&Region | Kentucky, USA |
| Alcohol | 40% |
| Composition | 51% rye, 39% corn, and 10% malted barley |
| Aged | 3 years old |
| Color | Golden honey |
| Price | $20(750 ml) |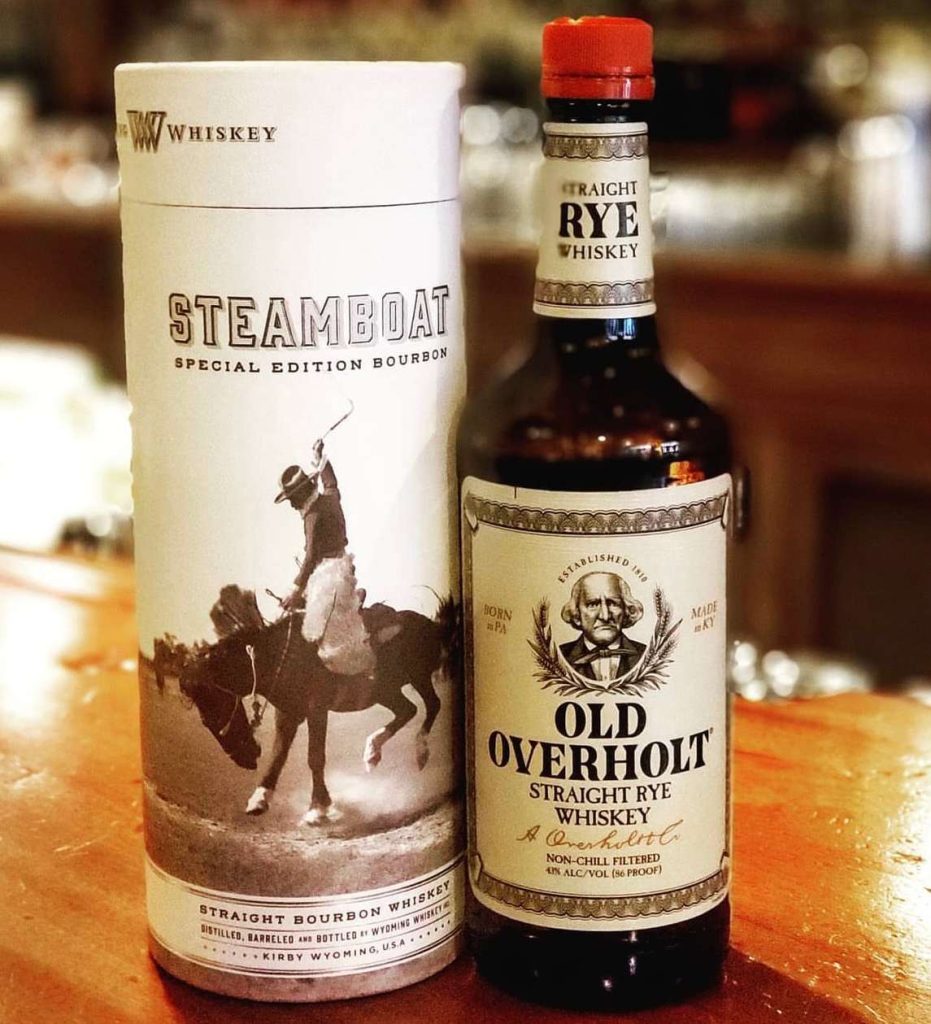 The Art of Making
Old Overholt Rye Whiskey is made from three simple ingredients: 90% rye grain, 10% malted barley, and water. All of these ingredients are sourced from local farms in Pennsylvania. The rye grain comes from farmers in Lancaster County while the malted barley is sourced from York County. The water used to make this whiskey is filtered through limestone layers, which adds essential minerals that contribute to its flavor profile.
Distillation Process
The distillation process for Old Overholt Rye Whiskey starts by milling the rye grain and malted barley into a mash called beer wort. The beer wort is then fermented using a proprietary yeast strain developed specifically for Old Overholt Rye Whiskey. Once fermentation is complete, the beer wort is heated up in a copper pot still and vaporized in order to concentrate the alcohol content of the liquid (called "distillate"). The distillate then goes through a second distillation process where it's redistilled until it reaches an optimal proof level (80-90 proof). At this point, the distillate becomes what we know as whisky!
Aging Process
Once the distillate has been distilled to perfection, it's placed into oak barrels that have been charred on the inside so that they can impart flavor and color onto the whisky as it matures over time. Old Overholt Rye Whiskey ages for at least two years, resulting in a smooth yet complex flavor profile that can only come from aging. During this aging period, each barrel of whiskey is inspected regularly to ensure its quality before being bottled and sold on shelves around the world!
Tasting Notes
NOSE: As soon as I take a whiff, the delightful aroma of caramel frosting wafts through my nostrils. Secondary notes of graham cracker pie crust, cinnamon and green apples combine to create an intriguing bouquet that is both pleasing and balanced with a subtle hint of rye spice.
PALATE:This rye spice is particularly inviting, with zesty notes of lemon pepper and a subtle woody undertone. An intriguing sweetness balances out the peppery fruitiness to deliver an unexpected flavor combination that will tantalize your taste buds!
FINISH: Aromas of rich green apples and graham cracker delicately give way to a delectable sugared oak flavor.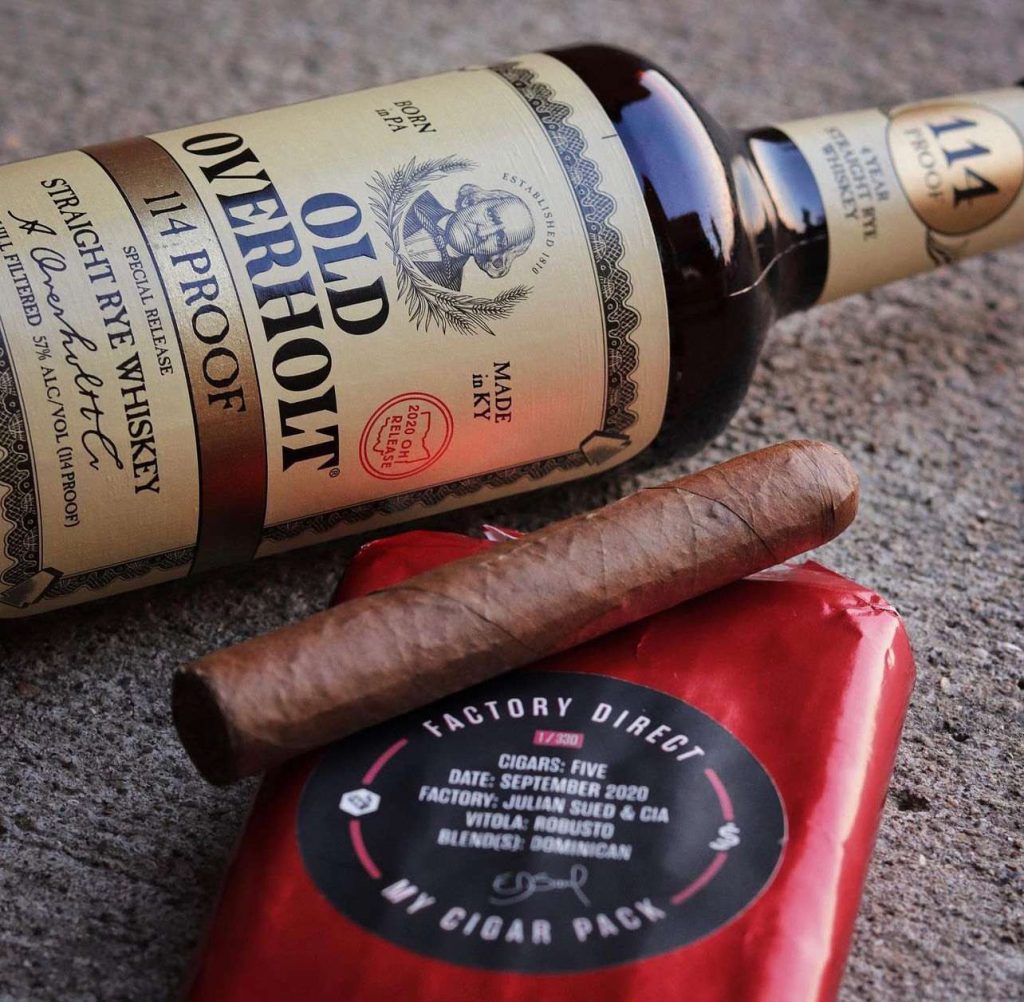 The Legendary History of Old Overholt Rye Whiskey
The Story of Abraham Overholt and his Distillery
It all began with Abraham Overholt, an immigrant from Germany who settled in Pennsylvania during the early 19th century. Abraham was a farmer who had learned the art of distilling on his family's farm back in Germany and brought those skills to America with him. He established the A. Overholt & Co. Distillery in 1810, where he began producing rye whiskey for local farmers and tavern owners. His whiskey quickly gained popularity due to its smooth taste and high quality—so much so that it became known as "Old Monongahela Rye" after the Monongahela River Valley where it was distilled.
At the height of its popularity, Old Monongahela Rye was renowned throughout America as one of the best whiskies available at the time—and it remains popular to this day! After Abraham passed away in 1870, his descendants took over the distillery and changed its name to "Old Overholt & Co.," which is how it is known today. The recipe for Old Overholt Rye remains largely unchanged from when it was first created by Abraham over 200 years ago, although small changes have been made over time to keep up with modern trends in distillation processes.
The Rise of Popularity for Old Overholt Rye
In addition to its rich history, Old Overholt also has some well-known fans throughout history including Mark Twain and Al Capone (who even built a speakeasy near one of their warehouses). It gained further notoriety during Prohibition when it was one of only two ryes allowed to be produced legally due to its medicinal properties! In more recent times, it has become increasingly popular among craft cocktail enthusiasts due to its smooth flavor profile that pairs well with other ingredients like bitters and juices.
Crafting Cocktails with Old Overholt Rye Whiskey
The Manhattan
This classic recipe has been around for almost two centuries! To make a Manhattan, you'll need 2 ounces of Old Overholt rye whiskey, 1 ounce of sweet vermouth, and 3 dashes of Angostura bitters. Combine all three ingredients in a mixing glass with ice and stir them together until chilled. Strain the liquid into a chilled martini glass, then garnish with a brandied cherry or orange peel. The sweetness of the vermouth balances out the flavor of the rye whiskey perfectly to create an unforgettable drink.
The Sazerac
This New Orleans original has been around since at least 1850! To make a Sazerac, you'll need 2 ounces of Old Overholt rye whiskey, ¼ teaspoon of absinthe or Herbsaint (or Pernod), 1 sugar cube, 4-5 drops of Peychaud's Bitters, and one lemon peel. Start by coating the inside of an old-fashioned glass with absinthe or Herbsaint (or Pernod). In another old-fashioned glass (or mixing glass), muddle the sugar cube together with some Peychaud's bitters until it dissolves. Add some ice cubes and 2 ounces of Old Overholt rye whiskey to the same glass and stir until chilled. Discard the first old-fashioned glass and strain your mixture into it. Garnish with lemon peel to finish off this unique cocktail!
The Hat Trick
This fun recipe is sure to be a crowd pleaser! To make a Hat Trick, you'll need 1 ½ ounces of Old Overholt rye whiskey, ¾ ounce fresh squeezed lime juice, ¾ ounce honey syrup (made from equal parts honey and water), 3 dashes Angostura bitters, 1 egg white (optional), and 2 lime wedges for garnish. Combine all ingredients in a shaker tin without ice and shake vigorously for 10 seconds to combine them completely. Fill your shaker tin halfway full with ice cubes, then shake again vigorously until chilled (about 30 seconds). Strain your mixture over fresh ice in an old-fashioned glass; if desired add two more dashes of Angostura bitters on top as garnish before serving with lime wedges on the side. Enjoy!
Conclusion
Old Overholt Rye Whiskey has been around since 1810 and continues to be a favorite among whiskey connoisseurs today! With its smooth taste and versatility, this classic American whiskey can be enjoyed neat, mixed into cocktails, or used as a cooking ingredient! So next time you're looking for something special to add some spice to your evening (or dinner!) consider giving Old Overholt Rye Whiskey a try! You won't regret it!