| | |
| --- | --- |
| Distillery | Angel's Envy |
| Type&Region | Kentucky, United States |
| Alcohol | 50% |
| Composition | 95% rye and 5% malted barely |
| Aged | NAS (4-6 years) |
| Color | Dark amber |
| Price | $69.99-$99.99 per 750 ml bottle. |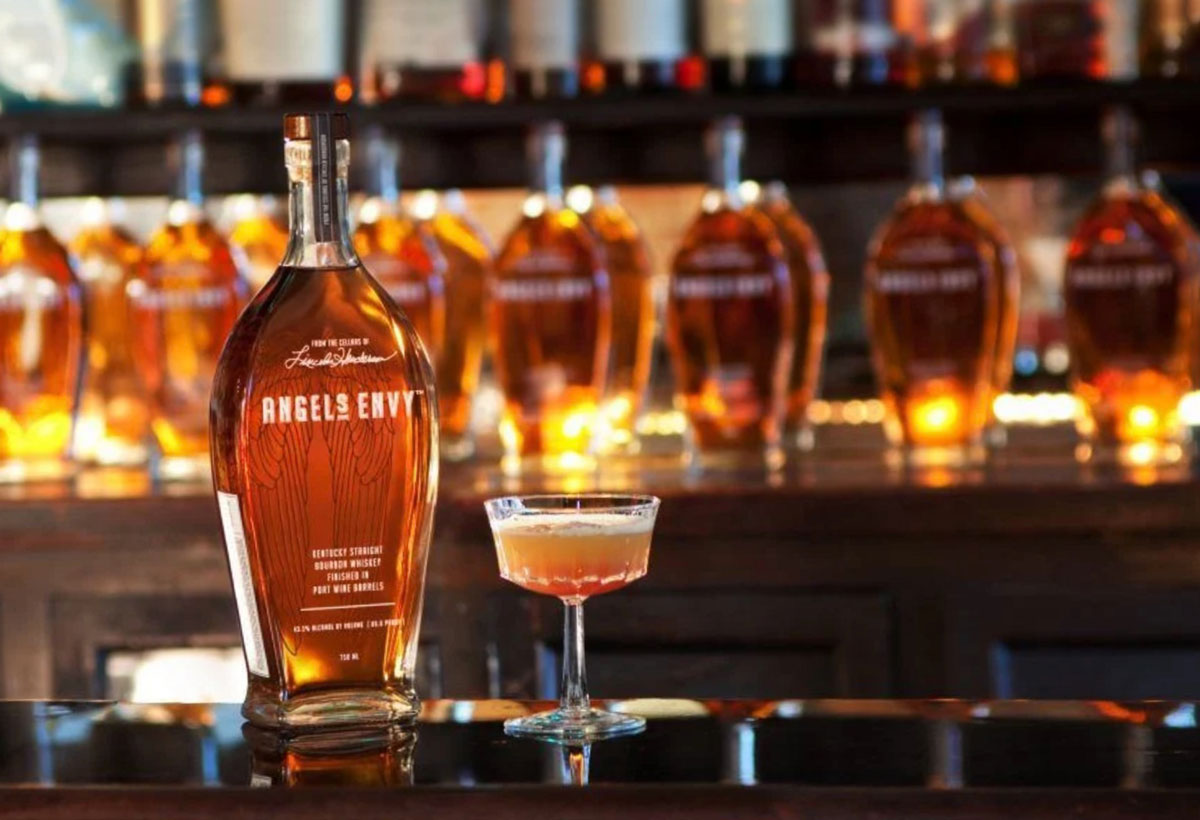 About Angel's Envy Rye Whiskey: All You Need to Know
Angel's Envy Rye is one of the tastiest whiskies of the winter type. It is a hand-crafted, unique whiskey brand with small batch production.
The drink is often rare to find and has a rich composition of spices and a unique technology for creating the beverage. This winter-spiced rye is perfect with desserts and as an add-on to dinners. This left-field whiskey is exceptional due to the combination of tastes and aftertastes in one glass.
Color
The Angel's Envy rye exhibits a rich but clear amber color with a rustic glow close to red. The transparency of the reddish beverage is reached by keeping it for at least 18 months in Caribbean rum casks and finishing in oak barrels as well. Only a limited amount of this whiskey is produced twice a year in the US. This makes the appearance, smell, and taste a perfect unity.
Smell
Out of the line of Angel's Envy whiskies, this one has probably got the most interesting and rich aroma. The central place in the smell is given to ginger and maple sugar, accompanied by pineapple, black pepper, vanilla custard, citrus, cinnamon, and caramel candies. The rare note felt in Angel's Envy Rye is sherried wood.
Some people also can smell hazelnut, butterscotch, and oak, but, in our opinion, this depends much on what sharpness of smell you have and whether you take time to notice them all during the tasting.
Flavor
It is the flavor of this American whiskey that makes it so exclusive. Unfortunately, since the oak barrels that the beverage is kept and finished in are very scarce and special, only small amounts of the drink are produced, so count yourself lucky if you have it.
The flavor will first remind you of a toffee candy with more Christmas-themed spices and add-ins such as cinnamon, brown sugar, nutmeg, and citrus. However, the palette is wide, and you can also feel the fading scent and taste of ripe apples and menthol somewhere in between.
To taste it right, we highly recommend you to follow this little plan:
Open the bottle and waft the aroma to feel the first notes
Pour some into the glass
Swirl whiskey in the glass to let the aroma open up more
Try out the drink in small sips
It is especially notable how much attention they pay to the process of maturing the drink before it gets to the shelves. This intricate process is a special element that makes the flavor-rich, interesting to explore, and nice to feel after.
Finish
Finish is perhaps one of the things that many drinks fail at. But that's not true about this rye. While sipping this drink, you will feel the warmth, and the finish will be very sweet, almost like in a liquor.
To describe it in short, the finish is medium, and the nutty notes together with butterscotch and oak delivery are felt more strongly.
All in all, the while-feeling and the aftertaste complement each other as you will be able to enjoy the fading spicy warmth after having a thick and syrup-like drink in your mouth. But unfortunately, this makes the drink not balanced.
Angel's Envy Rye Alternatives
If you're a taster and want to have a collection of favorite whiskey tastes, it's worth it to have a look at several drinks that, on the one hand, will resemble the Rye and, on the other hand, will provide something new and more refreshing.
1 Alternative: Angel's Envy Bourbon
The nose notes here include marvelous smells of chocolate, coconut, and bourbon vanilla.
The palate contains maple syrup, caramel, vanilla, and bread. The finish is slightly similar to Angel's Envy Rye, but the elements of toasted oak and baking spices are tangible. It's balanced and moderate, not as sweet as our hero Rye. It's smooth and has no burn.
Angel's Envy Bourbon comprises 72% corn, 10% malted barley, and 18% rye. The beverage is aged 4-6 years and matures in port casks.
2 Alternative: WhistlePig Straight Rye
If you have a passion for rye whiskies, WhistlePig Straight Rye is one of the best farm-to-bottle drinks you can try.
It is not 90, 92, or 95 percent rye but a whole 100% rye. This results in a more complex and rare taste without too much sweetness. So, the drinking spectrum widens, and it no longer belongs to dessert wines.
The nose catches the smells of cloves, allspice, caramel, oak, and a bit of vanilla and ginger.
Tasting notes are dark caramel, peppermint, slight wood poke, and fading maple syrup.
3 Alternative: Redemption Rye
This competitor of Angel's Envy was born later, in 2013, and still remains a trending whiskey with its own fans. Redemption Rye is a rich drink with nose copper, oak, sugar cookies, citrus zest, herbs (like dill), and some dark fruit. All of that doubles in tasting notes but with more sweetness and a cherry flavor coming in. There is a nice touch of caramel without the feeling that there are too many sweet ingredients.
You can buy a bottle of Redemption Rye with cherry for nearly $40 for 750 ml. However, there are many variations of this rye with barley and other cultures added as well. Some of them even need 9+ years to mature.
The Verdict / Conclusion
Being a rye admirer in the world of so many whiskey types is a challenge and an excellent opportunity to try out a lot of different tastes and compare them all.
Each of these ryes is unique, and the technologies make them exceptional. The occasions for these ryes might be different, but there is a place for them in the puzzle of tastes and flavors. So, let us recapitulate.
We recommend studying them all and figuring out which dominant and side notes are the most appealing to you. For example, Angel's Envy Rye is one of the drinks making the atmosphere instantly festive with its rich and dense butterscotch, cinnamon, and citrus notes. It will go well with most desserts and leave a warm feeling afterward. The best way to describe it is a drink for snowy late evenings with a book or cozy getaways with friends.
Suppose you are the one who appreciates smell more and wants to get further from the sweetness of the previous rye and just have a universal alcohol drink going with everything. In that case, the WhistlePig Straight Rye will do perfectly. You can get creative and have it with all kinds of dishes and its cost will certainly be worth it.
Finally, if you're fond of more fruity notes and want a delicate smell with a smooth and balanced finish, go for a bottle of Redemption Rye. This whiskey can be found at several price ranges and drink age.
FaQ
Is Angel's Envy Rye worth the money?
Being a hard-to-find and a small batch release, this rye is a pearl worthy of being tried at least once. It is definitely worth its price for someone admiring the sweet candy taste and warmth in a syrup-like textured drink.
How much is a bottle of Angel's Envy Rye?
The prices in the United States range from $69,99 to $99.99 and up per bottle of 750 ml. However, they may vary from shop to shop and region to region.
Does Angel's Envy Rye increase in value?
Overall, Angel's Envy Rye doesn't grow in price much, but the cost might be different and might increase at times due to the fluctuations of the USD currency.
Is Angel's Envy Rye Better Than Redemption?
Saying which brand of whiskey is better never includes an objective view, but it's just a matter of taste. However, if you want to know how these two brands rank, we can say that Redemption Rye is very different from Angel's Envy since they belong to different categories. While Angel's Envy Rye is more of an exclusive beverage with specialty notes, Redemption is far more drinkable with its nice mellow taste.
What Makes Angel's Envy Rye Special?
The unique blend of tastes and flavors mixed with a special technology of maturing the drink are the reasons why Angel's Envy Rye is loved and appreciated by many people.