| | |
| --- | --- |
| Distillery: | Ardbeg Distillery |
| Type & Region: | Islay, Scotland |
| Alcohol: | 46.5% |
| Composition: | 100% malted barley with peat |
| Aged: | NAS |
| Color: | dark sherry |
| Price: | 125$ per 750 ml |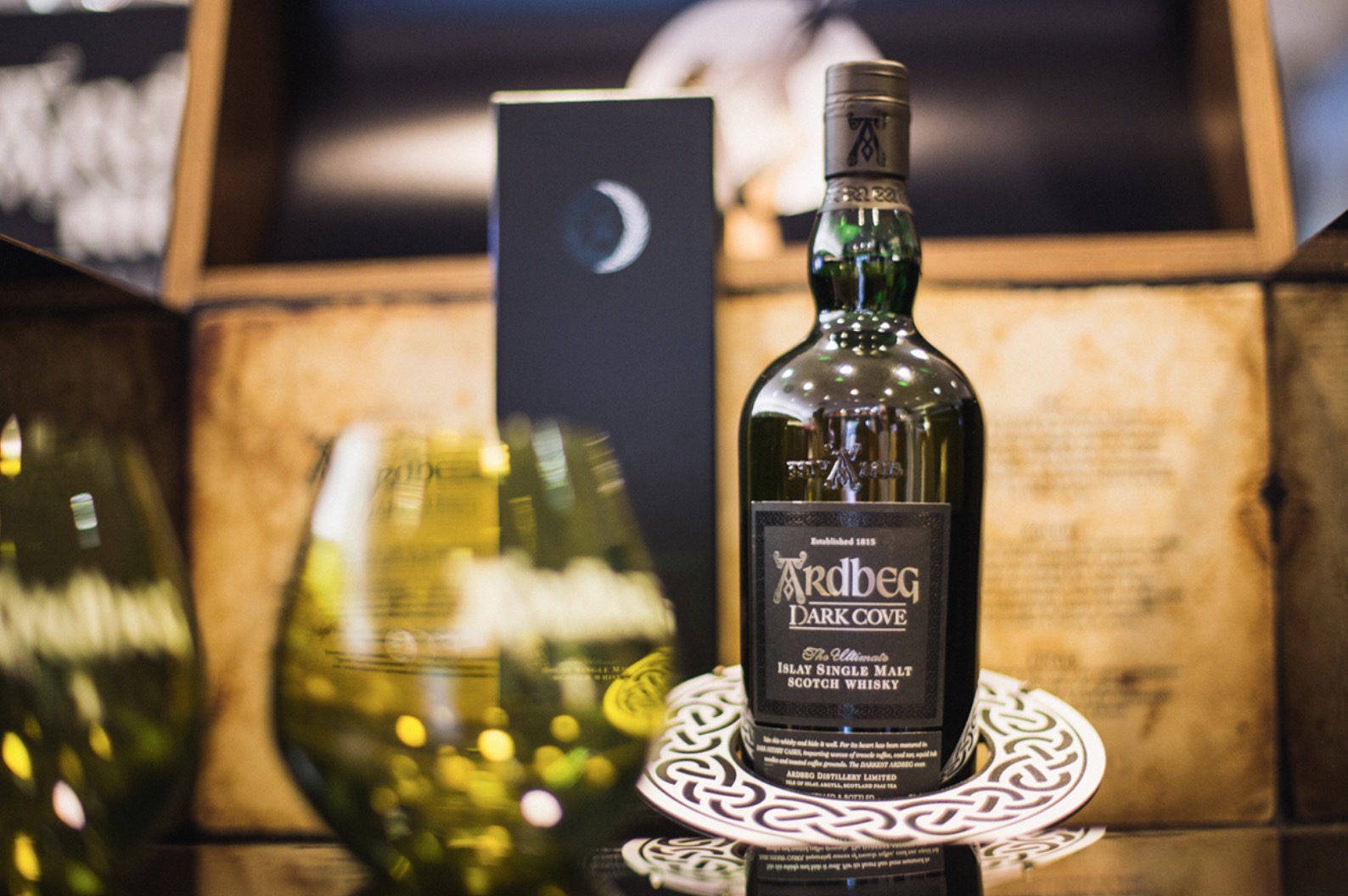 About Ardbeg Dark Cove Whiskey
The Ardbeg Dark Cove whiskey is one of the well-known whiskies from a limited edition. It is considered the darkest whisky that we know today. At a glance, we see that it has a dark gold color that does not differ too much from a usual one. The Ardbeg whiskey does not have a stated aging period. This means that we can't know its age, which is called NAS.
The whiskey is stored in 750 ml per bottle and contains 46.5% of alcohol without filtration. Ardbeg Dark Cove is part of the Ardbeg collection of whiskies from the Ardbeg Distillery. Its smell is similar to the Ardbeg whiskey and is a little weaker. It mainly has a sweet taste of peat together with smoky-tasting notes. There are also flavors of pepper and paprika. This makes the taste of the Ardbeg whiskey remind of Mexican chocolates. The price of one bottle of whiskey is 125$, which is a good cost for it.
The whiskey has been produced as a special edition to the well-known Ardbeg, released in 2016. It is known for its production in dark sherry casks, as the distillery states. The flavor and taste of the whiskey make us think about a campfire and cigarette smoke. When you drink it, you can delve into your memories, so it is also good in nature. The long finish lets you feel the smoky taste for some time after you take a drink. The palate is also much of a dark sherry.
In this article, we will look at the features of Ardbeg whiskey. And you will see why you definitely need to try it.
Color
Ardbeg Dark Cove has the darkest appearance among other whiskies, as we see from its name. Ardbeg has a dark sherry color with smuggling on the bottle.
Smell
The whisky has a powerful smell and a great variance in the aroma. It has a nose of cigars, cocoa, and malt. There are also some special smells like pear and lime. The whisky also smells like a campfire and reminds you of long nights in nature. The nose is rich and impressive.
When you start drinking Ardbeg Dark Cove, you almost do not feel the smoky aroma. The first notes you catch are granite and caramel noses. Then, the smell becomes drier and sweeter. You mainly feel the smell of caramel, lemon, and smoke. In the end, the whisky opens its whole nose.
Flavor
The flavor of the Ardbeg Dark Cove whiskey is sweet and powerful. It has some granite tasting notes as well as citrus notes. The sweet taste of the whiskey reminds you of some fruits. When you only take the first drink, you feel a week and faint flavor at first. Then, the palate opens, and you feel the taste of dark sherry and tannins. There are menthol and honey tasting notes that are well-combined with general sweetness.
If you add some water to the drink, the aroma does not change. Yet, the flavor becomes a bit sour but does not reduce the overall taste. If you are a lover of tart tastes, you can add water. But in general, the whiskey is great by itself.
Finish
The finish of the Ardbeg whiskey is mediate long. At first, the finish notes remind some pepper and cocoa. It also feels like wood smoke and cigar smoke. The flavor is similar to tobacco and a cigar. At some moment, you feel a taste of menthol, and then it stops, and you feel an ashy flavor.
Ardbeg Dark Cove Alternatives
Ardbeg Dark Cove is a special version of Ardbeg from the same distillery. So, one of the alternatives you certainly should try is the Ardbeg whiskey. The other options you can buy include Lagavulin and Laphroaig. All the alternatives use peat as their basis and are produced in Islay, Scotland. They are all similar to each other but have some differences in taste. At the same time, each of the alternatives is of high quality, so you definitely need to try them.
Lagavulin 12
Lagavulin is a whiskey that has several kinds depending on its age. The best alternative for Ardbeg Dark Cove is Lagavulin 12. It is created in the Lagavulin Distillery. The whiskey has a higher price than Ardbeg and costs 187$ per bottle. It has 56.5% of alcohol and has peat and malt in its composition. Lagavulin 12 is aged for 12 years before you can buy it and taste it. It is a single-malt beverage that you can drink in combination with blue cheese. Lagavulin 12 is similar to Ardbeg in its taste and smell. It has an ashy tobacco flavor, which also has sweet tasting notes. The color is light gold, so it is a little different from Ardbeg. Similar to Ardbeg, Lagavulin 12 has a caramel taste and a long finish.
Ardbeg
As is seen from its name, Ardbeg is one of the alternatives to Ardbeg Dark Cove. It is stored for 10 years before you can buy and drink it. This beverage is quite similar to Ardbeg Dark Cove, yet it is not so special. Compared to it, Ardbeg Dark Cove has a powerful dark color and a highly smoky taste. It is released in a limited edition, so you can rarely buy it for special occasions.
Ardbeg is distilled using peat and malt on Islay. Like Ardbeg Dark Cove, the usual Ardbeg is a single-malt whiskey produced without filtration. Together with the smoky taste, it has coastal aromas that refresh you. It also has a sweet vanilla taste and fruit flavors with a long finish.
Laphroaig
Another alternative you should taste is Laphroaig. It is another Scottish whiskey produced on Islay. The whiskey is produced and distilled in the Lagavulin Distillery. Laphroaig also has malt and peat in its composition. In the whiskey, you can also find barley and caramel. That is why its flavor is similar to Ardbeg Dark Cove.
Laphroaig has a refreshing oceanic nose. At the same time, it combines spicy tasting notes with a sweet caramel and fruit palate. It is similar to Ardbeg Dark Cove because of its smoky and ashy flavors. Yet, it is more bitter than Ardbeg. The first tasting notes you get are ashy and smoky. In the finish, the taste gets drier, and you feel some stale flavors.
The Verdict
In conclusion, we can state that Ardbeg Dark Cove is a special whiskey you need to try for sure. It is a Scottish alcoholic beverage that is limited in sale. The whiskey is one of those that are produced using a single-malt floor. It has fantastic smoky and coastal aromas that make you feel like smoking a cigarette in nature. It also has sweet notes that will be perfect for anyone. The powerful dark taste and smell are great for lovers of quality alcoholic beverages.
FAQ
Is Ardbeg Dark Cove Worth the Money?
Yes, the whiskey is definitely worth trying. At the same time, it has a relatively low price for a drink from a limited edition. The price is lower than for some other malted whiskies. And it has a fantastic palate that makes you dream of a campfire and a quality cigarette. You should for sure try Ardbeg Dark Cove and its sweet and ashy flavor.
How Much Is a Bottle of Ardbeg Dark Cove?
One bottle of Ardbeg Dark Cove contains 750 ml. In the bottle, there is 46.5% of alcohol.
Does Ardbeg Dark Cove Increase in Value?
The answer is yes. Ardbeg Dark Cove was first produced in 2019 in dark sherry casks. Since that time, it has increased its value a little. There is a small increase, and at the same time, you can still buy the whiskey. The place where you can mainly buy this special beverage is the auction. But sometimes, you can find it in an online shop.
Is Ardbeg Dark Cove Better Than Laphroaig?
Both Ardbeg Dark Cove and its alternatives are whiskies of the highest quality. So, Ardbeg Dark Cove is not much better than Laphroaig. At the same time, it is a special and rare whisky that you can get only at an auction. The two whiskey brands are produced using malt and have sweet and smoky tastes.
What Makes Ardbeg Dark Cove Special?
It is a high-quality Scottish whiskey for real lovers of alcoholic beverages. It has smoky and ashy flavors and a sweet caramel taste that is going to blow you away. It is a whiskey from a rare edition that you will not always find in the market. It does not have a stated age, but the taste is still great. The whiskey is special because it is not very popular, but it is definitely for the elite.