| | |
| --- | --- |
| Distillery | Balcones Distilling |
| Type&Region | Waco Texas |
| Alcohol | 46%  |
| Aged | NAS (Blend of straight rye ranging in age from 2 years) |
| Color | Deep caramel |
| Price | $45(750 ml) |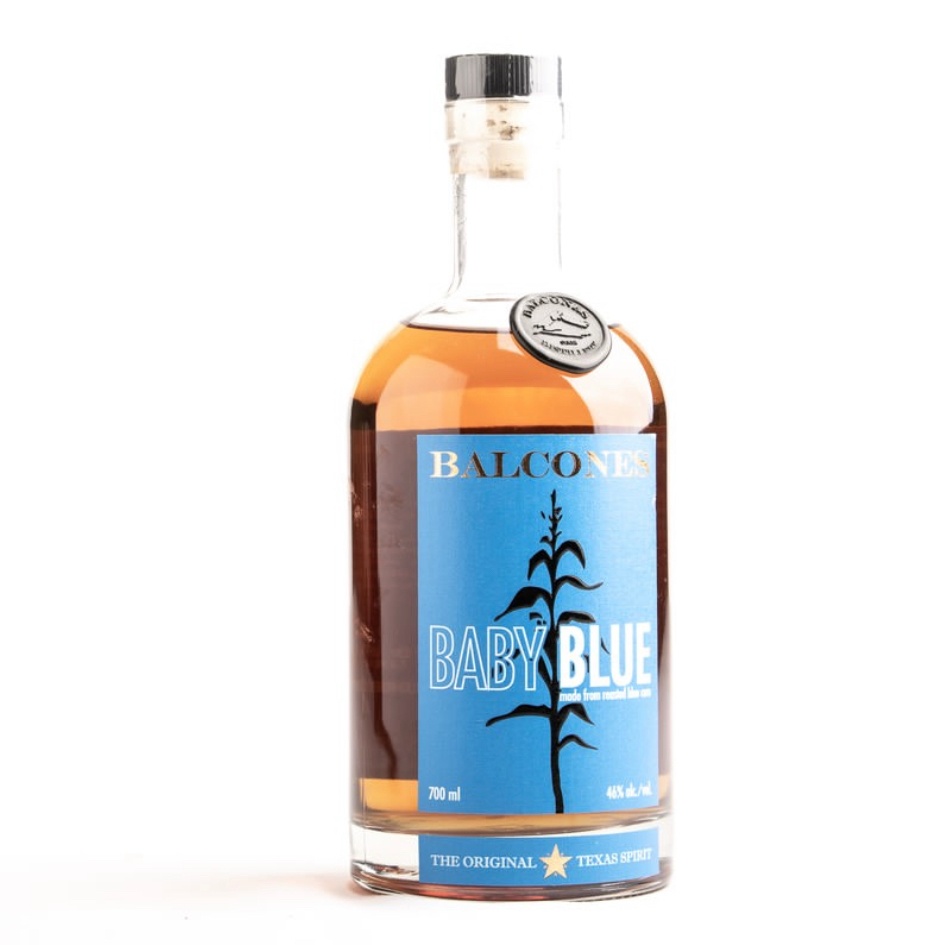 Art Of Making 
The first step in the process of making Baby Blue is fermentation. In a fermentation tank, the grain mixture—made up of malted barley and corn—is mixed with yeast to begin the fermentation process. During this process, the yeast breaks down the complex sugars in the grain mixture into simple sugars which are then converted into alcohol. The length of time for this stage depends on factors such as temperature and type of yeast used. After fermentation is complete, it's time to move onto distillation.  
Distillation Process 
The next step in creating Baby Blue is distillation. The fermented liquid is heated in copper stills until it boils off into vapor form. This vapor then goes through multiple columns to separate out the different molecules in order to create different types of alcohol (such as whiskey or vodka). Once distilled, the spirit is then aged in charred oak barrels for up to three years before being bottled as Balcones Baby Blue whisky.  
Barrel Maturation Process 
After distilling, comes barrel maturation—the final step in creating this unique whisky! During maturation, some of the flavors from the charred oak barrels blend with those from the grain mash used during fermentation for up to three years before bottling. This aging process helps bring out rich flavors like caramel, toffee, and oak that give Balcones Baby Blue its distinctive flavor profile. 
Tasting Notes
NOSE: An initial burst of delectable vanilla bean flavour erupts upon tasting, so much better than the imitation version found in corn whiskey. Subsequent notes include dried corn and pastries, a delicious caramel sweetness and a subtle oakiness that dance along your palate. It's almost too good to be true!
PALATE: That delicious, unmistakable flavor of vanilla is nothing short of sublime. It's followed by an abundance of corn-inspired flavors—corn meal, corn bread, and even the crunchy sweetness from both corncakes and chips! And if that was not enough to tantalize your taste buds already then you can further indulge in some decadent yellow birthday cake along with a helping or two of berry fruit leather as well as roasted nuts for good measure.
FINISH: The classic vanilla flavor quickly gives way to a heavy and flat corn taste, before transitioning back into the pleasant notes of its original form. To top it off, the finish is disappointingly short-lived.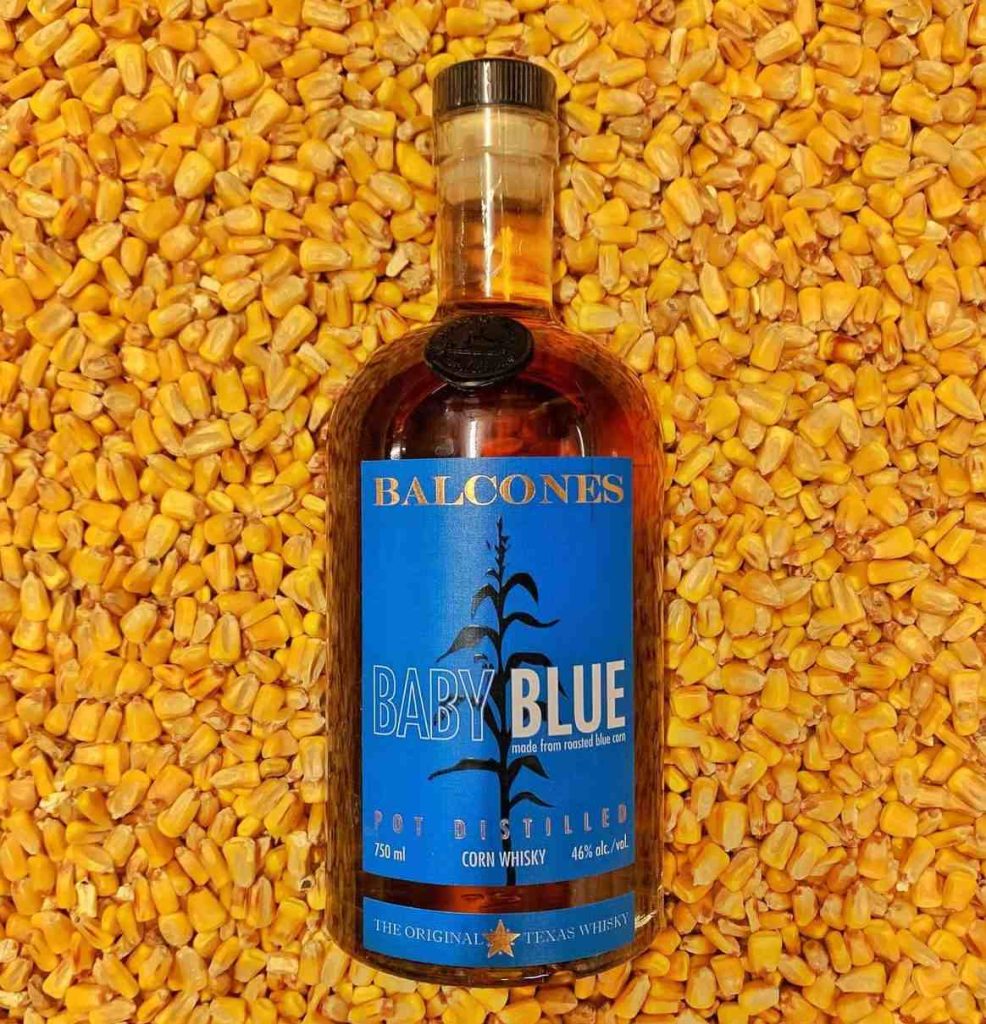 Exploring the History of Balcones Baby Blue 
Balcones Baby Blue was first produced in 2009 by Chip Tate, an experienced distiller. Tate was inspired to craft this whiskey after tasting a sample of English single malt whisky while visiting Scotland in 2008. He wanted to make something that would rival that particular whisky and thus created Balcones Baby Blue. 
The Aging Process 
Like most whiskeys, Balcones Baby Blue is aged for several years before being bottled and sold. Its aging process takes place in ex-Bourbon barrels that are charred on the inside for extra flavor. Additionally, some editions are aged in used rum or wine barrels to impart additional notes into the whiskey before bottling.  
Distillation Process 
Balcones Baby Blue is made using a combination of malted barley and corn from local Texas farms as well as specialty grains imported from Scotland. Tate uses traditional copper pot stills to distill his whiskey multiple times before blending it with spring water sourced from his family's ranch near Waco, Texas. After blending, he bottles it at 84 proof (46% ABV).  
The Best Cocktails Made with Balcones Baby Blue Whiskey 
Smokey Mule
If you like mules, but want something a bit more unique than the classic Moscow Mule, try making a Smokey Mule with Balcones Baby Blue whiskey. The smokiness of the whiskey pairs perfectly with the crispness of ginger beer and lime juice. To make this cocktail, combine 2 ounces of Baby Blue whiskey with 4 ounces of ginger beer in an ice-filled copper mug. Squeeze in half a lime and garnish with a lime wedge for extra flavor. Enjoy! 
Blueberry Smash 
For those who like something sweet, try making a blueberry smash with Balcones Baby Blue whiskey. This simple yet delicious recipe combines muddled blueberries and freshly squeezed lemon juice to create an irresistible tart-sweet flavor that's sure to please any palate. To make this cocktail, muddle 4-5 fresh blueberries in the bottom of an old-fashioned glass. Add 2 ounces of Balcones Baby Blue Whiskey and 1 ounce of freshly squeezed lemon juice, then fill your glass with ice cubes and stir until mixed together. Garnish with fresh blueberries or lemon slices for added flavor and enjoy! 
Old Fashioned Texas Style
If you're looking for something a bit more traditional, why not try making an Old Fashioned Texas Style? This classic cocktail gets its unique flavor from the addition of orange bitters and honey syrup—two ingredients that pair perfectly with Balcones Baby Blue Whiskey's distinctive flavors. To make this drink, combine 2 ounces of Balcones Baby Blue Whiskey in an old fashioned glass filled with ice cubes along with 3 dashes of orange bitters, 1/2 teaspoon honey syrup, and 1/2 teaspoon water or club soda (optional). Stir until combined and garnish with an orange peel or maraschino cherry if desired before serving. Enjoy!  
Conclusion
As you can see, there's much more to Balcones Baby Blue than meets the eye (or nose!). Whether you're new to whisky or have been enjoying the spirit for years now, this unique offering from Balcones Distillery should not be missed by those looking for something truly special. So why not take some time today and indulge in a glass of this remarkable rare whiskey? We guarantee you won't regret it!