| | |
| --- | --- |
| Distillery | Balcones |
| Type&Region | Texas, USA |
| Alcohol | 53%  |
| Composition | 100% Blue Corn |
| Aged | NAS |
| Color | Ruddy chocolate |
| Price | $50(750 ml) |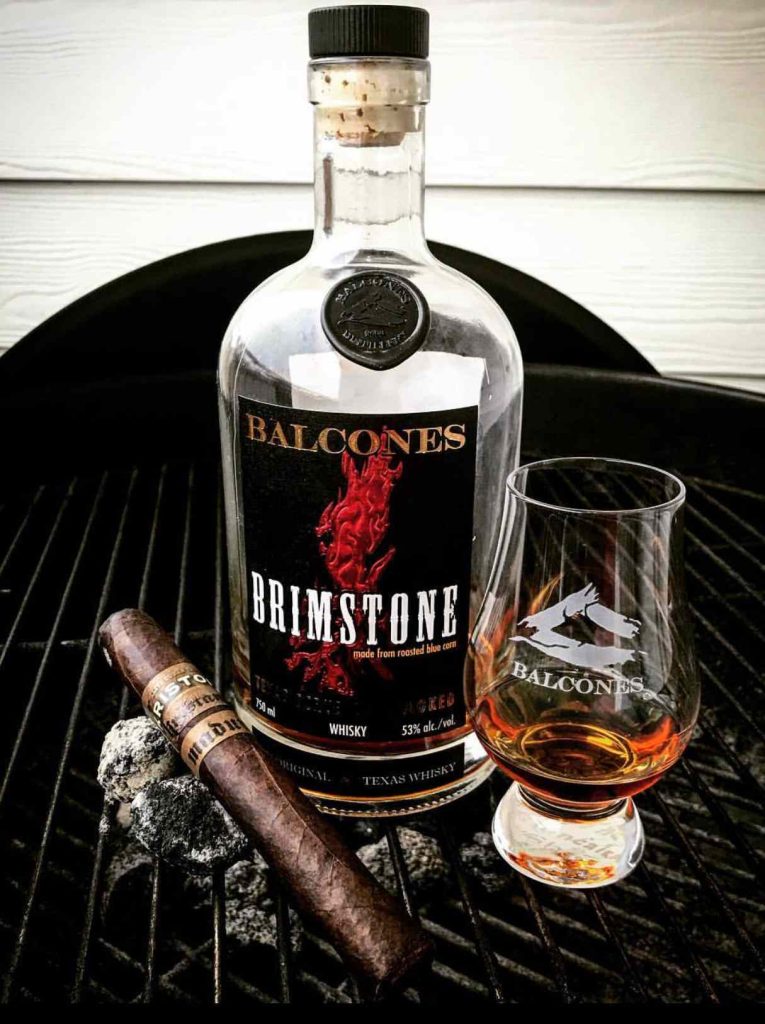 The Art Of Making
Balcones Brimstone is made from Texas Hill Country corn and malted barley. It undergoes a traditional distillation process that combines time-honored methods with modern techniques to create a unique flavor profile. During the distillation process, the whiskey is heated in copper stills to produce alcohol vapor, which is then condensed into liquid form. This liquid is known as "white dog" or "moonshine," and it will eventually be aged in oak casks to give it its signature flavor. 
Smokey Flavor Profile 
What really sets Balcones Brimstone apart from other whiskeys is its smokey flavor profile. To achieve this unique taste, Balcones uses an ancient technique called "cold smoking"—a method rarely used by modern distillers due to its complexity and expense. The malt barley used in the whiskey is cold smoked using fragrant Texas scrub oak chips for up to 14 hours before being added to the still during distillation. This process gives the whiskey its distinctive smoky flavor that has become synonymous with Balcones Brimstone Whiskey.  
Aging Process
Now comes the aging process which helps develop complex flavors within the whiskey and balance out any harsh notes from the previous steps in production. The white dog produced during distillation is placed in small American White Oak barrels for at least six months before bottling, but often much longer depending on how much character they want to impart on the final product. After aging, each bottle of Balcones Brimstone goes through a rigorous tasting process by their team of blenders who are looking for that perfect combination of smokiness and sweetness that makes their whiskey stand out among others on the market today! 
Tasting Notes
NOSE: A tantalizing mixture of creamy vanilla, smoky tones, charry cocoa notes and aromatic herbs layered with a hint of oaky graininess.
PALATE: Rich cacao, smoky tones, creamy vanilla and caramel notes blended together with roasted nuts, oaky undertones and an underlying hint of earthy herbs – a tantalizing combination that will make you savor every sip.
FINISH: The sweet and smoky aromas of chocolate Necco and vanilla entice you to breathe in the calming atmosphere.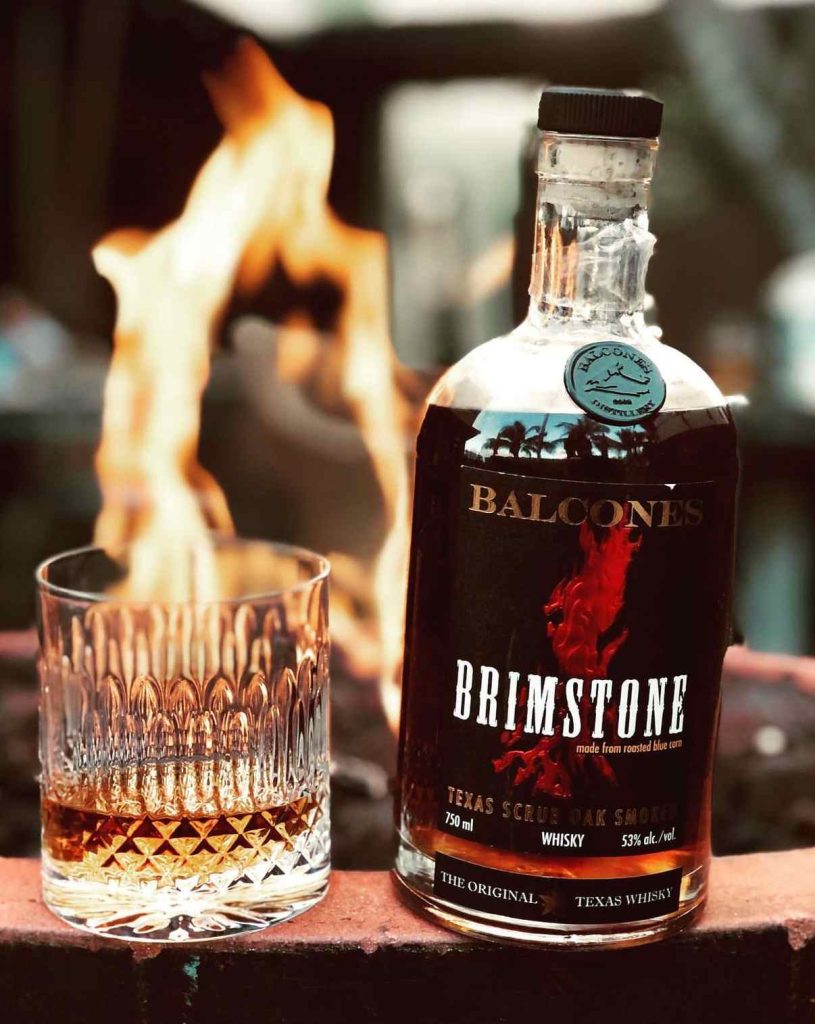 The History of Balcones Brimstone
Balcones Distillery was founded by Chip Tate in 2008, with the goal of creating a distinctly Texan-style whiskey that would stand up to the best Scotch, Irish, and American whiskeys in the world. To achieve this goal, Tate employed traditional distilling methods combined with some very non-traditional ingredients—like blue corn, roasted peaches, and smoked mesquite wood—to create an entirely unique flavor profile for his whiskey. 
The result was Balcones Brimstone whiskey, which quickly gained recognition from critics and connoisseurs alike. In 2012, Balcones won five gold medals at the San Francisco World Spirits Competition—the most ever awarded to a single distillery! It went on to win two more gold medals in 2013, followed by another four in 2014 and two more in 2016. In 2015, it even earned the title of "World's Best Whiskey" at the World Whiskies Awards! 
Balcones continues to be a leader in craft whiskey production today. Its products are now available in more than 30 countries worldwide, making it one of the most popular American craft whiskeys on the market. The distillery has also continued to innovate over time; its latest release is a limited edition rye whiskey made with smoked pecan wood chips instead of mesquite wood chips. This new expression promises to be just as unique and flavorful as its predecessors! 
Sip Something Sweet with Balcones Brimstone Cocktails 
Smokin' Old Fashioned 
This classic drink gets an upgrade with the addition of Balcones Brimstone whiskey. To make one, mix two ounces of the whiskey with two dashes of angostura bitters and one teaspoon of raw sugar in a rocks glass. Then add one orange peel (for garnish) and two large cubes of ice and stir until chilled. This drink is perfect for sipping on the patio as you watch the sunset! 
Texas Mule 
This sweet take on the Moscow Mule combines the smokiness of Balcones Brimstone whiskey with tart lime juice, ginger beer, and agave nectar for a refreshing summertime treat. Start by filling a copper mug with crushed ice then add two ounces of Balcones Brimstone whiskey, four ounces of ginger beer, and one ounce of freshly squeezed lime juice. For sweetness add 1/2 ounce of agave nectar or honey syrup before stirring gently and garnishing with a lime wheel. Enjoy!                                                     
White Russian With A Twist 
For those who love a creamy White Russian but want to switch things up, this recipe does just that! Start by adding 2 ounces of Balcones Brimstone whiskey, 1 ounce cream liqueur (such as Bailey's), 1/2 ounce vodka and 1/2 ounce freshly squeezed lemon juice into an ice-filled shaker. Shake vigorously then strain into an old-fashioned glass filled with fresh ice cubes before topping it off with club soda or seltzer water. Finally garnish with a lemon wheel or twist before serving up this zesty twist on a classic cocktail! 
Conclusion
Whether you're looking for an exquisite nighttime sip or want to add something special to your recipe creations, Balcones Brimstone whiskey is sure to deliver! Its one-of-a-kind flavor comes from its use of Texas scrub oak, combined with a unique 18 month aging process that ensures maximum complexity and depth of flavor. Best enjoyed neat or mixed into craft cocktails, this truly special whiskey will make any drink experience unforgettable!