| | |
| --- | --- |
| Distillery | Buffalo Trace |
| Type&Region | Frankfort, Kentucky |
| Alcohol | 46,5%  |
| Composition | distilled from a fermented mash of grain, yeast and water. The "mash bill" must have a minimum of 51% corn. For most bourbons, the average is about 70%. Other grains such as rye, malted barley and wheat are considered the "flavor" grain |
| Aged | over 6 years  |
| Color | Gold |
| Price | $65(750 ml) |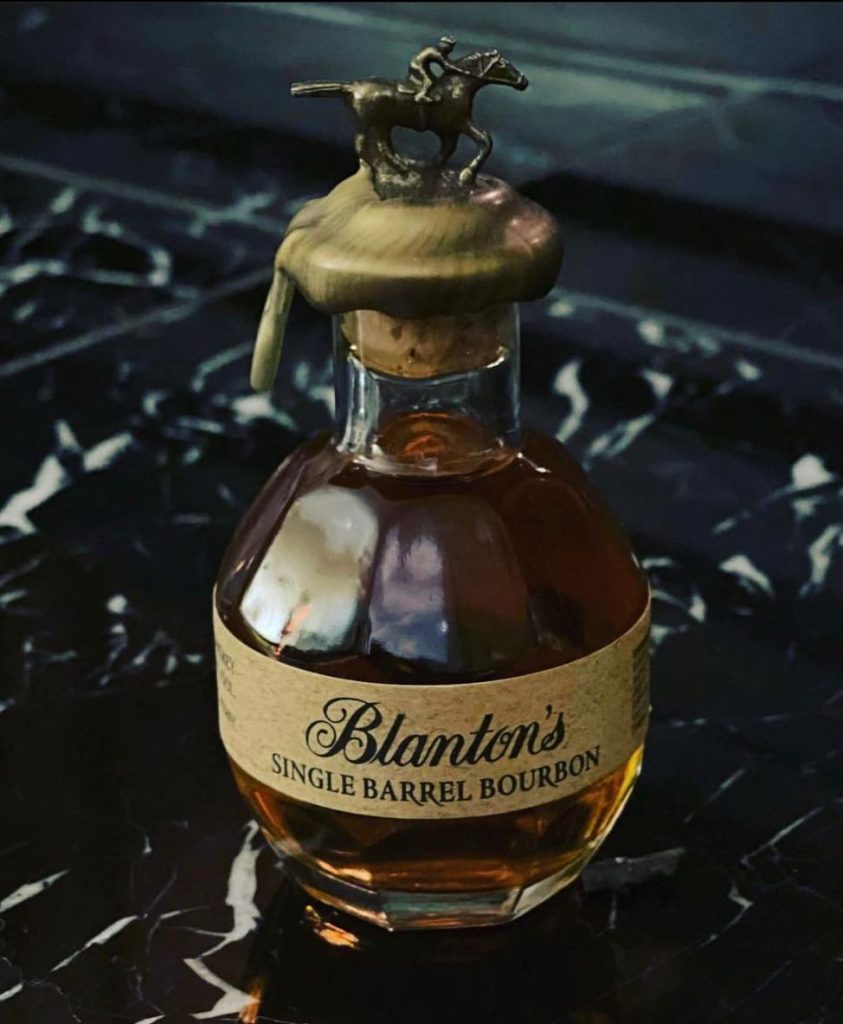 The Art of Making 
Blanton's is made with corn, rye, malted barley, and water sourced from limestone springs in Kentucky. This combination of ingredients yields a smooth whisky with notes of toast, oak, and vanilla. These flavors are further enhanced by aging them in new charred white oak barrels for at least eight years before bottling. The barrels are also carefully selected to ensure they are of the highest quality and will give the whiskey its unique flavor profile.  
The Process Is Precise 
The process begins with the grains being milled and cooked in a mash cooker to create a mixture known as "mash." This mash is then fermented using yeast, which gives it its distinctive flavor and aroma. Once this fermentation process is complete, the whiskey is distilled twice through copper pot stills to remove any impurities. The distillation process also helps concentrate the flavors to create a more complex flavor profile. After distillation, the whiskey is aged in charred white oak barrels for at least eight years before bottling. During this time, the whiskey takes on subtle flavor notes from the charred wood barrels that give Blanton its distinct taste and aroma. 
Quality Control Is Key 
Although there isn't an official recipe for making Blanton's bourbon whisky, there are strict guidelines that must be followed to ensure consistency in each batch produced. Every step of the process—from selecting high-quality grain to monitoring fermentation times—is carefully monitored by master blenders who have decades of experience working with this particular brand of bourbon whisky. This ensures that every bottle produced meets their exacting standards for quality and consistency. Furthermore, each batch undergoes rigorous testing throughout production to make sure it meets those same standards once it reaches store shelves around the world.  
Tasting Notes
Nose: A tantalizing bouquet of citrus from the rye grain and toffee from the barrel greets your nose, followed by subtle scents of clove and caramel. It is well-balanced yet milder in comparison with other high-proof versions that have recently become available in stores.
Palate: At the start, a scent reminiscent of citrus is balanced with subtle sweeter notes like vanilla and caramel. As it progresses, light floral notes emerge, with the sweetness fading away to make way for a dry finish featuring some hints of toasted nut and oak that combine masterfully with the underlying citrus and floral aromas.
Finish: An enduring finish that features the unforgettable taste of nutmeg and corn.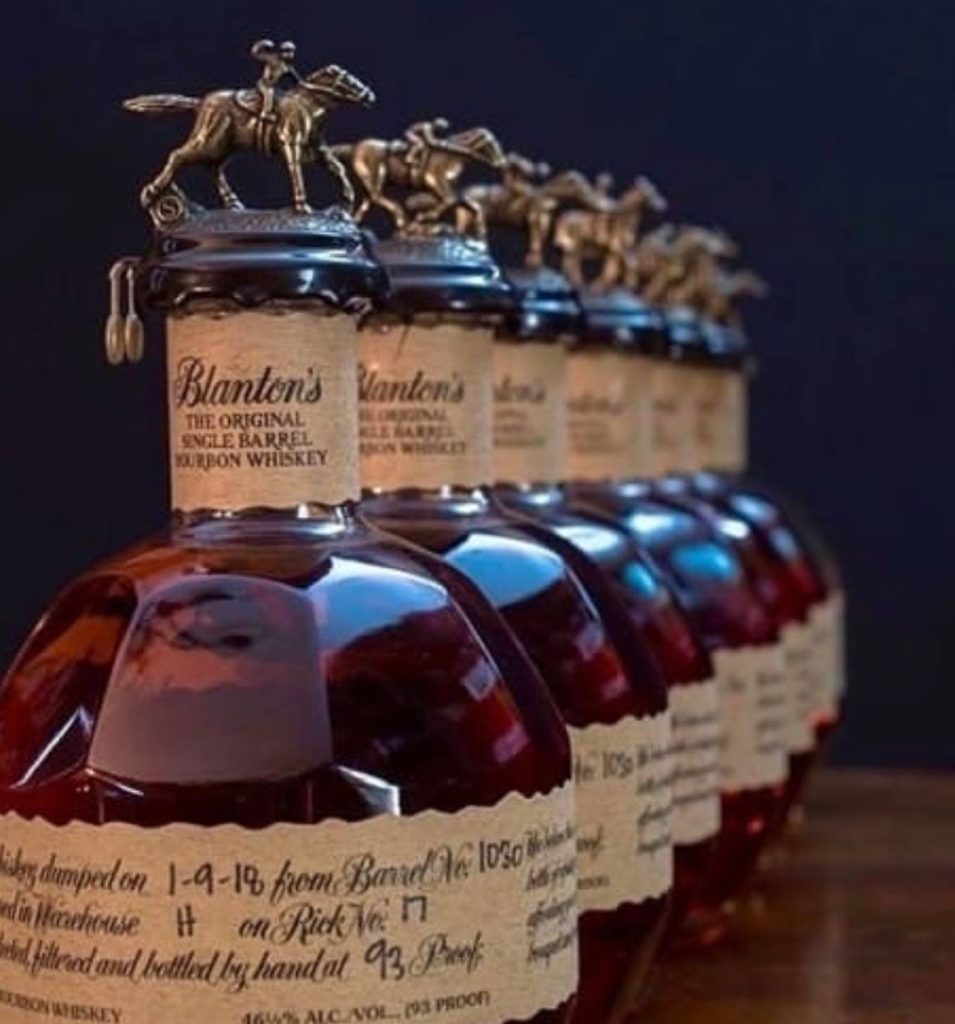 The History of Blanton's Bourbon Whisky 
For bourbon whisky aficionados, Blanton's is a brand that needs no introduction. But how did this Kentucky-based distillery become synonymous with whisky excellence? Let's explore the history of Blanton's to find out. 
The Early Years 
Blanton's was founded in 1936 by Albert B. Blanton, who began working at the former Old Fire Copper Distillery in Frankfort, Ky., in 1897. In 1901, Blanton was promoted to superintendent and eventually worked his way up to president of the distillery. As president, Blanton developed the "single barrel" concept, which has become a signature of the brand. This concept allows each barrel of whisky to be tasted individually and blended together only after its unique flavor is identified—a process that ensures quality and consistency with every bottle of Blanton's produced. 
In 1952, Elmer T. Lee joined Albert B. Blanton as plant manager at the distillery and went on to develop some of the company's most iconic products, such as George T Stagg, Eagle Rare, and Elmer T Lee Single Barrel Bourbon Whisky. He also helped create single-barrel bottlings for other brands, such as Ancient Age (now Buffalo Trace). 
The Modern Era 
In 1984, the distillery was acquired by Sazerac Company and renamed Buffalo Trace Distillery in 1999; however, it continued producing its popular single-barrel bourbons under the name "Blanton's Original Single Barrel Bourbon Whisky." The company has since added several additional offerings, including Straight from the Barrel (a cask strength expression), a variety of special edition bottles (including Gold Edition and Straight From The Horse's Mouth), as well as limited release expressions (such as Green Label).  
Today, Buffalo Trace Distillery continues to produce some of America's finest whiskies under the esteemed name "Blanton's." Each bottle is still aged in special white oak barrels crafted in Kentucky before being 
The Best Cocktails Made with Blanton's Bourbon
Blanton's Old Fashioned  
This classic drink is made with two ounces of Blanton's Bourbon whisky, one tablespoon of sugar, two dashes of Angostura bitters, and a splash of club soda (optional). Stir all the ingredients together in a rocks glass over ice. Garnish with orange peel or a cherry if desired. 
The Highball 
This refreshing drink is perfect on a hot summer day. Combine two ounces of Blanton's Bourbon whisky with four ounces of ginger ale in a highball glass over ice cubes. Add a squeeze of fresh lime juice for extra flavor. Enjoy! 
Manhattan 
For this classic cocktail, combine two ounces of Blanton's Bourbon whisky, one-ounce sweet vermouth, and two dashes of Angostura bitters in a shaker filled with ice cubes. Shake well and strain into a martini glass or coupe glass (without ice). Garnish with maraschino cherries or an orange twist if desired. 
Update 
One part each of Blanton's Bourbon whisky, sweet vermouth, and freshly squeezed orange juice are combined over ice in an old-fashioned glass and topped off with club soda or ginger beer for effervescence. Stir lightly to mix all ingredients together and garnish with an orange wheel or lemon zest as desired.