| | |
| --- | --- |
| Distillery: | Buffalo Trace |
| Type & Region: | Bourbon, Kentucky, USA |
| Alcohol: | 50% |
| Composition: | Mash #2 (higher rye mashbill rumored to be 12-15% rye) |
| Aged: | 6-8 years in virgin American white oak |
| Color: | 1.0/2.0 on the color scale (chestnut, oloroso sherry) |
| Price: | ~$60 MSRP (per bottle 750mL) if you are lucky enough to find it |
About Blanton's Single Barrel
Blanton's is a classic single-barrel bourbon that has proven itself over the years and it is also many consumers' first experience with single barrel bourbon. The retail packaging of Blanton's is quite attractive, with a racehorse on the top of the bottle, a rustic-looking label, and a round center that gives the bottle an almost spherical shape giving it a distinctive appearance. Every single one of the barrels used to make Blantons is aged in Buffalo Trace's metal-walled, heat-trapped warehouse H. As a result, the whiskey ages at a faster rate.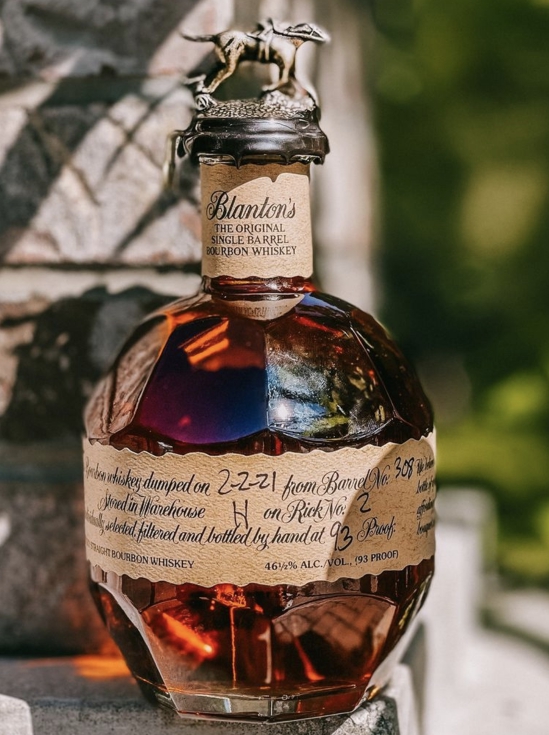 Color
When you first pour Blanton's bourbon into your glass and take a swig, you'll notice its color is a delicate mix of chestnut and oloroso sherry-like the gold and red hues of a fall sunset. If you drink it out of the bottle, you won't get that color. The reason is that this bourbon has spent nearly a decade in its barrel. Blanton's Single Barrel bourbon looks much different than others because it contains an additional step after distillation and before bottling: a finishing process referred to as "seasoning."
Smell
First, the nose doesn't speak of liquor on the younger side. Instead, you get whiffs of caramel and wood as well as a touch of sweetness that brings to mind cherry soda. The overall aroma is sweet, but not in an artificial or syrupy way. There's also a hint of bourbon spice, likely from the oak barrel the whiskey was aged in. The fruitiness of this bourbon is supported by a light peppermint flavor from the higher rye content, and hints of dark tobacco and a little more wood. The different elements of the fragrance are revealed by swirling. There is a hint of vanilla, orange, savory, and sweet caramel fudge. These are intermingled with the scent of lightly roasted wood and corn.
Flavor
It starts with sweet caramel and vanilla, which I think of as cotton candy-flavored. There's a fuller flavor to it than you'd expect, and the alcohol flavor is mild but noticeable. Take a deeper taste, and the bourbon swoops across your palate like a swallow of piping hot, smoky peppery rye spice. And all around that, you'll find hints of rosemary and a hint of cocoa powder; on your tongue, you'll taste every spice-grilled chipotle pepper that went into the process.
Finish
I can taste citrus and fruit on the back of my tongue that becomes tea-like as it moves down my throat. The fruitiness continues into the finish, where it alternates with the wood and minty tasting notes. The sweetness is more subtle at the end, but still present, along with more banana-like flavors of caramelized sugars.
Blanton's Single Barrel Alternatives 
Everyone is in search of that "perfect" whiskey, and Blanton's Single Barrel seems to be a popular choice among many. However, with a price tag of $40-$80, it can be far out of reach. Here are 3 affordable substitutes for those who might want to keep trying new things on the hunt for their whiskey "unicorn."
Four Roses Single Barrel
Four Roses Single Barrel is a standard bottling of the distillery's whiskies that stores sell across the US. It represents the younger, more vibrant whiskies, but at a certain point in their aging process. Well-suited for mixing and sipping neat, Four Roses is a great bourbon for those looking for a good value (and an affordable introduction to bourbon).
The nose on this one is where it shines. You're hit with citrus right away, but it's different than the original. It's not as sweet, and there are definitely some woody elements to deal with. You can smell more dried citrus after getting accustomed to the whiskey's aroma, and there's a stronger sweetness when you get that initially strong citrus on your first whiff.
The texture is neither too sweet nor too boozy, but it is a little hard to resist that pleasant sweetness. It starts with notes of honey, apple, and vanilla in the mouthfeel. Then, the oak, cinnamon, and clove come back on the back end, leaving a slightly spicy kick on your tongue.
EH Taylor Small Batch Bourbon
E.H. Taylor Small Batch bourbon is a product of Buffalo Trace Distillery, which crafts some of the best bourbons on the market, including Buffalo Trace and Eagle Rare. This is a "small batch" bourbon crafted from the same mash used to make those award-winning bourbons.
The aroma of this bourbon is intensely sweet with notes of raisins, pine, sandalwood, and black pepper. A sprinkling of cinnamon, caramel, cherry, and candied orange follows. With water, the aroma becomes very fruity (cherry and orange). Tangy and spicy with cinnamon, caramel, pepper, and a touch of dried fruit.
The palate starts out with flavors of sweet corn, pumpernickel bread, orange, and starfruit. As we travel through the midpalate, more flavors emerge like brown sugar and hints of mint. All of this is reminiscent of a winter day spent sitting around a crackling fire. Vanilla, cinnamon, and cloves are just as noticeable as the mint in the finish.
John J Bowman Single Barrel Bourbon
Bowman is a luxury product from Buffalo Trace distillery that literally tastes like the best nectar on Earth, especially when drunk and blended in such a way to maximize the inherent, natural taste of aged bourbon. Buffalo Trace Single Oak Project Single Barrel Bourbon is a cousin of some of the distillery's most sought-after single barrel bourbons, like Blanton's and Rock Hill Farms.
The nose is initially pleasing with notes of honey, vanilla frosting, licorice, orange, strawberry, and starfruit. Underlying layers of oak, clove, and cinnamon are detected after a minute of breathing. Swirling the whiskey in my glass brings out deeper notes of toasted vanilla frosting, strawberries, apples, and fennel. Overtones of oak and clove complement these flavors.
The first sip hits me with honey and licorice. Vanilla, orange, and apple come next, followed by strawberry and hints of dark berries. Roasted oak, clove, and cinnamon make an appearance as well. It has been described as being more mellow and easygoing than other bourbons but is still a full-flavored drink. If you love the taste of great bourbon and are a fan of John J. Bowman Single Barrel, this limited-edition whiskey is for you.
The Verdict
When it comes to bourbon, Blanton's Single Barrel Bourbon is the top pick for many enthusiasts. For more than forty years, this bourbon has been one of Kentucky's oldest and rarest bourbons. It has a sweet, fruity, woody, nutty, and spicy flavor; in short, the best characteristic of bourbon.
FaQ
Is Blanton's Single Barrel Worth the Money?
It is pretty much the finest tasting whiskey I've ever had. I'd say that every whiskey lover should have a bottle of it in order to learn what real Bourbon tastes like. You need to taste it before you can commit, but you know that if it tastes as good as it looks, you'll buy a bottle.
How Much Is a Bottle of Blanton's Single Barrel?
For anyone that has tried Blanton's before, they know that it is special, but it is easily missed because of the daunting price tag. However, when you have a bottle of one in hand, prepare to be wowed, because here's why this bourbon is as awesome as you could imagine. It's challenging to find it and if you are lucky enough, the cost is nearly $60, but the whiskey is well worth every penny.
Does Blanton's Single Barrel Increase in Value?
When it comes to fine whiskey, Blanton's is one of the finest you can buy. It was introduced in the 1970s and was known as a high-end bourbon at that time. With age, it becomes finer as it acquires some great taste and smells. The best thing about Blanton's is that it increases its value over time, unlike other spirits whose value is reduced with age.
Is Blanton's Single Barrel Better Than John J Bowman Single Barrel Bourbon?
These two bourbons have different tastes and cost quite differently too. As a professional drinker, I don't like to make absolute statements, but after much tasting and analysis, I would suggest you the first one if your budget allows. The unique name and flavor impressions made it stand out from other bourbons on the market, which ultimately sky-rocketed its success.
What Makes Blanton's Single Barrel Special?
This bourbon has a long, proud history of almost fifty years that makes it one of the best bourbons in the world. The beauty of Blanton's bourbon is not just that it is masterfully crafted and exquisitely mellifluous; it's that it marries the art of distilling with the science to give it an unmatched refinement. It's a mix of years of tradition, innovation, and craftsmanship. It is ​the result of painstaking attention and meticulous perfection.