The life of each of us is filled with a huge number of stressful situations. Relaxing and resting are sometimes extremely important to keep your peace of mind and gain strength for your next dash. Bulleit Bourbon review will tell you about the main advantages of this whiskey, what products it combines better, what sensations it gives. This is a good drink that will help you quickly relax and forget about everyday problems.
Main Characteristics
Classification: Straight Bourbon;
Owner: Diageo;
Distillery: not disclosed;
Composition: corn, rye, malted barley;
Color: russet;
Bourbon price : from 32 USD / 750 ml.
Brand History
The history of Bulleit bourbon drinks dates back to the 1800s when August Bulleit moved to America and opened several taverns. To attract the attention of customers, he created his unique types of whiskey and later began to sell it to other establishments, selling it to order. The business developed rapidly.
The original Bulleit bourbon mash bill included 2/3 rye and 1/3 corn. This is a very unusual recipe for bourbons. After the death of Augustus, his business ceased to exist for many years, but the ancestors kept the recipes.
In 1987, August's great-grandson Tom decided to reopen his ancestor's business. He started a small whiskey distillery according to old recipes. After 10 years, Seagram became interested in his activities. The new owner increased production and brought the product to the American level.
After a while, Diageo bought the brand. Since that time, it began to increase production volumes even faster.
Since the appearance of a unique recipe, it has been slightly modified. Today the manufacturer uses the following ratio:
68% corn,
28% rye,
4% malted barley.
Bulleit bourbon whiskey review says that this ratio is more correct for the drink because it allows you to create a soft taste that will appeal to every spirits lover.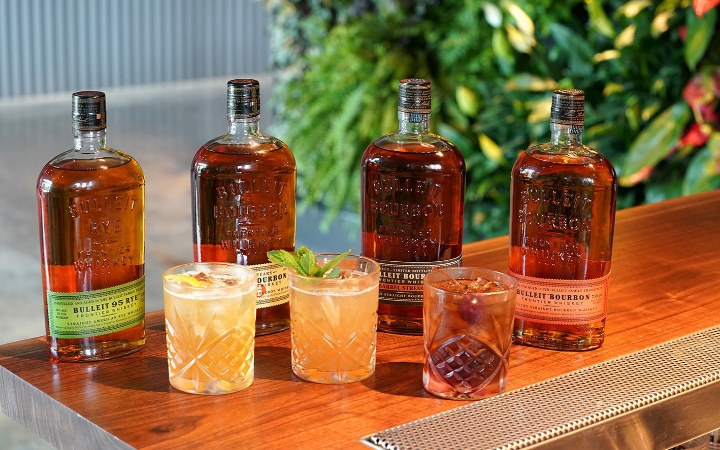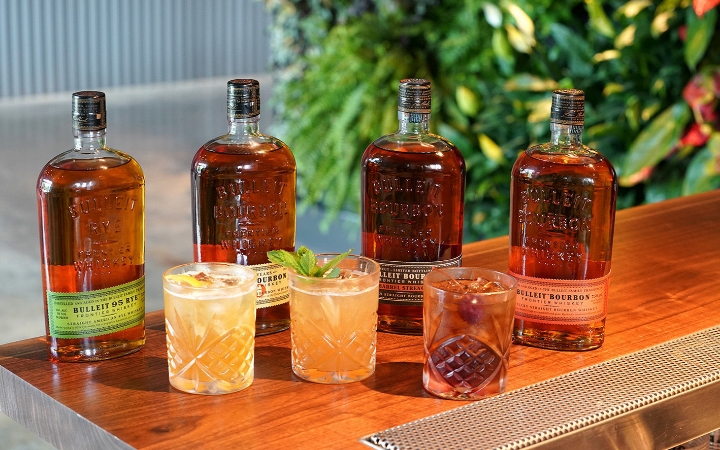 Taste
Fans of strong alcoholic drinks will not be able to confuse Bulleit Bourbon taste with any other product. At the first sip, you can feel an unusual bouquet of flavors, which includes:
honey,
fried vanilla,
licorice,
baked apple,
a pineapple,
carnation,
fennel,
roasted oak;
cinnamon.
At the second sip, dried cherries, a little cocoa powder, and orange peel are also added to the overall bouquet.
Each person discovers all Bulleit bourbon tasting notes differently. If you do not have much experience in tasting elite alcohol, do not expect to immediately feel the whole bouquet of aromas. For everyone, the drink opens up differently and this is normal. Sitting in the same company, all friends will be able to feel the unique note.
Is It Better To Drink It Neat Or Mix It?
Is Bulleit Bourbon good for cocktails? You may not even know, but most of the bourbon cocktails you ever taste have spirits from this particular brand. It is ideal for mixing with various components, and the price is relatively low.
You can drink pure whiskey if you wish. In this case, you get the opportunity to feel the whole range of aromas, enjoy its warmth. If you drink Bulleit with ice, you lose half of its fruity flavors. Nevertheless, even with ice, the whiskey remains quite rich and pleasant to the taste.
As for snacks, grilled meat or fish, vegetables well seasoned with spices are ideal for a strong alcoholic drink. Also, many people like to drink Bulleit with black bread sandwiches. This will help to emphasize the high content of rye, which gives the honey flavor.
In general, it is safe to say that this drink will be the perfect addition to any table. Some prefer to drink it every day, 1 glass at the end of a hard day, others get it only on holidays, and still, others widely use it to create cocktails. This whiskey is perfect for almost any purpose.
Features Of Production
Where and who makes Bulleit Bourbon has not been disclosed today. The company keeps secret the recipe and many aspects of the beverage production. This helps to avoid various fakes.
How long is Bulleit bourbon aged ? At the moment, the company produces this drink in two versions:
Bulleit Bourbon Barrel Strength
In the first case, you get a good whiskey, which is aged for 5 to 8 years, depending on the harvest. It is bottled straight from the barrel, so the flavor may differ from the batch.
Bulleit Bourbon 10 Years is a more expensive drink that is aged in an oak barrel for 10 years. It is produced in limited quantities. It won a double gold medal at the 2013 World Spirits Competition in San Francisco. This is a perfect example of a really good whiskey that deserves the attention of even the most demanding spirits collector.
Conclusion
Bulleit Bourbon rating today is quite high compared to other drinks in this price category. For a low price, you get a good whiskey with a rich bouquet of various flavors, which are open to everyone in different ways. With each sip, you get the opportunity to get to know the drink better.
Bulleit can be drunk neat or added to a variety of cocktails (for example for Manhattan or Irish coffee). Various snacks are ideally combined with the drink, so it will decorate any table. So, if you are going to a party and want to buy strong alcohol, have a good time, then Bulleit will be a great solution.
FAQ
Is The Bulleit Real Bourbon?
Yes. For a strong whiskey to be considered bourbon, it needs more than 51% corn. Bulleit has 61%, so it can be safely called a good bourbon.
Is Bulleit Bourbon Suitable For Making Cocktails?
Yes, Bulleit is widely used to create a variety of cocktails. It can also be drunk neat or with ice added.