| | |
| --- | --- |
| Distillery | Sazerac  |
| Type&Region | Canada |
| Alcohol | 40%  |
| Composition | Barley malt, rye, and corn |
| Aged | 3 years old |
| Color | Rich honey |
| Price | $20(750 ml) |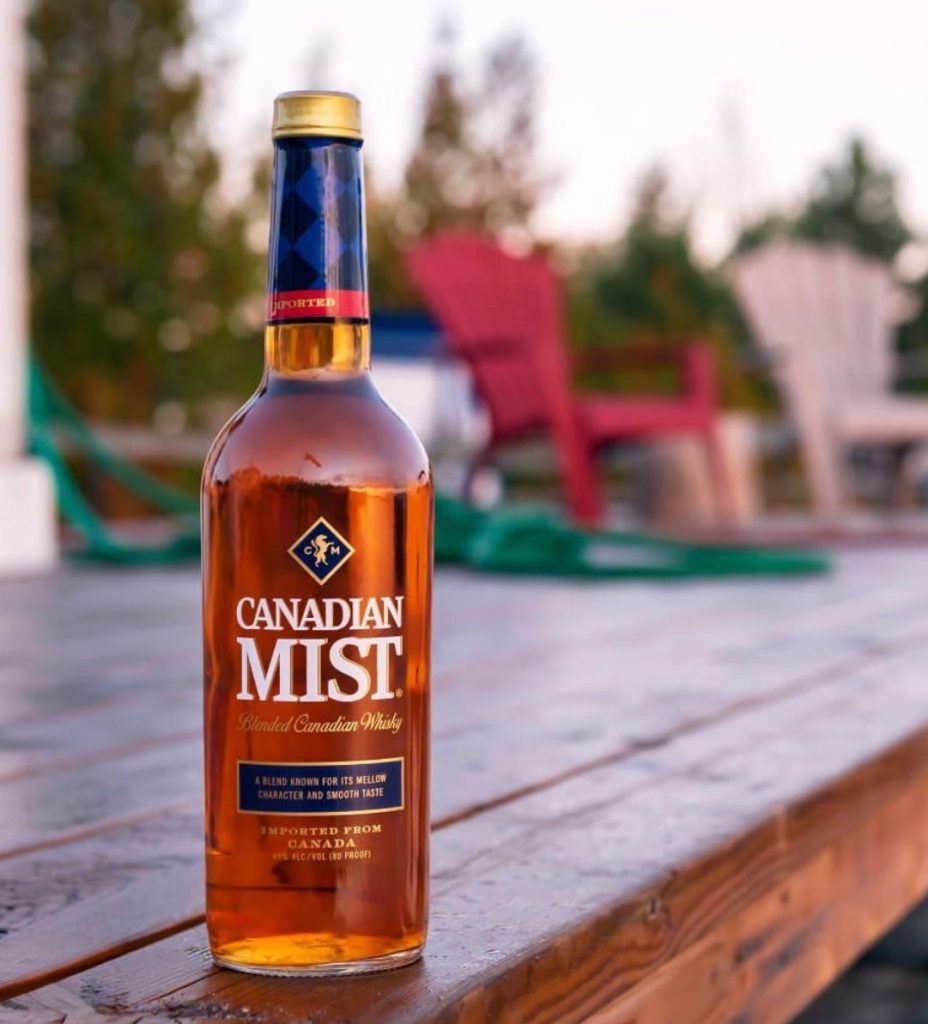 The Art of Making
Making whiskey is an art form that has been perfected over centuries. It starts with selecting the right grains—in the case of Canadian Mist, corn, wheat, rye and malted barley are seeped in hot water until they are fully saturated. The mixture is then mashed, fermented and distilled to create a clear spirit known as "malt whisky". This malt whisky is then aged in oak barrels with specially chosen char levels to give it its characteristic flavor profile. 
It takes three years to age Canadian Mist whisky to perfection. During this time, the whiskey develops its signature golden color as well as its distinctive flavor profile of caramel and honey notes. Once aged to perfection, it is blended with other whiskeys to achieve its signature full-bodied taste. The result is a smooth yet robust spirit that has become synonymous with high quality whiskey around the world. 
Once blended, the whiskey is chilled at temperatures below zero degrees Celsius before being filtered through layers of maple charcoal chips. This step helps ensure that only pure alcohol passes through while any impurities are left behind in the charcoal filter bed. Finally, after being filtered and proofed down to 40% ABV, it is ready for bottling and shipping! 
Tasting Notes
NOSE: A pungent blend of medicinal, caramel-saturated aromas is followed by a watery butterscotch scent. Notes of waxy candy corn and synthetic sweetness mingle with astringent citrus notes and root beer taffy in the background while a faint turpentine undertone wraps everything together.
PALATE: The palate is met with a potent blend of medicinal caramel, overripe citrus, and burnt toffee followed by an earthy base note of raw grain. An intense wave of raw alcohol and butterscotch washes over the tongue accompanied by oily, dirty undertones that add depth to the mechanical flavor profile.
FINISH: Once again, the putrid taste of medicinal caramel presents itself in a nauseatingly cloying manner; its artificial sweetener and watery maple syrup flavors linger on your palate for an extended period.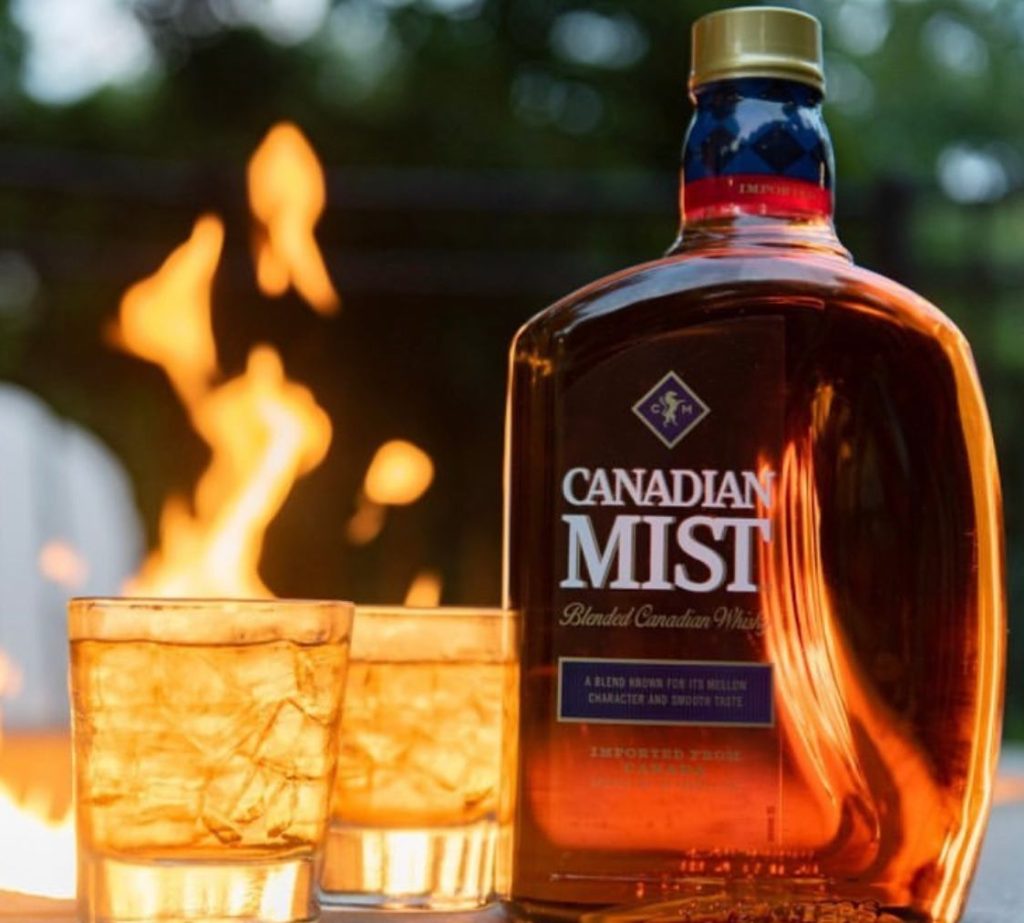 The Alluring History of Canadian Mist Whisky 
Canadian Mist was first distilled in 1970 by Andrew MacKay and David Thomas from a recipe developed by Master Distiller George Skene. The two men had already been distilling whisky for over two decades when they decided to create their own brand – and it was an immediate hit. Over the years, Canadian Mist has become one of the most popular brands of Canadian Whisky on the market, with its distinctive taste and smooth finish making it a fan favorite.     
Aging Process & New Innovations 
Canadian Mist also boasts an impressive aging process that helps bring out even more flavor notes from each batch. By aging their whiskies in charred white oak barrels for at least six months, they achieve an unparalleled depth of flavor that can't be replicated any other way. And just recently, they've added some new innovations to their lineup like barrel-aged cask strength whisky and whiskey-infused maple syrup – perfect for adding a bit more character to any meal! 
The Best Canadian Mist Cocktails 
Mint Julep 
The Mint Julep is an iconic American cocktail traditionally made with bourbon, but it can also be made with Canadian Mist whisky! To make a mint julep, you will need 3 ounces of Canadian Mist whisky, 2 ounces of simple syrup, 8 fresh mint leaves and crushed ice. Muddle the mint leaves and simple syrup together in the bottom of a glass and then add your whisky. Stir until fully combined, top off with crushed ice and garnish with additional fresh mint leaves. Enjoy! 
Whiskey Sour 
The Whiskey Sour is one of the most popular whiskey-based cocktails out there. This classic recipe calls for 2 ounces of Canadian Mist whisky, 1 ounce of freshly squeezed lemon juice, 1 teaspoon of sugar or simple syrup and an egg white (optional). Combine all ingredients into a shaker filled with ice and shake vigorously for about 30 seconds before straining into a glass full of ice. If desired, garnish with a slice of orange or lemon peel. Refreshing!  
Old Fashioned 
The Old Fashioned is another classic whiskey-based cocktail that can be easily adapted to use Canadian Mist whiskey instead of bourbon or rye. To make an old fashioned you will need 2 ounces of Canadian Mist whisky, 1/2 teaspoon sugar (or simple syrup), 3 dashes Angostura bitters and 1 maraschino cherry (plus its juice). Add all ingredients except for cherry juice into an old-fashioned glass filled with ice cubes and stir until everything is blended together nicely. Garnish with maraschino cherry plus a few drops of its juice to add sweetness if desired. Cheers! 
Conclusion
In conclusion, Canadian Mist whisky offers a nicely balanced blend of sweetness, complexity, and smoothness that makes it an ideal choice for both whiskey connoisseurs and casual drinkers alike. Its production process ensures that each bottle is pure and consistent while its price point makes it accessible to virtually everyone looking for an enjoyable evening dram without breaking the bank! Whether you are looking for something special to share on special occasions or just want something new to try on your next night out, Canadian Mist should definitely be at the top of your list!