| | |
| --- | --- |
| Distillery | Crown Royal |
| Type&Region | Kanada |
| Alcohol | 43% |
| Composition | 64% corn, 32% rye and 4% malted barley |
| Aged | over 3 years |
| Color | golden amber |
| Price | $46(750 ml) |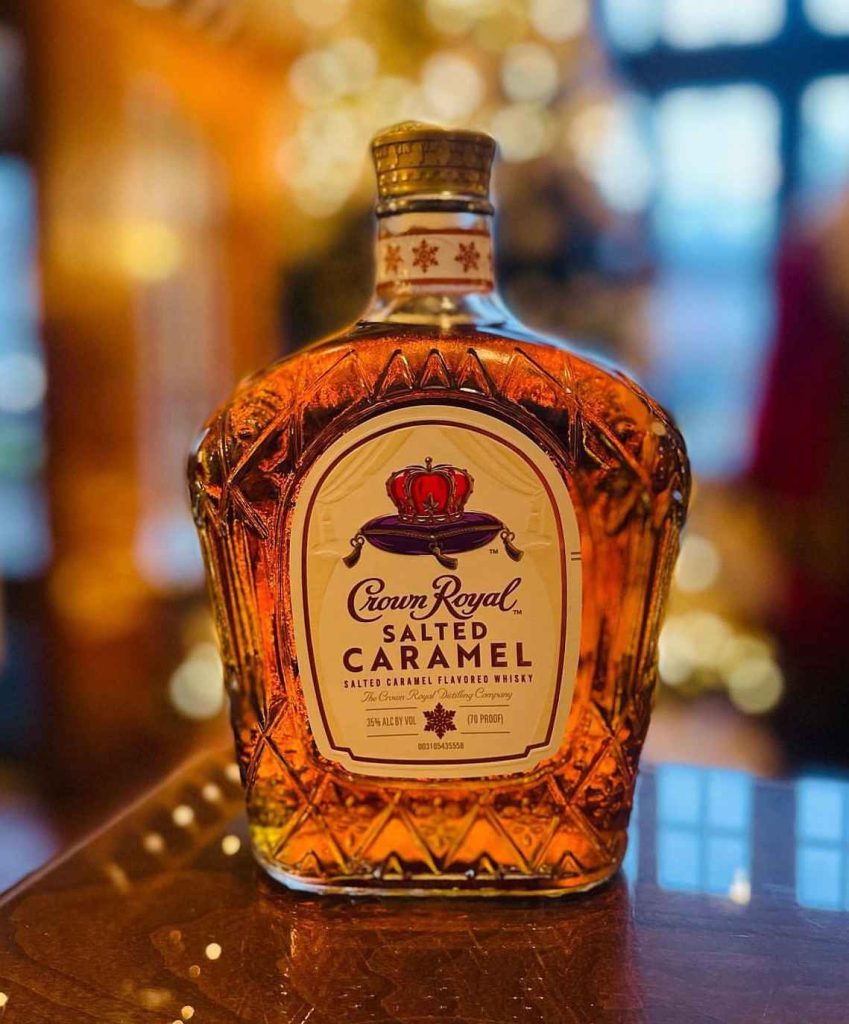 The Art of Making 
Crown Royal whisky is made with a blend of select Canadian whiskies that are aged for at least three years in charred oak barrels. These barrels are made from white oak, which imparts a subtle smoky flavor to the whisky as it ages. The whiskies used to make Crown Royal have a distinctive flavor that comes from the grains used in their production, including barley, maize, and rye. These grain varieties are carefully chosen for their individual characteristics and combined to create the iconic taste of Crown Royal. 
The Production Process 
The whisky's production process begins with milling, where dry grain is ground into a coarse flour-like powder called grist. This grist is then mixed with hot water in large vessels called mash tuns, where it undergoes a process known as mashing. During mashing, enzymes break down the starches in the grain into simpler sugars that can be fermented by yeast. The resulting liquid is then transferred to fermentation tanks and left to ferment until it becomes an alcoholic beverage known as wort or beer.  
Once fermentation has finished, the beer is heated until it evaporates and becomes vapors that contain alcohol vapors known as "distillate" or "new whiskey". This distillate is then cooled and collected before being placed into charred oak barrels for aging. As the whisky matures in these barrels over time, some of its alcohol content evaporates—a process known as "the angels' share"—while the rest slowly takes on color and flavor from the wood of the barrel itself. After aging for at least three years, this delicious new whiskey is ready for bottling! 
Tasting Notes
Note:
Aromas of corn reign supreme on the nose, complemented by robust hints of rye spice, heady vanilla and caramel sweetness, smoky char and aged oak. Lingering lightly in the background are subtle scents of raw grains and brown sugar.
Color:
Poured into a glass, the whiskey reveals its luxurious golden amber color.
Taste:
A delicate balance of vanilla, spices, and dried fruit can be experienced with this wine. As you savor its flavor profile, a long smooth finish lingers on the palate.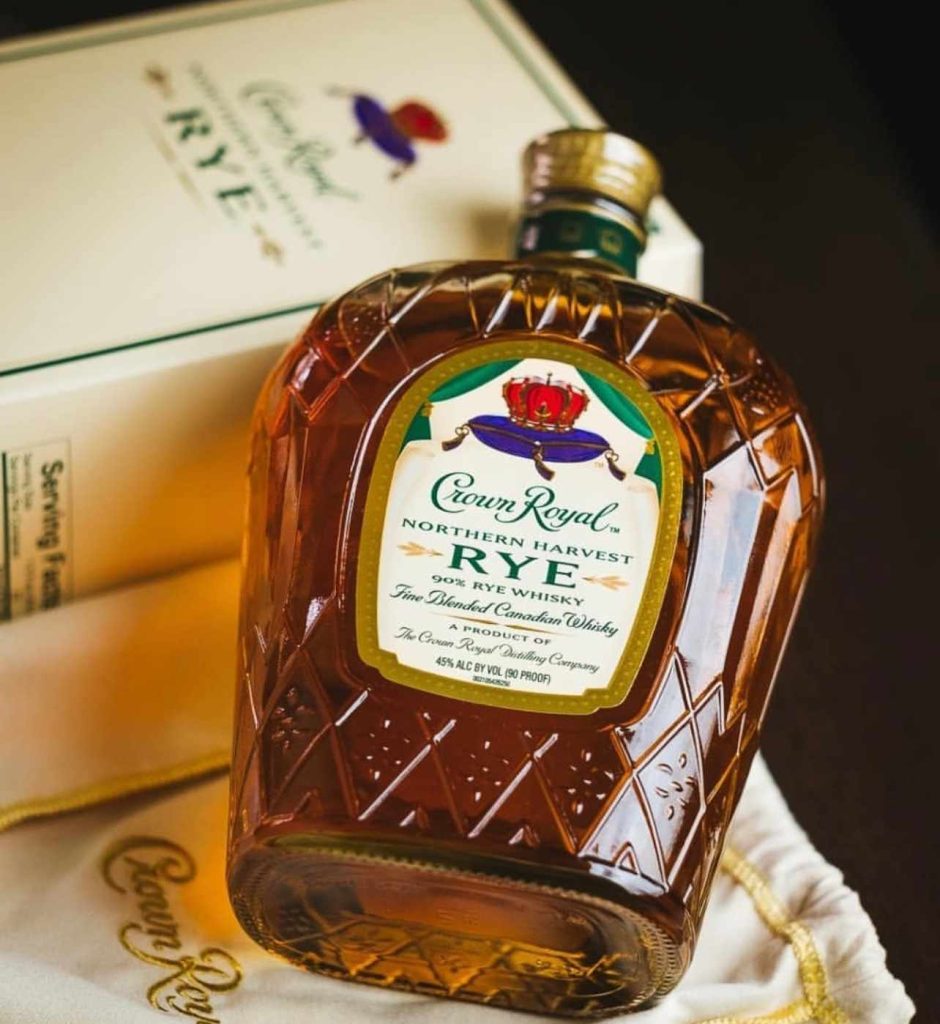 The History of Crown Royal Whisky 
The Beginnings of Crown Royal 
Crown Royal was first created in 1939 by Seagram's distillery in Canada, as a way to celebrate the visit of King George VI and Queen Elizabeth to Canada. The whisky was presented in a purple bag with gold-colored fringes, which would become a signature part of its branding. It was an instant hit among Canadians and soon grew in popularity all over North America. 
The Rise of Popularity 
By the late 1950s, Crown Royal had become one of the bestselling whiskies in North America, thanks to its smooth taste and distinctive branding. It was also one of the first spirits to be exported from Canada to other countries, including Japan and Australia. In 1976, it won its first gold medal at the International Spirits Challenge for its signature blend, which is still used today. 
Over time, Crown Royal introduced several new variations on their original blend – including flavored whiskies such as apple, maple, and honey – as well as special edition bottles for specific occasions such as holidays or major sporting events like NASCAR racing or NFL football games. These innovations have kept Crown Royal at the forefront of Canadian whisky production for generations. 
Mixing Up the Perfect Crown Royal Cocktails 
The Manhattan 
The Manhattan is one of the most iconic American cocktails. To make it with Crown Royal, combine 1 ½ oz of the whiskey with ¾ oz sweet vermouth and 2 dashes of Angostura bitters in a mixing glass over ice. Stir well and strain into a chilled martini or coupe glass. Optionally, garnish your drink with a sugar-coated orange peel or cherry as well as some brandied cherries on the side. 
The Old Fashioned 
The Old Fashioned is another classic cocktail that dates back to the 1800s. To make it with Crown Royal, pour 2 oz of whiskey into an Old Fashioned glass over ice cubes. Add 1 teaspoon of simple syrup or 2 teaspoons of Demerara syrup, 2 dashes of Angostura bitters, and 1 dash orange bitters. Garnish your drink with a lemon twist or orange peel if desired. 
The Canadian Mule 
Last but not least we have the Canadian Mule! This delicious twist on the traditional Moscow Mule combines Crown Royal Whisky with ginger beer to create an amazing flavor experience that you won't soon forget! Simply fill a copper mug (or rocks glass) with ice cubes then add 1 ½ oz of Crown Royal whisky followed by 6 oz of ginger beer and stir gently until mixed together. Finally garnish your drink with fresh lime wedges before enjoying it! 
Conclusion
Crown Royal has earned its place among some of the top whiskeys on the market today thanks to its quality ingredients and well-balanced flavor profile. Whether you are a novice whiskey drinker just getting introduced to this spirit or a seasoned connoisseur looking for something new to try, there is something for everyone when it comes to Crown Royal! With so many options available from their classic blend to flavored whiskeys that offer something unique for every occasion, Crown Royal remains an iconic Canadian staple and will continue to reign supreme for many years to come!