| | |
| --- | --- |
| Distillery | Crown Royal |
| Type&Region | Canada |
| Alcohol | 40%  |
| Composition | Corn, Rye and Malted Barley |
| Aged | NAS (at least 3 years) |
| Color | Toffee |
| Price | $36(750 ml) |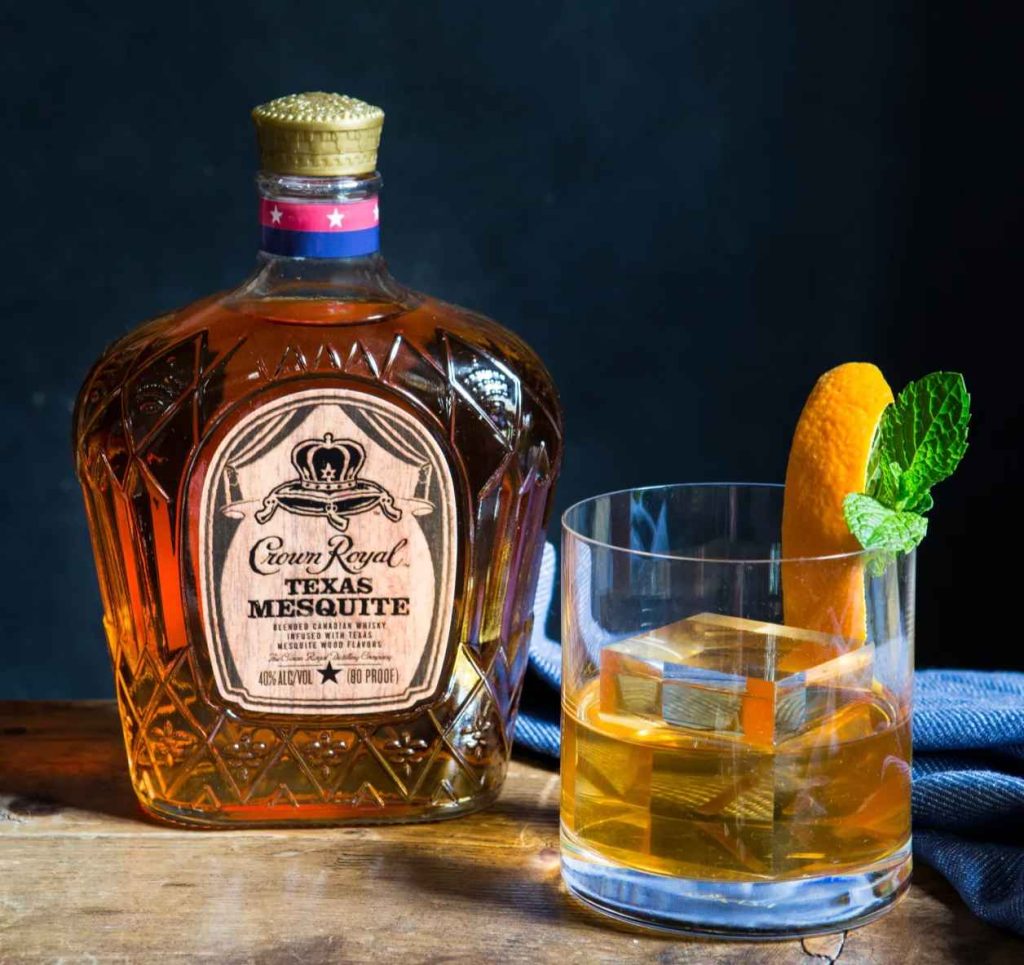 The Art of Making
Crown Royal Texas Mesquite is a blend of 50 whiskies from across Canada, including some specially crafted for this unique blend. Every component of the blend contains at least two-thirds corn, giving it a mellow flavor with hints of oak. The blending process is done by hand in small batches, guided by the master blender who ensures the perfect balance between each component. This careful attention to detail gives Crown Royal its unique flavor profile and ensures that each bottle contains only the finest whisky. 
The Art of Aging 
Once blended, the whisky is placed in charred white oak barrels for aging. These barrels are not just any old barrels; they come with a story all their own. Before being used at Crown Royal, these barrels have been used previously to age bourbon or rye whiskey, giving them an extra layer of complexity and depth of flavor. The slow aging process allows the whisky to absorb all these wonderful flavors while still maintaining its smoothness and character.                                  
The Art Of Flavoring 
Finally, to give the whisky its signature mesquite flavor, it is finished in mesquite wood chips for several months before bottling. This finishing process imparts subtle smoky notes that complement the other flavors in the blend perfectly and add an extra layer of complexity to an already complex drink. The result is a smooth yet full-bodied whisky with layers of smoky sweetness, caramelized sugar and oak spices that linger on your palate long after you take your last sip. 
Tasting Notes
NOSE: I'm detecting a potent aroma of mesquite, char and smooth vanilla… followed by piercing copper tones. A hint of waxy cherry licorice lingers in the air along with a surprisingly strong punch of lime!
PALATED: electable notes of mesquite smoke, vanilla, cocoa, copper and butterscotch linger in the air while hints of menthol and char tantalize your senses.
FINISH: Cast your senses into the realm of traditional flavors with a variety of options such as Smoke, Menthol, Vanilla, Charcoal and Tobacco.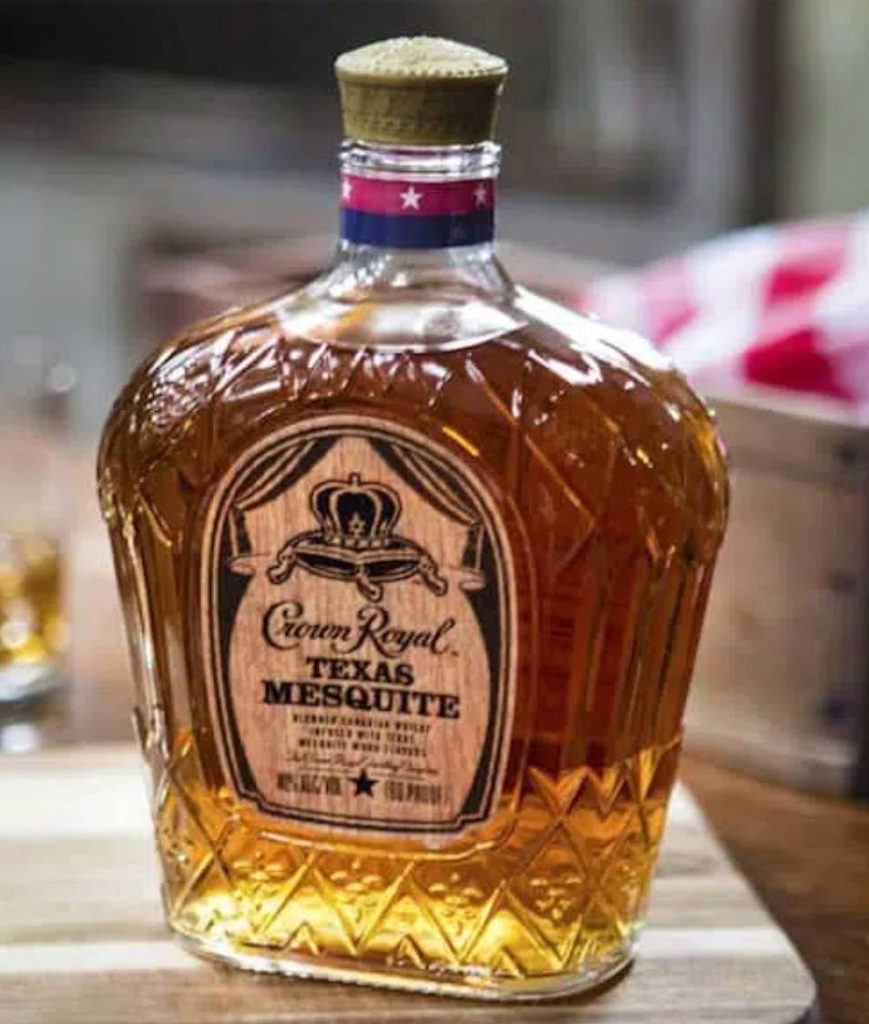 Exploring the History of Crown Royal Texas Mesquite
Crown Royal has been producing whisky since 1939, when King George VI and Queen Elizabeth visited Canada. While they were in town, the distillers at Crown Royal created a special blend to celebrate their visit—a blend that would later become known as "Crown Royal". The brand has grown significantly since then and now offers a variety of different whiskies, including its popular Texas Mesquite whisky. 
Texas Mesquite is made from a combination of corn-based Canadian rye whisky and natural mesquite wood smoke flavorings. This combination creates an incredibly smooth yet smoky flavor profile that many whisky aficionados enjoy. The process for making this particular whiskey involves infusing the rye with real mesquite wood chips over several days before bottling it. As the chips are left to steep, they impart their smoky flavors into the whisky, creating an intense yet balanced taste experience. 
The popularity of Crown Royal Texas Mesquite continues to grow every year and it has become one of the most sought-after whiskies on the market today. Not only does it have an amazing flavor profile but it's also highly affordable, making it accessible to whiskey lovers across all budgets. It's no wonder why this particular blend has become so popular!  
5 Delicious Cocktail Recipes Made with Crown Royal Texas Mesquite
Crown & Cola 
This classic combination never gets old. Just mix two parts Crown Royal Texas Mesquite with two parts cola, pour over ice, and enjoy! If you want to kick it up a notch, add some lime juice for a touch of citrus flavor. 
Mesquite Margarita  
For a twist on the margarita that's sure to please, combine equal parts tequila and Crown Royal Texas Mesquite in a shaker filled with ice. Shake until well combined and then pour into an ice-filled glass. Garnish with a lime wedge for an extra zing! 
Texas Mule  
This modern take on the Moscow mule features all the same ingredients—ginger beer, lime juice and vodka—but swaps out the vodka for some smooth Crown Royal Texas Mesquite whisky instead. Simply mix together two ounces of mesquite whisky with half an ounce of freshly squeezed lime juice and top off with ginger beer in an ice-filled copper mug. Garnish with a sprig of mint or slice of lime for added flair!
Mesquite Old Fashioned 
A tried-and-true classic made better by adding some smoky mesquite flavor to the mix! To make this drink, combine two ounces of Crown Royal Texas Mesquite with one teaspoon simple syrup and three dashes Angostura bitters in an ice-filled glass. Stir until well mixed then garnish with an orange peel or maraschino cherry. Enjoy!
Smokey Paloma 
This refreshing summer cocktail mixes together citrus notes from grapefruit soda and tartness from fresh lime juice along with smoky notes from your favorite mesquite whisky—in this case, Crown Royal Texas Mesquite! Simply mix two ounces of mesquite whisky with four ounces grapefruit soda in an ice-filled glass and squeeze in some fresh lime juice for added zing! Stir until everything is combined then garnish with a slice of fresh lime or grapefruit wedge for added sweetness.
Conclusion
With its rich blend of flavors and unmistakable smokiness, Crown Royal Texas Mesquite is sure to please any whiskey enthusiast's palate. Whether you're sipping it neat or using it as part of your favorite cocktail recipe, this unique whisky will add a little bit of Lone Star State charm to your next gathering. So gather up your friends and family, pour yourself some Crown Royal Texas Mesquite, and enjoy responsibly! Cheers!