| | |
| --- | --- |
| Distillery | The Glenrothes |
| Type&Region | Speyside (Highland) region of Scotland |
| Alcohol | 40%  |
| Composition | The majority of Cutty Sark's makeup comes from grain whisky (North British and Invergordon), which pulls together the 40 different single malts, including Highland Park, Glenrothes, Macallan and Bunnahabhain, that comprise the rest of the liquid. |
| Aged | over 12 years  |
| Color | Clear, pale straw gold |
| Price | 10$ (750 ml) |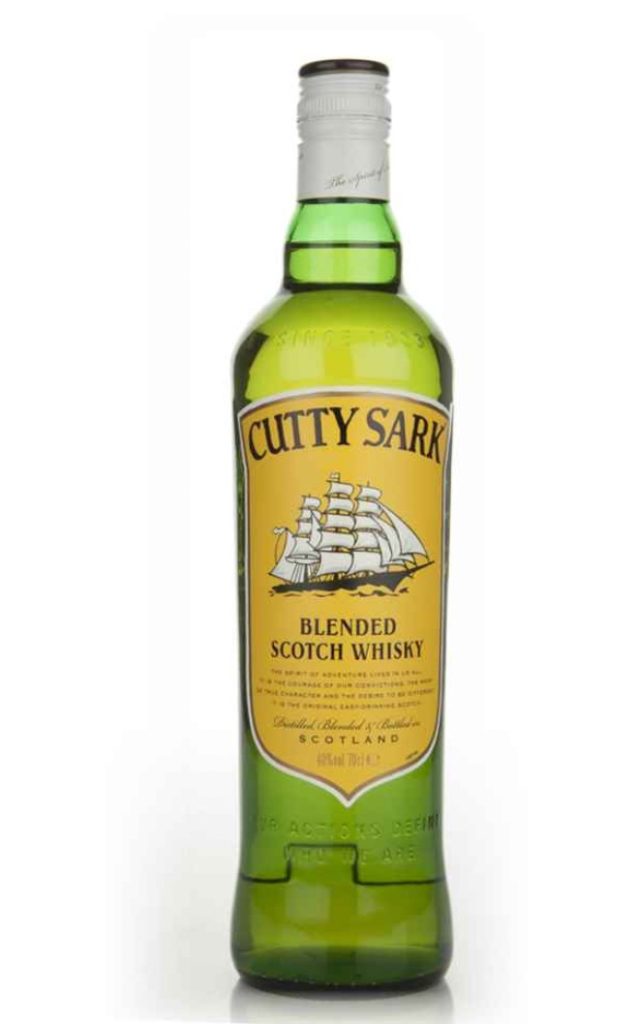 The Art of Making 
Cutty Sark is a blended scotch whisky made in Scotland. This particular whisky has been around for over 90 years, with the recipe remaining unchanged since its inception. It is still made using the same traditional methods and ingredients that were used all those years ago. Let's take a look at the Process behind making this iconic blend. 
Malt Whisky-Making Process 
Cutty Sark uses malted barley to make their whisky. This process involves soaking the barley in water, allowing it to germinate, and then drying it over peat fires in a kiln. Once dried, the malted barley is milled into a coarse powder called 'grist,' which is then mixed with hot water in large containers called 'mash tuns.' The liquid that results from this process is known as 'wort.' This wort is then transferred to large copper pot stills, where it is distilled twice before being placed into oak barrels for aging, usually for between three and five years. The end result of this process is malt whisky, which forms the backbone of Cutty Sark's flavor profile. 
Grain Whisky-Making Process 
Cutty Sark also uses grain whisky as part of its blend. Grain whisky differs from malt whisky in that it utilizes grains other than just malted barley, such as wheat or maize. The same basic distillation process applies, however; the grains are soaked in water and fermented before being distilled and aged in oak barrels. In addition to creating grain whisky, some distillers also create a 'neutral spirit,' which can be added to blends if desired. The inclusion of neutral spirit helps to lighten up the flavor profile of some whiskies and give them more complexity when combined with malt whiskies. 
Blending Process After both types of whiskies have been aged for several years; they are blended together according to recipes that have been passed down through generations in order to create different flavor profiles and characteristics. At Cutty Sark, these recipes remain unchanged from when they were first created nearly 100 years ago! After blending, the spirit may be returned to oak casks for additional aging or bottled directly.
Tasting Note
Nose: Aromas of delicate herbs, sweet florals, creamy custard, and freshly cut hay delight the senses.
Palate: Rounded, mixed peels, lots of barley.
Finish: Good length, warming, malt.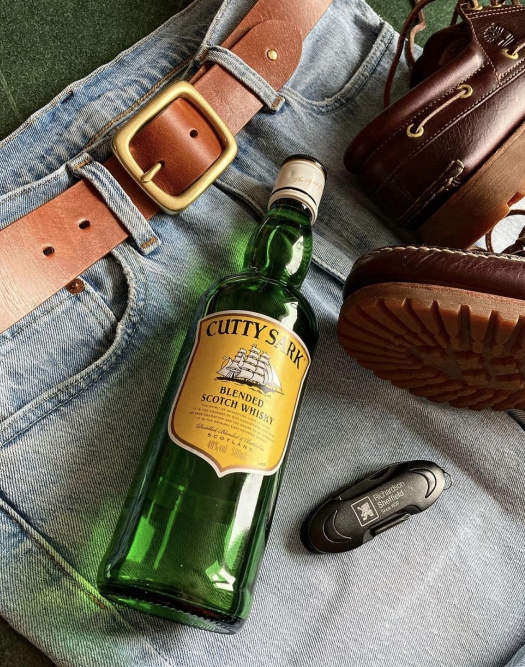 Exploring the History of Cutty Sark 
The story of Cutty Sark began in 1923 when the renowned wine and spirits merchant Berry Brothers & Rudd introduced it to the world. Named after the famous clipper ship, which was known for its speed and grace, Cutty Sark was designed to appeal to a wide range of palates—from those who preferred lighter, more delicate flavors to those who enjoyed bolder scotches. It quickly became popular among whisky lovers, with one writer praising it as "a very smooth blend" with "an agreeable lightness on the palate."  
Cutty Sark's Expansion and Evolution 
In 1950, Cutty Sark was acquired by The Edrington Group, a family-owned company that continues to produce it today. Over the years, Edrington has expanded upon the original recipe by introducing several new expressions into the lineup. In 2012, they launched Cutty Sark Prohibition Edition in honor of the American Prohibition-era bootleggers who smuggled whisky from Scotland into America during that time period. This expression is made using whiskies aged for at least 18 years before being finished in ex-bourbon casks for an additional three months.  
Enjoy the Finest Scotch with These Cutty Sark Cocktails 
Cutty Sark scotch has been a go-to for many years. It is a smooth blend of malt and grain whiskies, making it the perfect choice for cocktails. Whether you are looking to make something special for yourself or your guests, serving up a delicious cocktail made with Cutty Sark is sure to please. Let's take a look at some of the best cocktails made with this timeless favorite.
Cutty Sour 
This classic cocktail is easy to make and requires just three ingredients – Cutty Sark, lemon juice, and simple syrup. Simply combine two ounces of Cutty Sark, one ounce of freshly squeezed lemon juice, and ½ an ounce of simple syrup in a shaker filled with ice cubes. Shake vigorously until the outside of the shaker becomes frosty. Strain into a rocks glass filled with fresh ice cubes and garnish with an orange slice or cherry for extra flavor. 
Rusty Nail 
This sophisticated cocktail takes only five minutes to make but can be enjoyed all night long. To start, fill an old-fashioned or rocks glass halfway with ice cubes before adding one ounce each of Drambuie and Cutty Sark scotch whisky. Stir gently before garnishing with a twist of lemon peel. The result is a deliciously smooth mix that will transport you straight to Scotland! 
Rob Roy 
The Rob Roy is perfect for whiskey lovers who want something sweet yet not overly sugary. Begin by filling an old-fashioned glass two-thirds full with cracked ice before adding two ounces of Cutty Sark whisky and ¾ ounce each of sweet vermouth and dry vermouth (or one ounce if you prefer). Stir until everything is combined, and then garnish with an orange twist or maraschino cherry for added flavor. This classic cocktail has stood the test of time; enjoy it today!