| | |
| --- | --- |
| Distillery | Buffalo Trace |
| Type&Region | Kentucky, USA |
| Alcohol | 50% |
| Composition | Rye and Malted Barley |
| Aged | At least 4-years-old |
| Color | Light caramel |
| Price | $75(750 ml) |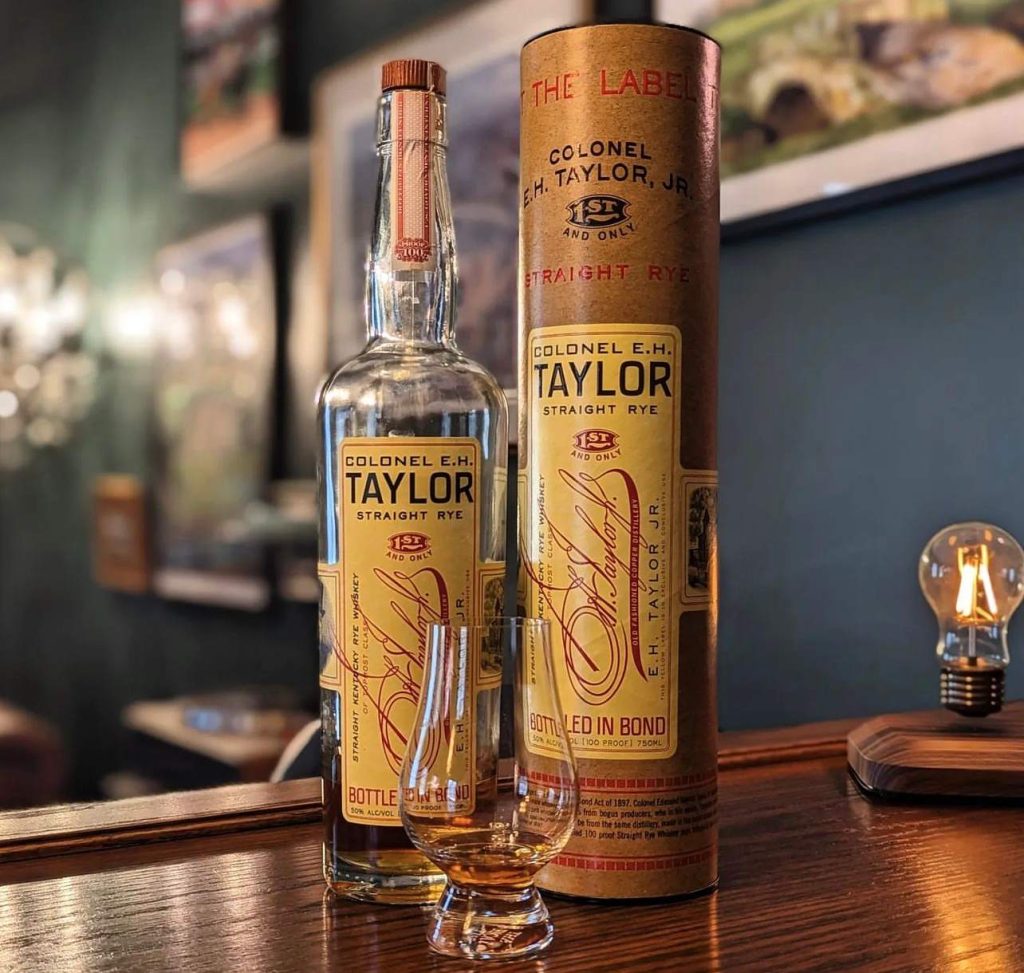 Art Of Making
Colonel E.H. Taylor Rye whiskey is crafted using a combination of grains including rye, corn, wheat, malted barley, as well as water from an underground limestone aquifer in Kentucky. These ingredients are blended together in precise proportions to create a unique flavor profile for the whiskey.
Distilling Process
Once the blended ingredients have been combined into mash, it is distilled twice in copper pot stills before being aged in new charred-oak barrels made from white oak trees grown in the Ozark Mountains of Missouri. During this aging process, the whiskey develops its signature golden color as well as its smooth taste with notes of caramel and vanilla.
Bottling & Packaging
Once it has been properly aged, Colonel E.H Taylor Rye Whiskey is bottled at barrel proof (125 proof). It comes packaged in a distinctive bottle that is modeled after Colonel Taylor's iconic flask shape that he used during his travels around Kentucky to promote his brand back in the early 1900s.
Tasting Notes
NOSE: Spicy rye, creamy vanilla, toffee-like caramel notes, light oak finishing followed by hints of black tea and cinnamon spice with a pinch of leathery pepper.
PALATE: Delight in the amazing flavor profiles that accompany Rye whiskey- from invigorating spices such as nutmeg and cinnamon to more subtle, sweet notes of vanilla, caramel and fruit. A hint of pepper plus oak and leather undertones completes this complex yet delightful blend.
FINISH: An extended finish of tantalizing spices, oak and caramel notes.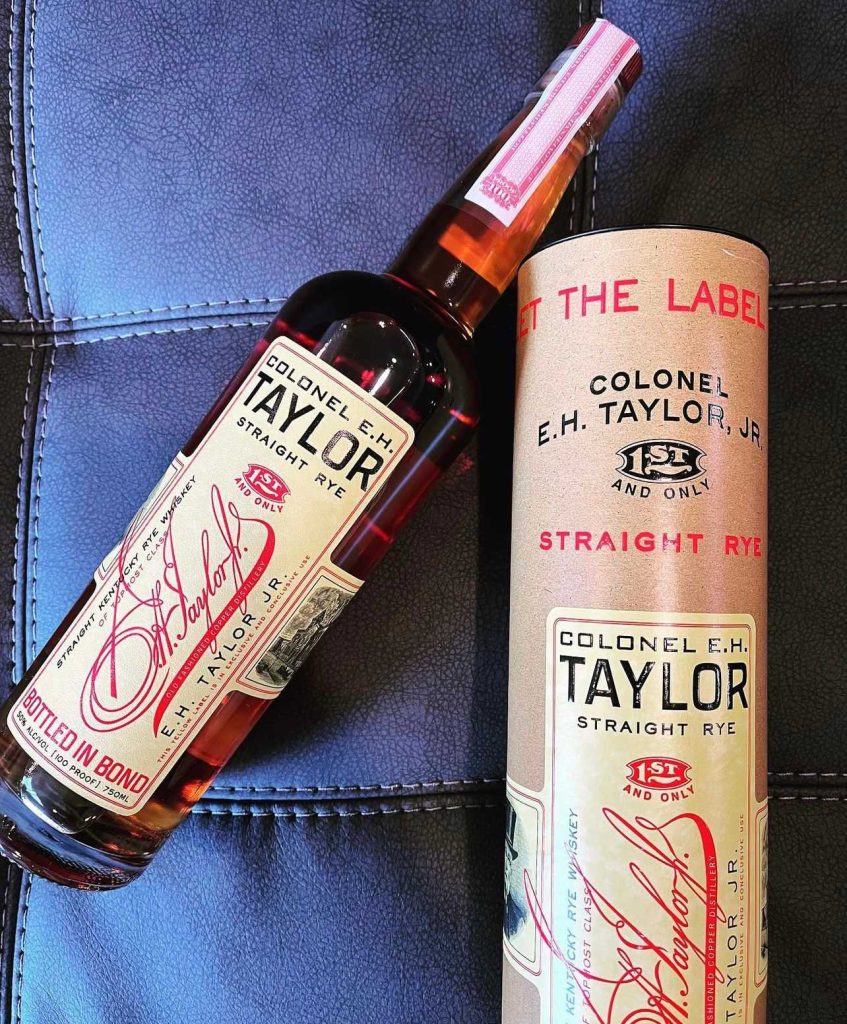 The History of EH Taylor Rye Whiskey
The Man Behind the Brand – Colonel Edmund Haynes Taylor Jr.
E.H. Taylor is named after Colonel Edmund Haynes Taylor Jr., who was an influential figure in 19th century bourbon production in Kentucky. He was born in 1835 and quickly rose to prominence as a distiller thanks to his innovative approach to distilling and aging whiskey. By 1887, he had become President of the Distillers' and Cattle Breeders' Association and was responsible for introducing many of the regulations that are still followed today when it comes to producing quality whiskey. His famous Green Label Bottled-in-Bond Rye Whiskey is still produced today using his original recipe from 1878!
Taylor's Legacy Lives On
In 2006, Buffalo Trace Distillery (formerly known as George T Stagg Distillery) acquired EH Taylor Jr.'s historic Old Fire Copper (OFC) distillery facility in Frankfort, KY. This acquisition allowed them to revive long-lost recipes such as Col E H Taylor Small Batch Bourbon and Col E H Taylor Straight Rye Whiskey that were created by Colonel Taylor himself more than 100 years ago! Today, Buffalo Trace continues to honor Colonel Taylor's legacy by producing small batches of high-quality whiskeys under his name that are sure to please even the most discerning connoisseurs!
Get Fancy with These Cocktails Made with Colonel E.H. Taylor Rye Whiskey
Manhattan
The classic definition of sophistication, a Manhattan is an elevated take on your typical whiskey cocktail. To make one, stir together 2 ounces of Colonel E.H Taylor rye whiskey, 1 ounce sweet vermouth, and 2 dashes of Angostura bitters in an ice-filled glass until chilled and diluted properly. Garnish with a maraschino cherry, and voila! You've got yourself a classy Manhattan cocktail to enjoy!
Mint Julep
This refreshing minty drink is the perfect accompaniment to any outdoor gathering or summer BBQ. Start by muddling 8-10 fresh mint leaves in a shaker cup filled with ice cubes and simple syrup (or sugar if you don't have syrup). Then add 2 ounces of Colonel E.H Taylor Rye Whiskey, give it a good shake, strain it into an ice-filled rocks glass, top off with club soda, garnish with more fresh mint leaves, and enjoy!
Old Fashioned
A classic drink that can be enjoyed any time of year – the Old Fashioned is made easily using just three ingredients; 2 ounces of Colonel E.H Taylor Rye Whiskey, 1 teaspoon simple syrup (or sugar), and 2 dashes Angostura bitters. Stir all ingredients together in an ice-filled glass until chilled properly; garnish with a Luxardo Maraschino cherry or orange peel for added panache!
Conclusion
E.H Taylor Rye whisky is truly something special – whether you're just starting out exploring brown spirits or you have been enjoying them for years – there's no denying how amazing this bottle really is! With its rich history dating back over 130 years combined with its intense yet balanced flavor profile – it's easy to see why this product has become so popular among whiskey fans everywhere! So grab yourself a bottle today & let us know what you think! Cheers!