Distillery

Forty Creek

Type&Region

Canada

Alcohol

40% 

Composition

rye, barley, and maize (corn)

Aged

6-10

years 

Color

Medium gold

Price

$25(750 ml)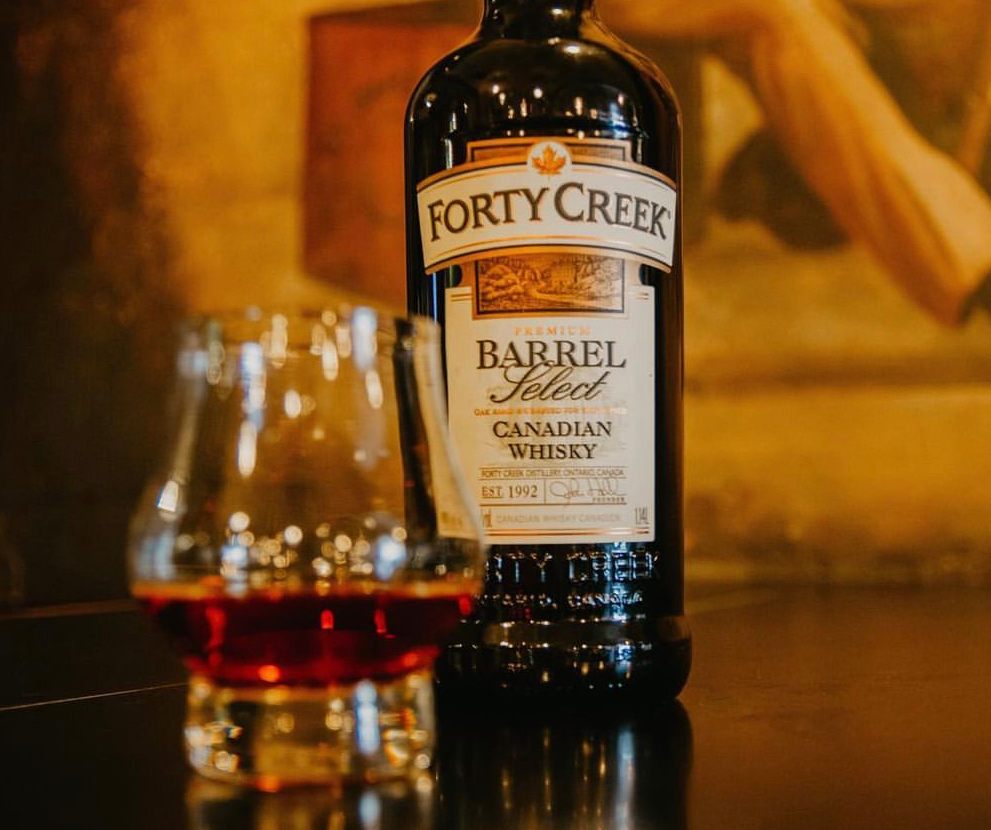 The Art of Making
Barrel Selection Process 
The first step in producing Forty Creek Barrel Select Whisky is selecting the right barrels. Each barrel is carefully chosen according to its size and shape, as well as the type of wood used to make it – usually oak or maple. Once selected, the barrels are filled with a mix of rye grain, corn, and barley that has been fermented together in oak vats. The whisky is then aged for several years in these same barrels before being bottled. 
Unique Blending Process 
Once aging is complete, master blender John Hall begins the process of blending different batches of whisky from each barrel into one consistent product. This process takes time and patience; Hall must taste each batch carefully in order to create a blend that has just the right balance of flavors and aromas. Once he has perfected his blend, it is bottled for sale.  
Distillation & Aging 
The final step in making Forty Creek Barrel Select Whisky involves distilling and aging the whisky once again before bottling it for sale. During this stage, Hall uses a combination of distillation techniques – including pot stills – to bring out even more flavor complexity from his whiskies. He then ages them even further in charred oak barrels before they are ready to be enjoyed by whisky lovers around the world.  
Tasting Notes
NOSE: An opulent sherry, syrupy and succulently sweet with a touch of fruitiness. Aromas of oaky spiciness, cinnamon sticks and wooden elements mingle with the light fragrance of florals for an exquisite bouquet.
PALATE:  This summer, be enchanted by the enticing aromas of ripe fruits and spices like cinnamon, vanilla, pepper, honey, a malty richness with subtle hints of bitter orange and ginger. This light-bodied beverage is effortless to sip on – just add a drop of water for more spicy notes!
FINISH: Enjoy a tantalizing, lusciously warm experience with hints of lemon and pepper.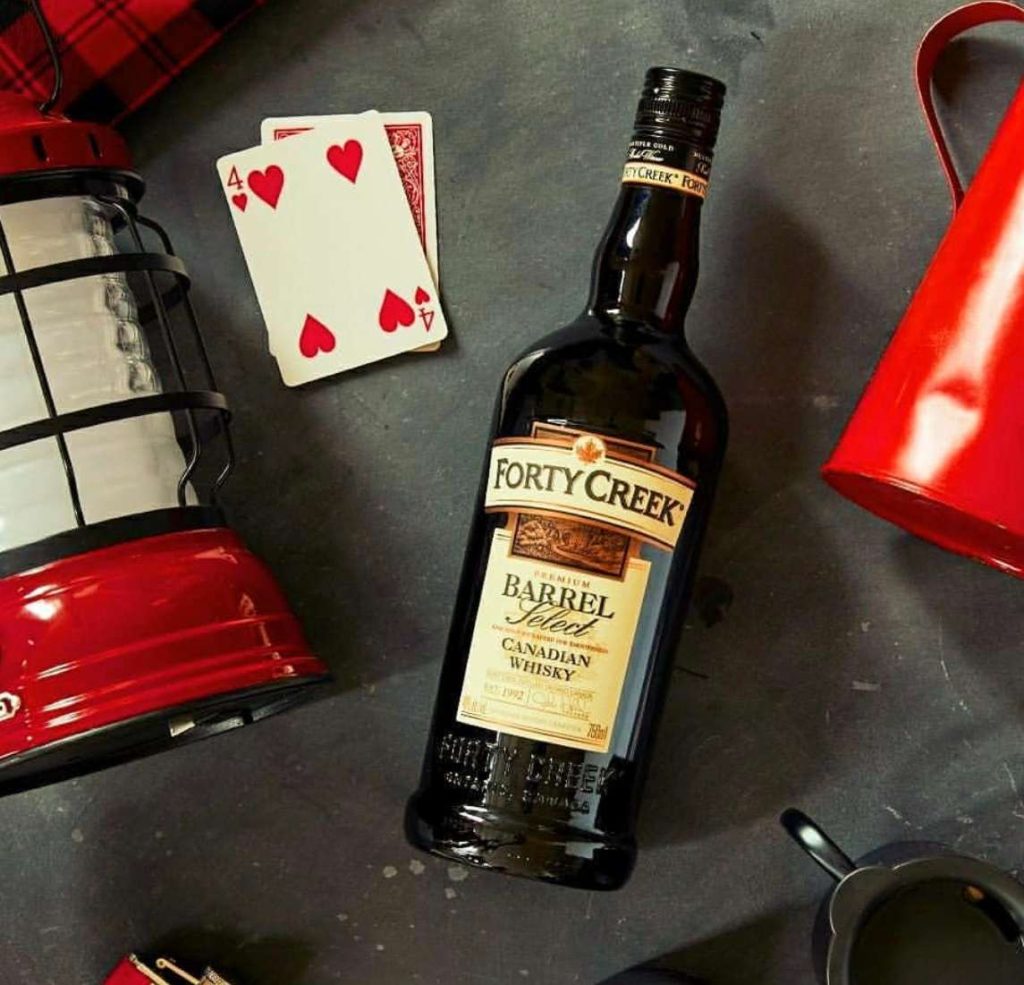 Exploring the History of Forty Creek Barrel Select 
Forty Creek Barrel Select was created by John Hall, an award-winning distiller with over 40 years of experience in the spirits industry. He set out to make a unique Canadian whisky that would stand apart from other Canadian whiskies on the market. To achieve this goal, he blended three different types of barley malt: rye, corn, and wheat. He then aged each type separately in oak barrels before blending them together to create his final product—Forty Creek Barrel Select. 
The Legacy Continues
Today, Forty Creek Barrel Select continues to be one of the most popular Canadian whiskies on the market. In addition to its original blend, there are several other variations available including Double Barrel Reserve and Copper Pot Reserve which have both won numerous awards for their unique flavour profiles and craftsmanship. For those looking for an exceptional whisky experience, Forty Creek is sure to deliver! 
The Best Cocktails Made with Forty Creek Barrel Select Whisky 
The Forty Creek Old Fashioned 
This classic cocktail has been around for centuries, and it's easy to see why. The combination of sweet syrup, aromatic bitters, and rye whiskey create an incredibly complex flavor profile that is sure to please any palate. When made with Forty Creek Barrel Select whisky, the nutty and spicy notes of the whiskey come through in balance with the sweetness of the syrup for a truly delightful experience. Try adding a few drops of orange bitters for an even more flavorful drink! 
The Forty Creek Manhattan  
This iconic cocktail was invented in New York City over 200 years ago, so it only makes sense to make it with one of America's favorite whiskeys—Forty Creek Barrel Select. The combination of sweet vermouth along with the herbal notes from the bitters creates an incredibly flavorful drink that pairs perfectly with this award-winning whiskey. Add some maraschino cherries into the mix for a little extra sweetness and you have yourself an unforgettable libation! 
The Forty Creek Sour  
For those looking for something refreshing, try this tart twist on a classic cocktail made with Forty Creek Barrel Select whisky. Simply combine equal parts lemon juice and simple syrup along with two ounces of your favorite whiskey—in this case, Forty Creek Barrel Select—into an ice-filled shaker and shake vigorously until frothy. Strain over fresh ice cubes in your glass for an easy yet delicious drink that will quench your thirst on even hot summer days! 
Conclusion
With its unique blending process and three-year barrel aging regimen, Forty Creek Barrel Select is one of the tastiest whiskeys around. Its flavor profile combines the smoothness of Canadian whisky with the boldness of traditional bourbons to create something truly special – whether you enjoy it neat or use it as a base for classic cocktails like an Old Fashioned or Manhattan! So if you're looking for an exquisite craft whiskey experience that's sure to please your taste buds, look no further than Forty Creek Barrel Select!