| | |
| --- | --- |
| Distillery | Tennessee, USA |
| Type&Region | George Dickel |
| Alcohol | 45% |
| Composition | 84% Corn, 8% Rye, 8% Malted Barley |
| Aged | 8-10 Years |
| Color | Orangish caramel |
| Price | $22(750 ml) |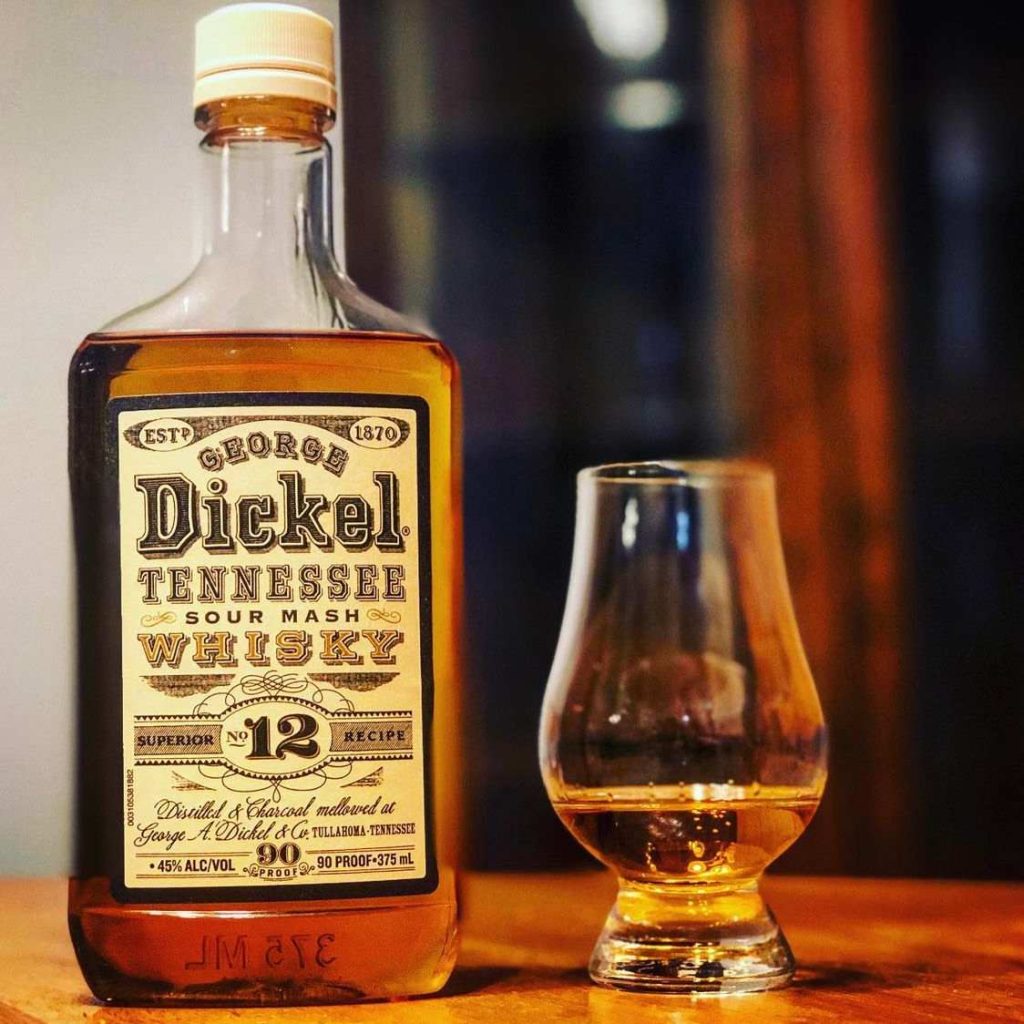 The Art of Making
George Dickel 12 starts with selecting only high-quality grains for their mash bill before going through a rigorous distilling process. Each grain is cooked in water, then fermented and distilled to create a bourbon-style whiskey that's perfect for sipping neat or mixing into cocktails. Once the distillation process is complete, it's aged in charred oak barrels for a minimum of three years—a step that helps give the whisky its unique flavor.
The final step in crafting George Dickel 12 is filtering it through sugar maple charcoal. This filtration process helps remove any impurities and mellows out the whisky's flavor profile even more before it's bottled and sold to consumers. The result? A smooth and balanced whiskey that can be enjoyed neat or mixed into your favorite cocktails.
Tasting Notes
NOSE: Corn is a delightful and sweet aroma, with notes of vanilla, tart citrus and creamy butterscotch fudge. Hints of honey candy, simple syrup and dried orchard fruit combined add to the complexity of this scent; its sheer beauty will leave you captivated from your first sniff. The rich sweetness adds depth without being overpowering.
PALATE: A delightful foursome of flavor comprised of cinnamon, corn, caramel and citrus tantalize the taste buds. Vanilla and wood subtly waft through with their smoky aroma while hints of char and leather add an additional layer to this luscious experience. Of course, the sweetness is back for good measure along with dried fruit flavors alongside a secret spice that will have you guessing what it could be!
FINISH: Velvety and full-bodied, with nuances of vanilla, cinnamon, leather, dried fruit and the hint of oakiness.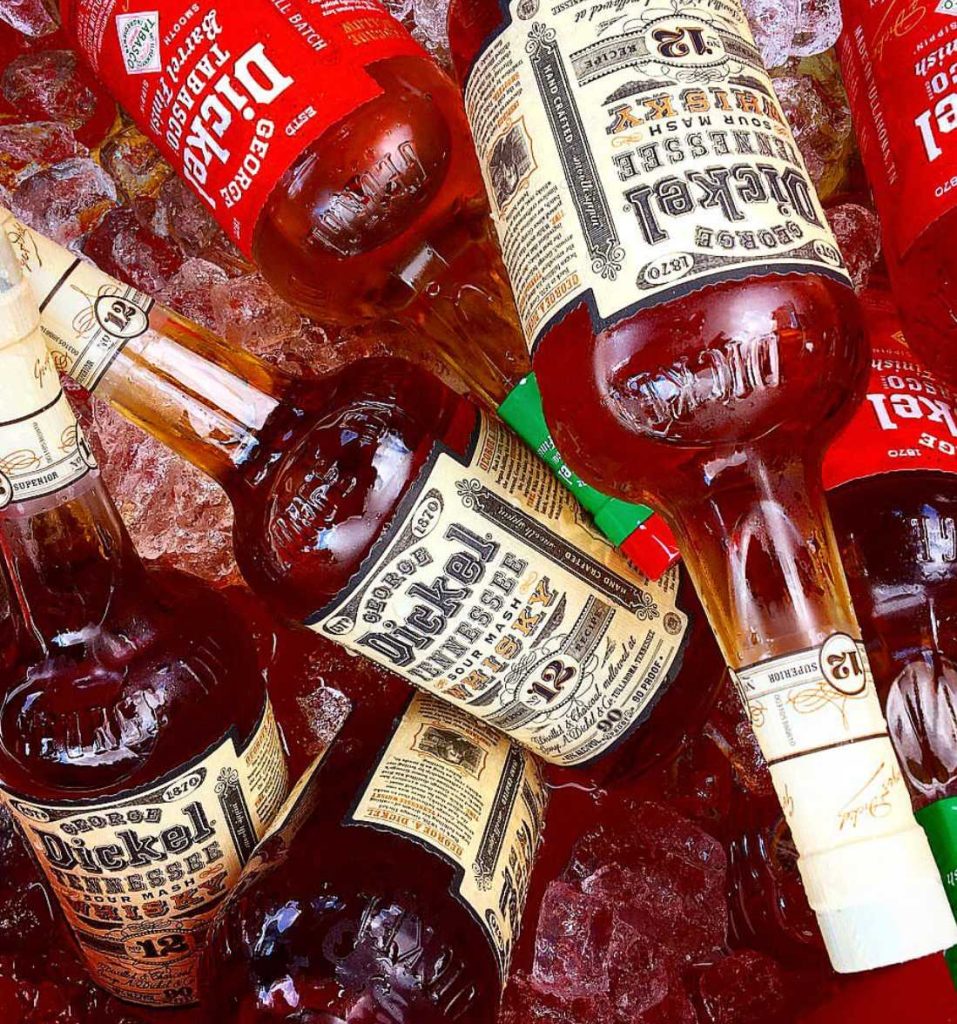 The History of George Dickel 12 Whiskey
George A. Dickel was born in Germany in 1818 and moved to the United States in 1844. In 1870, he founded Cascade Hollow Distilling Company with his two sons in Tullahoma, Tennessee. After establishing his business, he set out to make a unique whiskey using natural ingredients from the area surrounding his distillery. He named his signature brand "George Dickel Tennessee Whisky" after himself and used charcoal mellowing to give it a sweeter flavor than other whiskeys on the market at that time. The name was changed to "Tennessee Whisky" soon thereafter due to local laws which prohibited spirits from being labeled as "whiskey."
In 1941, following World War II, Prohibition ended and Cascade Hollow Distillery began producing again. However, due to economic pressures during this time period, the distillery shut down shortly afterwards and was sold off in 1956. The new owners wanted to continue producing their iconic whisky but found it difficult because of the lack of key personnel—including Mr. Dickel himself—who had since passed away or retired during the intervening years between Prohibition and nationalization of alcohol sales after WWII.
Fortunately for fans of George Dickel 12 Whiskey, Diageo acquired Cascade Hollow Distilling Co in 2003 and began production again shortly afterwards under master distiller John Lunn's watchful eye.. Since then, George Dickel 12 has become one of Diageo's most popular brands worldwide and is widely considered among some of the best whiskeys available on the market today.
Get Creative with George Dickel 12 Cocktails
The Old-Fashioned 
The classic old-fashioned cocktail is one of the most well-known whisky cocktails out there, and it's also one of the easiest to make. To make an old-fashioned, all you need is 2 ounces of George Dickel 12 whisky, half an ounce of simple syrup, two dashes of Angostura bitters, and an orange slice. Just mix all the ingredients together in an ice-filled shaker and strain into a rocks glass over fresh ice. This classic cocktail has been enjoyed by generations of whiskey lovers!
The Whiskey Sour
The Whiskey Sour is another classic whisky cocktail that is easy to make and sure to please your guests. All you need is 2 ounces of George Dickel 12 whisky, 1 ounce of freshly squeezed lemon juice, and half an ounce of simple syrup. Shake all the ingredients together in an ice-filled shaker and strain into a rocks glass over fresh ice. Garnish with a lemon wheel for added flavor and presentation! 
The Mint Julep
If you're looking for something cool and refreshing this summer season, try making a mint julep with George Dickel 12. All you need is 2 ounces of George Dickel 12 whisky, half an ounce of simple syrup, 8-10 mint leaves (plus one sprig for garnish), crushed ice, and club soda (optional). Muddle the mint leaves in the bottom of a highball glass then add the other ingredients except for the soda water if desired). Stir everything together until it's thoroughly combined then top off with some crushed ice and garnish with a sprig of mint leaves or whatever suits your fancy!
Conclusion
George Dickel 12 is definitely a Tennessee Whiskey worth sipping on! Its history alone speaks volumes about its quality and craftsmanship over time; plus, its taste is simply unmatched by any other whiskey out there today! Whether you're looking for something to sip on neat or something to mix into your favorite cocktail recipes, we highly recommend giving this one a try if you haven't already done so! Cheers!