| | |
| --- | --- |
| Distillery | George A Dickel & Co. /Diageo |
| Type&Region | Tennessee, USA |
| Alcohol | 40% |
| Composition | 84% corn, 8% rye & 8% malted barley |
| Aged | 4-6 years |
| Color | Honey yellow |
| Price | $18(750 ml) |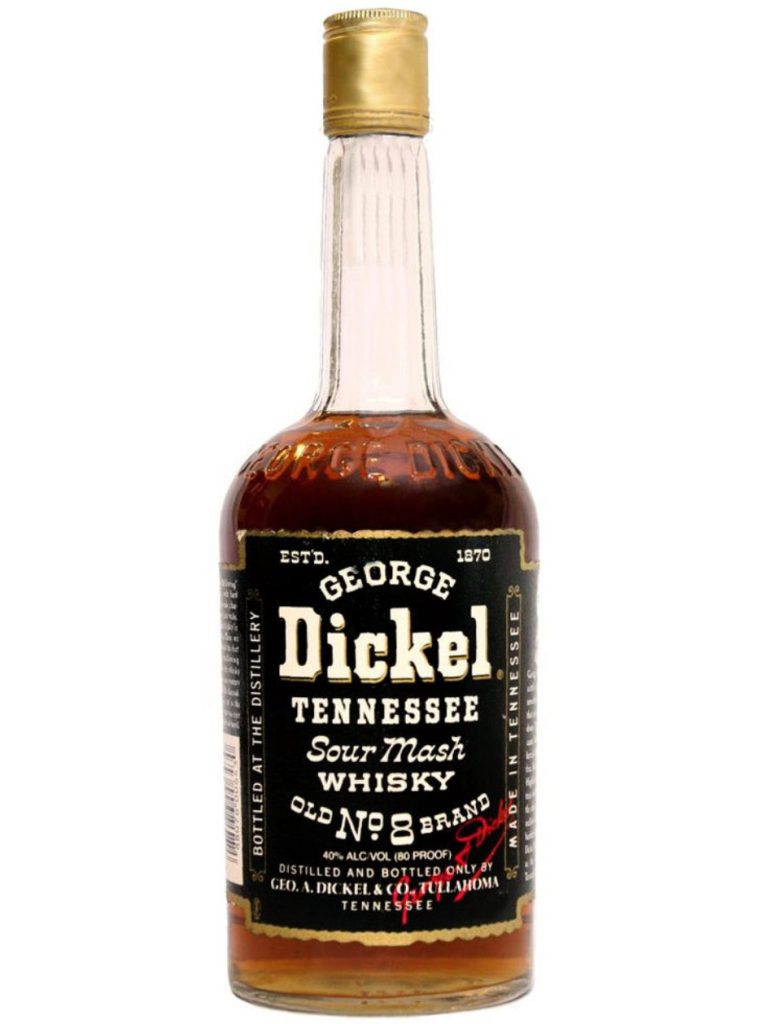 The Art of Making
The first step in creating this whiskey is to select the grains. For George Dickel 8, corn, rye, and malted barley are used in proportionate amounts to create a balanced flavor profile. All of these ingredients come from local farmers in Tennessee who have been working with the distillery for years. The ingredients are then milled and cooked in small batches before being fermented with yeast to create a mash.
Once the mash has been created, it is left to age for eight years in oak barrels that have been charred on the inside. Aging gives George Dickel 8 its unique flavor profile; while other whiskies may be aged only four or five years, this extra aging gives this spirit an even more robust flavor. After eight years of aging, the whiskey is tested for quality before it is bottled and sold to consumers.
The final step before bottling is filtering through sugar maple charcoal—a process known as Lincoln County Filtration—which removes any impurities that may remain after aging and also gives George Dickel 8 its distinct smoothness on the palate. Finally, every bottle of George Dickel 8 is hand-labeled before being shipped out to bars and stores around the world.
Tasting Notes
NOSE: Aromas of green apples, honey, cinnamon, caramel and corn fill the air. Subtle hints of orchard fruit, sawdust char and a herbal spice linger in the background. The nose is clean and crisp with noteworthy depth that I find extremely pleasurable to experience.
PALATE: Aromas of honey, apples and corn lay the foundation for fragrances of apricots and a touch of rye-like spice. Caramel, wood and an enthralling combination of pine with mint arise sporadically to complete the sensory experience.
FINISH: A harmonious blend of caramel, honey, spice and a hint of woody-mint creates an effortlessly smooth profile.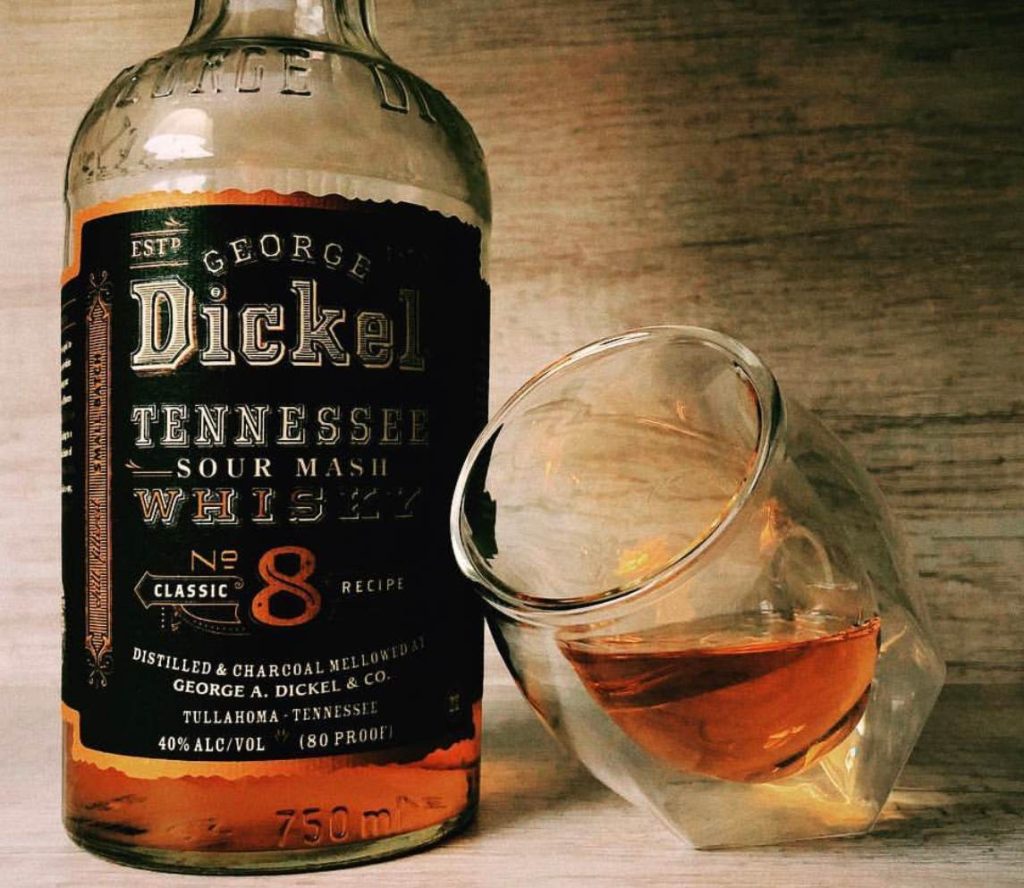 History of George Dickel 8 Whiskey
For whiskey lovers, there's no mistaking the smooth flavor of George Dickel 8. This Tennessee whiskey has been around for decades and is one of the most popular brands on the market today. But where did George Dickel 8 come from? Let's take a look back at the history of this Tennessee whiskey to learn more about its unique origin story.
The Early Years
George A. Dickel first began producing his signature whiskey in 1870 in Cascade Hollow, Tennessee, just outside Nashville. The recipe he used was based on his own family recipe that had been passed down through generations and was made up of 80% corn and 20% rye and malted barley. His distillery produced some of the finest Tennessee whiskeys available at that time and quickly gained popularity in both Europe and America.
In 1941, due to wartime restrictions, George Dickel closed his distillery and moved his business to St. Louis, Missouri. After World War II ended, Dickel returned to Cascade Hollow but was unable to reopen his original distillery due to a fire that had occurred in 1953. Instead, he opened a new distillery nearby which became known as the George Dickel Distilling Co., which still produces some of today's most popular whiskeys including their flagship product – George Dickel Eight-Year-Old Bourbon Whiskey.
The Revival of Georges Dickel 8
In 2012, Diageo purchased the rights to produce George Dickel Whiskey from Sazerac Company and soon after released their first batch – a limited edition release of their iconic Eight-Year-Old Bourbon Whiskey – which quickly sold out in just three weeks! Since then, Diageo has continued to produce more batches of this highly sought-after whiskey as well as other varieties such as their 12 Year Old Rye Whiskey and their Barrel Select Lineup which includes flavors like Vanilla Charred Oak and Toasted Coconut & Honeycomb Rye Whiskies.
Sweet Whiskey Cocktails to Sip On with George Dickel 8
The White Oak Sour
This classic sour combines the smoothness of George Dickel 8 with fresh-squeezed lemon juice, sugar syrup, and egg white. The egg white helps create an ultra-smooth texture while the lemon juice brings out the subtleties of the whiskey. This sour is perfect for those who love a traditional whiskey taste but want something a little sweeter.
The Tennessee Mule
This twist on the classic Moscow Mule adds sweetness to the mix by combining George Dickel 8 with ginger beer and lime juice. The lime juice helps to bring out the smoky flavors of the whiskey while also adding a bit of tartness. This drink is perfect for those who enjoy bolder flavors or looking for something refreshing after a long day.
The Apple Cinnamon Old Fashioned    
This modern take on an old favorite blends together George Dickel 8, apple cider, cinnamon syrup, and bitters to create a unique flavor profile that is sure to please anyone's palate. The apple cider adds sweetness while also balancing out the smokiness of the whiskey. The cinnamon syrup ties it all together by adding depth and complexity to this drink. Perfect for special occasions or just sipping while relaxing at home!
Conclusion
If you are looking for a premium Tennessee whisky that captures all that makes this type so special while still being approachable enough for novice drinkers, look no further than George Dickel 8 Whiskey! With its complex flavor profile, smooth finish and rich history behind it, this is sure to be your go-to whisky when you want something special but not too over-the-top. Whether you are hosting friends or simply enjoying some alone time at home this winter season – grab yourself a bottle of George Dickel 8 Whiskey! You will not be disappointed!