| | |
| --- | --- |
| Distillery: | George Dickel |
| Type & Region: | USA, Tennessee |
| Alcohol: | 45% |
| Composition: | Made from 95% rye and 5% malted barley |
| Aged: | NAS (Rumored to be around 5 years) |
| Color: | Light Copper |
| Price: | 25$ for 750 ml |
An impressive variety of alcoholic products on the market allows each consumer to choose an alcoholic product that meets one's request and desire. At the same time, statistics show that whiskey is the most popular drink among men. The rich and colorful blends of this alcoholic drink have alluring astringency, non-trivial aromas, and memorable gastronomic properties. In particular, a special offshoot or variety of these products is rye whiskey.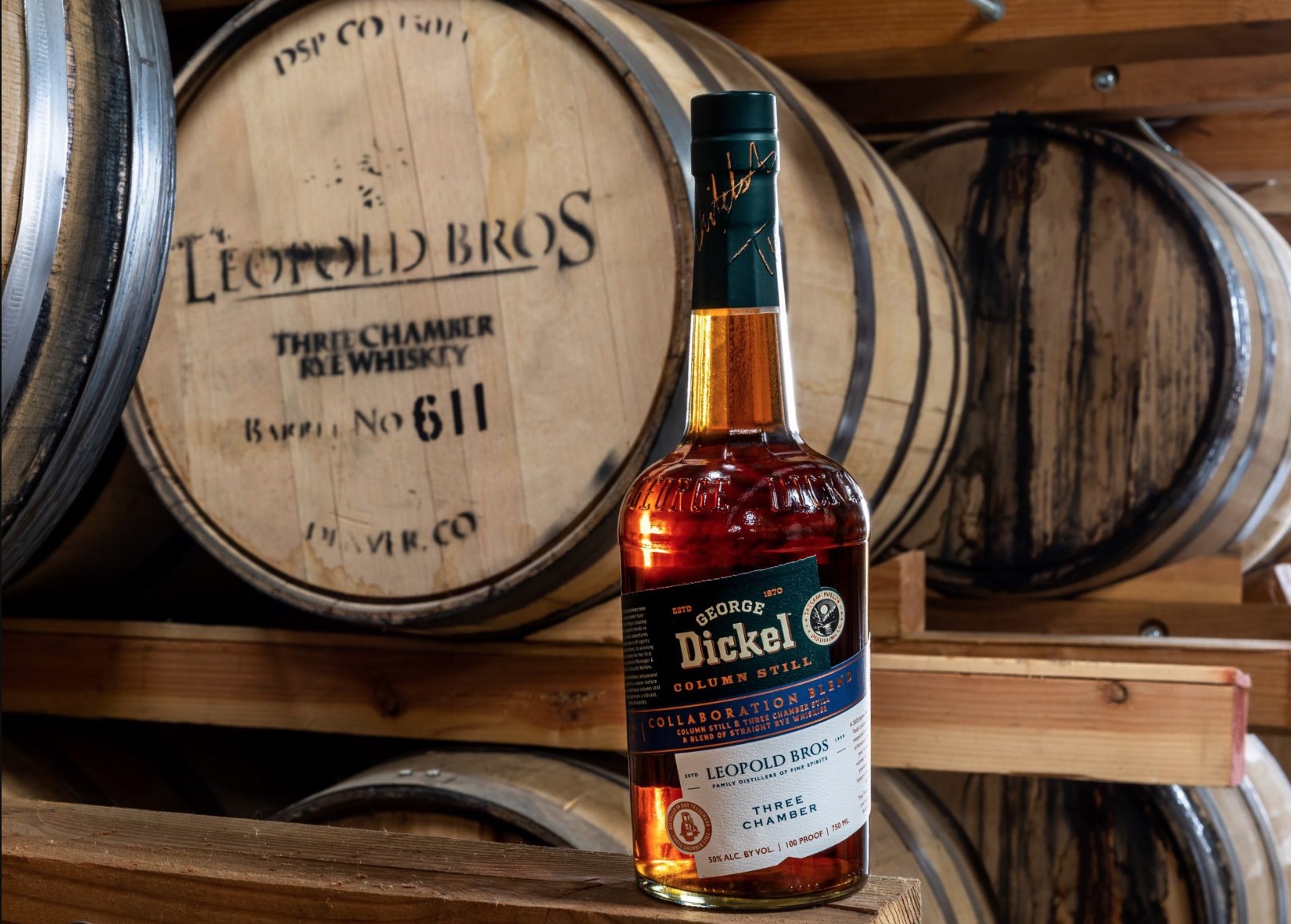 Rye whiskey is primarily an American or Canadian drink. There can be no other options since whiskey is based on the raw materials in sufficient quantities in the producing country. Rye whiskey is always tart and even slightly bitter. Rye gives the drink a spicy flavor. It is not as sweet as bourbon but still somewhat lighter. Rye whiskey is necessarily aged in oak barrels, which are fired in a special way, which gives the drink pleasant woody notes and rich color.
The George Dickel brand is a whiskey filtered through some sugar maple charcoal. An additional whiskey chilling step is required before filtration is complete. Modern whiskey producers now generally avoid this "cold filtration method," as they realize that consumers prefer not to filter out flavor compounds from their high-end whiskey. Dickel claims that cold filtration through charcoal "mellows" the whisky, removing harsh flavors.
The principles, stages of production, and recipes are different for all manufacturers of rye whiskey, but the basis is the same — the mandatory presence of rye. A distillate of barley and corn is used at 90–95°. Further, wheat or rye concentrate is added to it. The Canadian product also contains additional ingredients — brandy, wine, juices, and flavored spices. Rye whiskey is aged only in oak barrels with a volume of at least 700 liters. In Canada, the minimum term is 3 years. In the USA — it is 2.
About George Dickel Rye Whiskey
The rye blend had to go a long way to win the trust of a multi-million audience of consumers of strong blends. Still, it can be found today in almost every specialized alcohol store. George Dickel Rye lacks the depth of flavor, complexity, or aftertaste. But it has a rather pleasant aroma and good drinkability, and the presence of 95% rye in its composition brings many spices and pleasant cool notes to the aroma and taste.
Color
The visual appearance of blends can vary from pale gold to deep amber. Rye whiskey is best aged in charred new oak barrels because it guarantees rich honey color and woody notes in the aroma. George Dickel Rye is light gold, like the color of sand on a west-facing beach during a mellow, slightly cloudy sunset.
Smell
George Dickel Rye has a spicy nose with hints of rye, caramel, citrus, vanilla, cinnamon, and candied cherries. Such a very affordable and pleasing aroma instantly attracts. There is also a sweet smell of vanilla, marshmallow, barely charred timber, fallen leaves, and roasted peaches. It's a very diverse mix, but it works well. Still, the rye grain aroma is not as obvious.
Flavor
Rye whiskey always has a spicy aroma, tart, and slightly bitter palate. As a result, we got a tenderness of taste and excluded expressive astringency. George Dickel Rye is rich in a wonderful aroma. There is dryish and slightly sharp rye with notes of caramel nougat, chocolate, orange peels, cherry jam, and spices (cinnamon, cloves, black pepper). Then a little vanilla appears, a little floral honey and eucalyptus notes. In the end, pleasant menthol chill tasting notes remain on the tongue.
Finish
You will fill a medium spicy-rye finish with oak, caramel, and menthol hints.
The drink makes a favorable impression on consumers with its consistent quality and taste characteristics.
Brand Name Alternatives
The variety of alcoholic beverages today strikes the imagination of beginners and connoisseurs. You can choose everything according to your taste and desire. But statistics show that whiskey remains the most popular product. Today the boom is in rye whiskey. Rye is used in the food industry for flour and for making excellent whiskey.
Old Overholt
According to most, this is the best relatively budget brand of rye whiskey that you can find. It is available in just about every bar. Old Overholt is everything you need at no extra cost. Black pepper and other spicy notes create a fragrant and full-bodied whiskey that pairs perfectly with almost any rye cocktail.
Wild Turkey 81 Rye
It is not as common as Old Overholt, but worth checking out if you see it on the market shelves. Wild Turkey 81 Rye is originally a sweet drink, but with the characteristic spicy notes in the aftertaste, like any classic rye whiskey. It has slightly less alcohol than other drinks on this list, but thanks to the special barrels that give the drink a slight smoke, Wild Turkey has an unforgettable aroma.
Jack Daniels Tennessee
It is a golden color drink with an oily aftertaste dominated by vanilla, salt, banana, gingerbread, ground pepper, and honey sweetness. The aromatic component is also interesting, with vanilla, mocha, tobacco, and caramel hints. If you have never tasted rye whiskey before, discover this excellent drink, which was once preferred by freedom fighters and equal rights.
The Verdict
The tradition of drinking rye whiskey has long been lost, hidden behind many new trendy drinks, but more and more often, the bartender takes a bottle from stock, dusts it, and offers it to customers. For a long time, rye-based whiskey was used only in blends with other varieties. Today, however, rye whiskey production is gaining momentum to the delight of whiskey connoisseurs worldwide. Just 10 years ago, the number of brands of rye whiskey could be counted on the fingers of both hands. But today, there are about fifty of them.
Rye whiskey doesn't have such wild popularity now, but it is the choice of a true connoisseur that often falls on it. They say that even Al Capone was so fond of this particular drink, so he managed to secure its supply to himself in Alcatraz.
George Dickel Rye whiskey is a drink with a masculine character. It usually has a warm amber color with varying degrees of caramel and a reddish tint.
FAQ
So, in recent decades, interest in Rye whiskey has been growing rapidly. Large companies such as Jack Daniel's and Jim Beam have released their brands, and bartenders have invented new cocktails with fragrant and spicy drinks.
Experts predict that the number of brands will grow in the future, and the popularity of rye whiskey will equal that of bourbon. Rye whiskey and, in particular, George Dickel Rye is a good choice for a personal introduction. It will give you a non-trivial aroma and a memorable pleasant taste.
To find a blend that suits your wishes, you can go to any alcohol store today. What else do you need to know about George Dickel Rye before you buy it?
Is George Dickel Rye worth the money?
George Dickel Rye is one of the best whiskeys in its segment. Only selected raw materials are used for its preparation, and the best ingredients are used. The taste is balanced, all components are audible, and none of them goes against the main mix. Taste opens from the first sip. It is a quality drink that doesn't cause a hangover and headache. It is suitable for connoisseurs of spicy and unusual mixes.
How much is a bottle of George Dickel Rye?
How much does whiskey usually cost? Well, it all depends on the brand and age of the drink. George Dickel Rye costs approximately $24-$25 per bottle. So, it is quite affordable, and you should try it.
Does George Dickel Rye increase in value?
A few years ago, you could find a good whiskey for about $30. Now, this happens very rarely. Like many other good things, Dickel Rye whiskey tends to rise in price over a short period.
Is George Dickel Rye Better Than Jack Daniels, Old Overholt, and Wild Turkey 81 Rye?
George Dickel Rye whiskey is a wonderful drink. This whiskey tastes different from its counterparts with its delicate caramel note and special softness, which the manufacturer explains with a unique filtration method. It is a rather expensive and festive drink. It is better to drink it in its pure form, not cocktails. This way, its noble taste doesn't need additions. George Dickel Rye whiskey has a wonderful smoky aroma, warming in winter and giving a special mood in summer. It is definitely better than many alternatives.
What Makes George Dickel Rye Special?
George Dickel Rye is the only whiskey that successfully combines a mild taste and a pleasant aroma. If you drink it in the evening, the head rarely hurts in the morning, and the hangover is completely absent.