| | |
| --- | --- |
| Distillery | Beam Suntory |
| Type&Region | Japan |
| Alcohol | 43% |
| Aged | 12 years old |
| Color | Amber |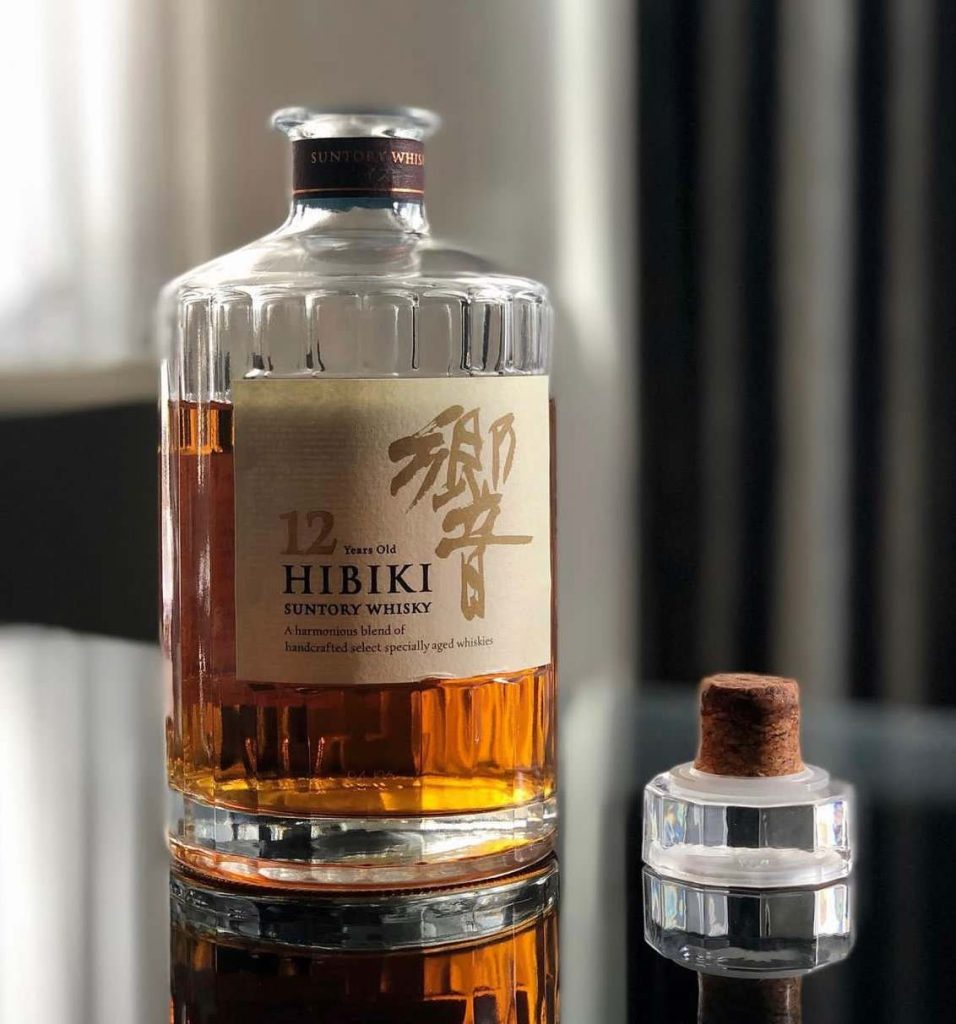 The Art of Making
Hibiki 12 has been lovingly crafted by Suntory's master blenders since 1989. To create this exquisite blend, they combine malt whiskies from their Yamazaki, Hakushu and Chita distilleries with grain whisky from their Chita distillery. The combination is then aged in five different kinds of oak casks: Mizunara (a rare Japanese oak), American white oak, Spanish sherry casks, Spanish red wine casks and finally Japanese plum liqueur cask. Each cask brings out unique aromas and flavors that contribute to the complexity and character of Hibiki 12.
The Secret Ingredient
What really sets Hibiki 12 apart is its secret ingredient—the spring water used to make it. This water flows through Mt Kaikomagatake on Japan's southern island of Kyushu, making it some of the purest water anywhere in the region. After being drawn from natural springs high in the mountainside, it is filtered through several layers of volcanic rock before making its way to Suntory's distillery where it is used to make each batch of Hibiki 12. This special water helps give Hibiki 12 its famously smooth texture and delicate sweetness that has made it a favorite among whisky connoisseurs around the world.
Tasting Notes
Nose: Sweet, succulent marmalade studded with juicy orange pieces; cinnamon-sprinkled apples simmered to perfection; and a tantalizing concoction of honey and plum wine.
Palate: Succulent crushed almonds, caramelized fruits and fragrant clove-studded oranges. An intense yet smooth sherried malt with a hint of oak for complexity.
Finish: A luscious blend of tart apple and bright citrus that is sure to tantalize your taste buds.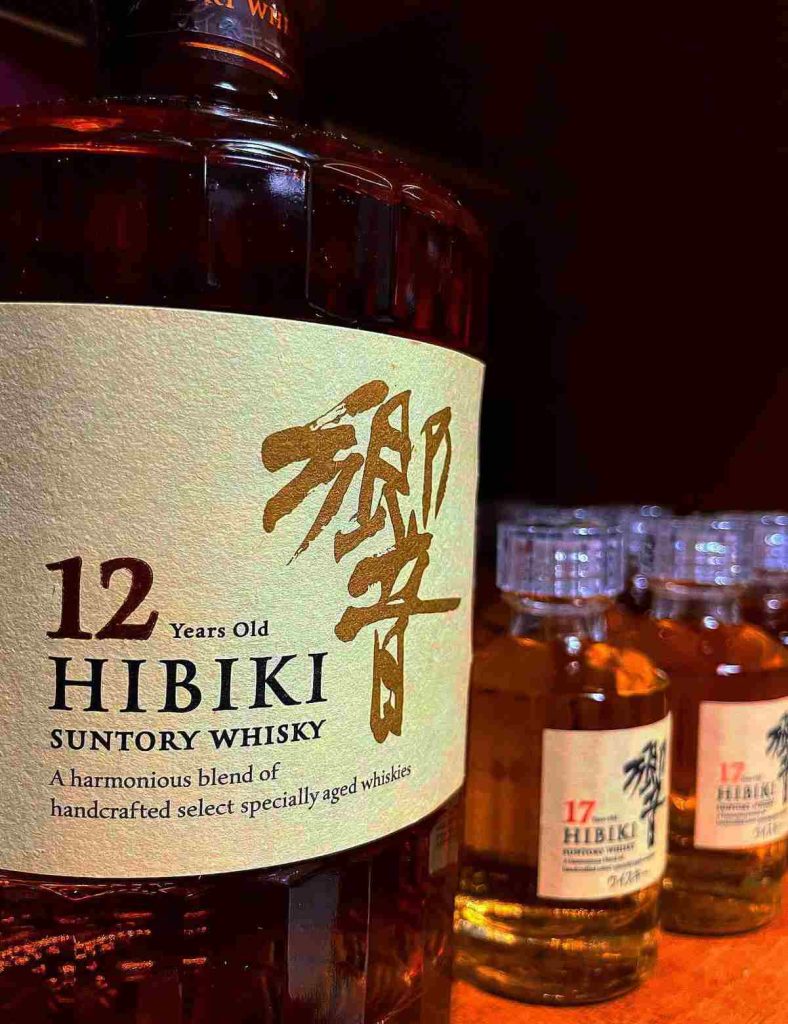 Exploring the History of Hibiki 12
Hibiki is produced by Suntory, which was founded in 1899 by Shinjiro Torii. The company initially focused on importing and selling western liquors, but when Shinjiro realized that Japan had an ideal climate for making whisky, he decided to begin distilling his own. In 1923, Suntory opened Japan's first malt whisky distillery in Yamazaki, near Kyoto. Over time, more distilleries were built, allowing Suntory to create a variety of different whiskies with distinct flavor profiles.
Hibiki 12 was first released in 1989 and quickly gained popularity due to its smoothness and complexity. The whisky is made with malts from the Yamazaki and Hakushu distilleries as well as grain whiskies from Chita distillery in Aichi prefecture. This combination gives it a balanced flavor profile that is both sweet and smoky with hints of fruit and oak. The spirit is aged in five types of oak casks—sherry cask, bourbon cask, Mizunara oak cask (which is native to Japan), American white oak cask, and new oak cask—which impart additional flavors into the whiskey over time.
In 2014, Hibiki 12 won "World's Best Blended Whiskey" at the World Whiskies Awards for its unique flavor profile and smooth finish; it has since gone on to win numerous other awards for its quality and taste. While it may not be as widely available outside Japan as some other popular Japanese whiskies like Yamazaki or Nikka From The Barrel are, there are still plenty of places online where you can purchase a bottle if you're interested in trying it for yourself!
Mixing Up the Perfect Hibiki 12 Cocktails
The Manhattan
This classic cocktail is both delicious and easy to make. Start by combining two ounces of Hibiki 12 whisky, one ounce of sweet vermouth, and two dashes of Angostura bitters in a shaker filled with ice. Shake until chilled then strain into a chilled rocks glass filled with fresh ice cubes. Garnish with an orange peel twist and enjoy.
The Old Fashioned
Another classic, this simple yet elegant drink calls for two ounces of Hibiki 12 whisky, two dashes of Angostura bitters, and one teaspoon of sugar syrup (or simple syrup). Combine all ingredients into an old fashioned glass filled with ice cubes and stir until well mixed. If desired, garnish with an orange slice or cherry on top before serving.
The Japanese Highball
This light and refreshing cocktail is perfect for warm summer days (or nights). Start by adding four ounces of chilled club soda and two ounces of Hibiki 12 Whisky into a highball glass filled with ice cubes. Stir gently until combined then garnish with a lemon wedge before serving.
Conclusion
With its unique flavor profile and decades-long history, it's no wonder why Hibiki 12 is one of the most popular whiskeys on the market today. Its unique aging process using five different types of casks creates an incredibly complex flavor that has earned it countless awards from international spirit competitions over its lifetime. Whether you're a seasoned connoisseur or just starting out your journey into whisk(e)y appreciation, we highly recommend giving Hibiki 12 a try! You won't regret it!