| | |
| --- | --- |
| Distillery | Beam Suntory |
| Type&Region | Japan |
| Alcohol | 43% |
| Composition | Harmonious blend of innumerous malt and grain whiskies which are meticulously blended to create a full orchestra of flavors and aromas. |
| Aged | NAS (Blend of straight rye ranging in age from 2 years) |
| Color | Gold |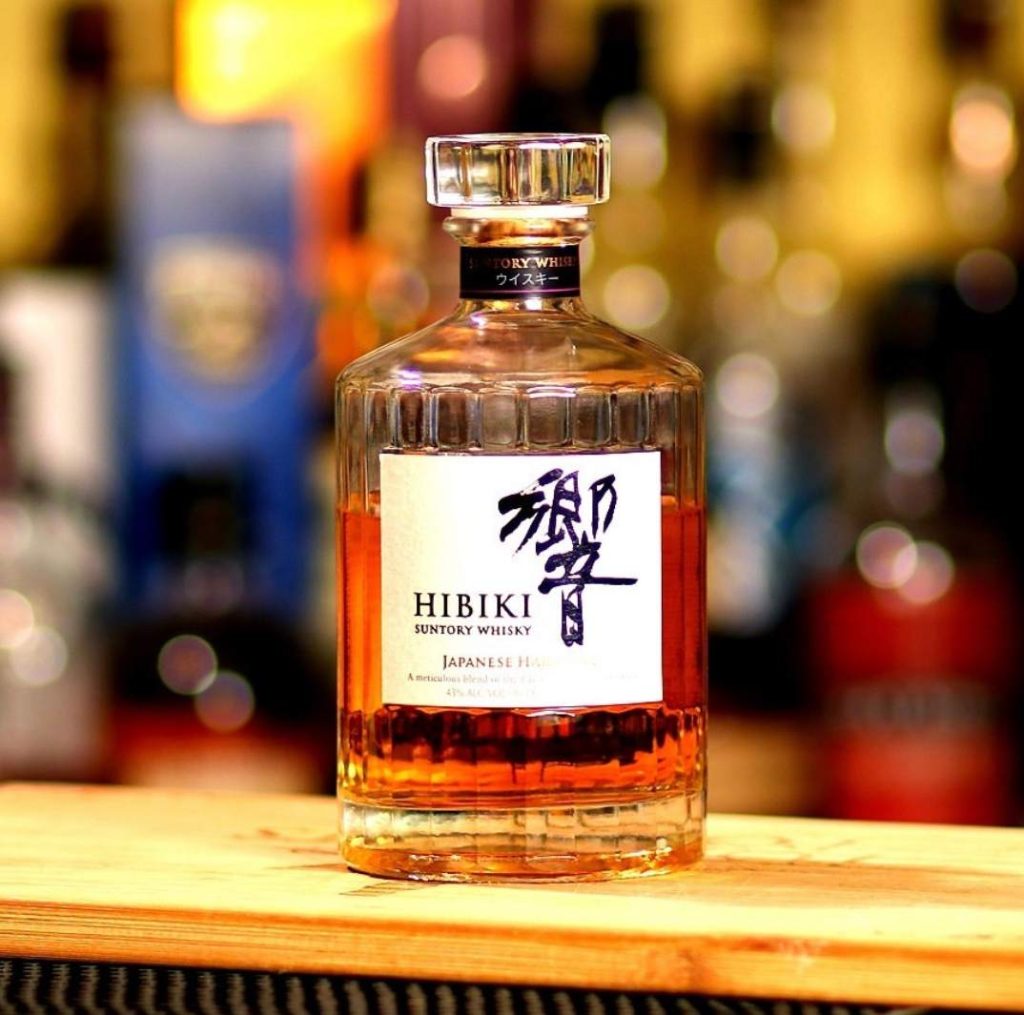 The Art of Making
The Three Distilleries
Hibiki Harmony Whisky is created using some of the finest malts and grains from three distinct distilleries in Japan. Yamazaki is known for its fruity notes and smooth finish; Hakushu offers a distinctive smoky flavor, while Chita provides floral aromas and subtle sweetness. By blending these three together, Hibiki has created an exquisite whisky full of complex flavors and aromas.
Maturation Process
Once the whiskies from each distillery have been blended together, they are matured in five different types of oak casks that have been charred and toasted to perfection. This maturation process adds further complexity to the flavor profile as well as imparts sweet vanilla notes on the nose.
Aging & Blending
Next comes aging and blending—the last step before bottling. The whisky is aged for up to 23 years in Mizunara oak casks, which gives it a unique flavor profile with hints of incense and sandalwood. Once it has been aged to perfection, the liquid is then blended together again before being bottled as Hibiki Harmony Whisky.
Tasting Notes
NOSE: Aromas of sweet, soft oak and honey swirl through the air with notes of pink Starbursts and delicate cereal. Taking deep inhales brings a gentle sensation without any hint of alcohol burn.
TASTE: Exuding a light oiliness with its mouth-coating texture, this whisky is delicately smoky and brings an unexpected yet exquisite complexity of flavors—from the hint of peat to notes of grapefruit and yellow raisins. The blend carries more malt than grain whiskies, making for an unforgettable drinking experience.
FINISH: Honey, Gentle and Long-Lasting.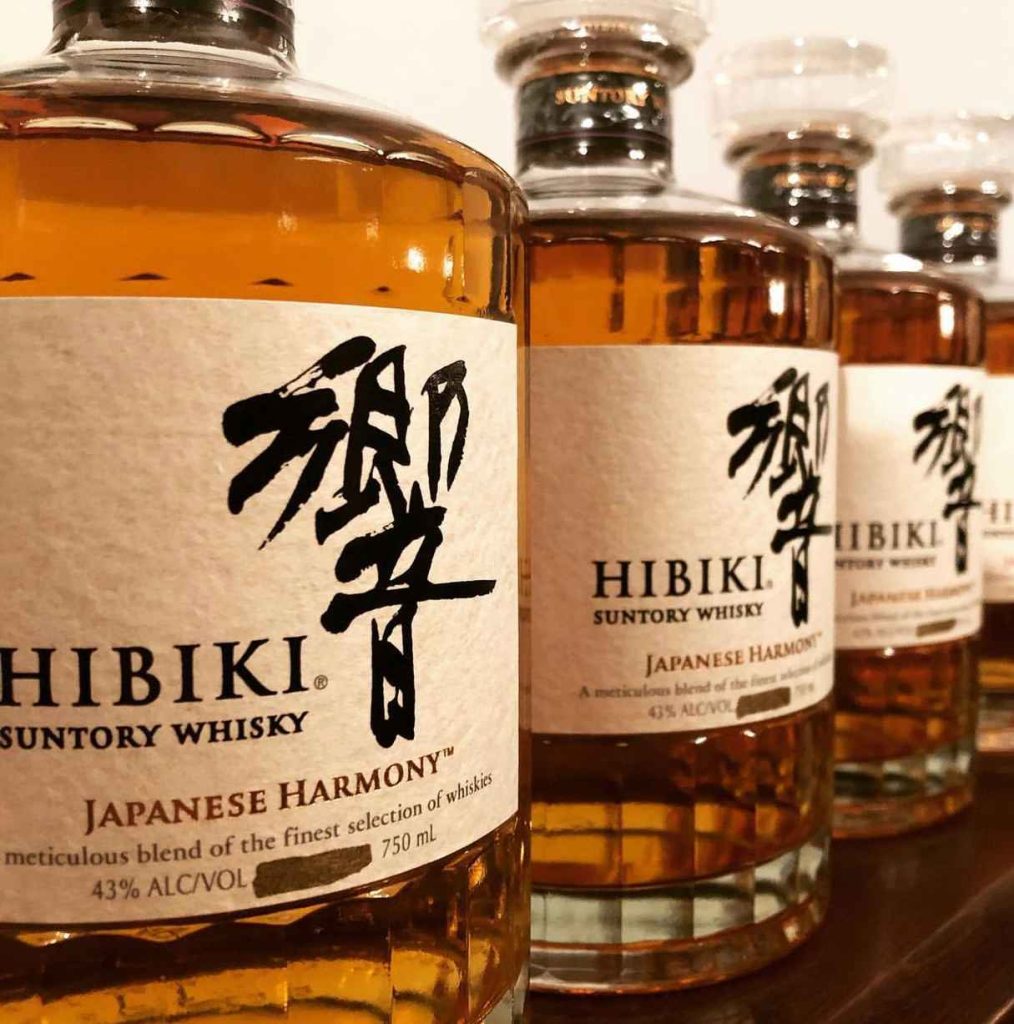 Exploring the History of Hibiki Harmony
Hibiki harmony was first introduced in 1989 by Suntory, one of Japan's oldest and most esteemed distillers. The name 'Hibiki' is derived from an ancient Japanese word meaning 'echo' or 'resonance' – an apt description for a spirit that reflects centuries-old traditions and expert craftsmanship. It is made using a blend of single malt whiskies from Yamazaki and Hakushu Distilleries, as well as grain whisky from Chita Distillery. Its carefully balanced flavor profile combines the sweetness of Yamazaki with the smokiness of Hakushu and the subtle hint of fruitiness from Chita.
The Legacy Continues
Since its introduction in 1989, Hibiki harmony whisky has become one of Japan's most beloved spirits. In 2013 it was awarded the title "World Whisky Of The Year" by none other than Jim Murray's Whisky Bible – further cementing its place as one of the world's great whiskies! To this day, Suntory continues to honor traditional Japanese craftsmanship while creating new blends such as Hibiki 17-Year-Old and Hibiki 21-Year-Old – both highly acclaimed amongst whisky aficionados around the globe.
The Best Cocktails Made with Hibiki Harmony
The Highball
This classic cocktail is super easy and refreshing—perfect for any occasion. All you need is a few ounces of Hibiki Harmony whisky, soda water, and ice. Pour the whisky into a tall glass filled with ice cubes, then top off with soda water. Stir gently and enjoy! For added flavor, try adding a twist of lemon or lime.
The Rob Roy
Created in 1895 in honor of Scotland's national hero Robert Roy MacGregor, this drink is one-part Scotch and one-part sweet vermouth. To make it using Hibiki Harmony whisky, pour two ounces of whisky over ice into a shaker glass, followed by two ounces of sweet vermouth. Shake vigorously until the mixture is well blended, then strain into an old-fashioned glass over fresh ice. Garnish with an orange twist, and enjoy!
Whiskey Sour
For those who like their drinks on the sweeter side, try making a whiskey sour with Hibiki Harmony whisky. To do so, combine two ounces of whisky with half an ounce each of freshly squeezed lemon juice and simple syrup (equal parts sugar and water). Shake vigorously until all ingredients are blended together. Strain into a rocks glass over fresh ice cubes and garnish with an orange wheel or maraschino cherry if desired. Enjoy!
Conclusion
Hibiki Harmony is an exquisite blended Japanese whiskey that has been crafted using traditional techniques passed down through generations. Its flavor profile ranges from sweet and fruity to smoky and spicy, making it an ideal choice for those looking for something new in their whisky collection. By combining handcrafted tradition with modern technology, Master Blenders at Suntory Whisky Distilleries Ltd have crafted something truly special that stands out amongst other Japanese whiskeys on the market today – making it well worth seeking out!