Distillery:
High West & MGP
Type & Region:
American Whiskey, Utah, USA
Alcohol:
46%
Composition:
Blend of rye mashbills: 95% rye, 5% barley malt from MGP,

80% rye, 20% malted rye from High West Distillery

Aged:
NAS (Blend of straight rye ranging in age from 4 to 7 years)
Color:
Rust
Nose:
Slight smell of cocoa powder and fresh green apple; next comes mellow white pepper spice
Price:
MSRP 70$ (750 ml)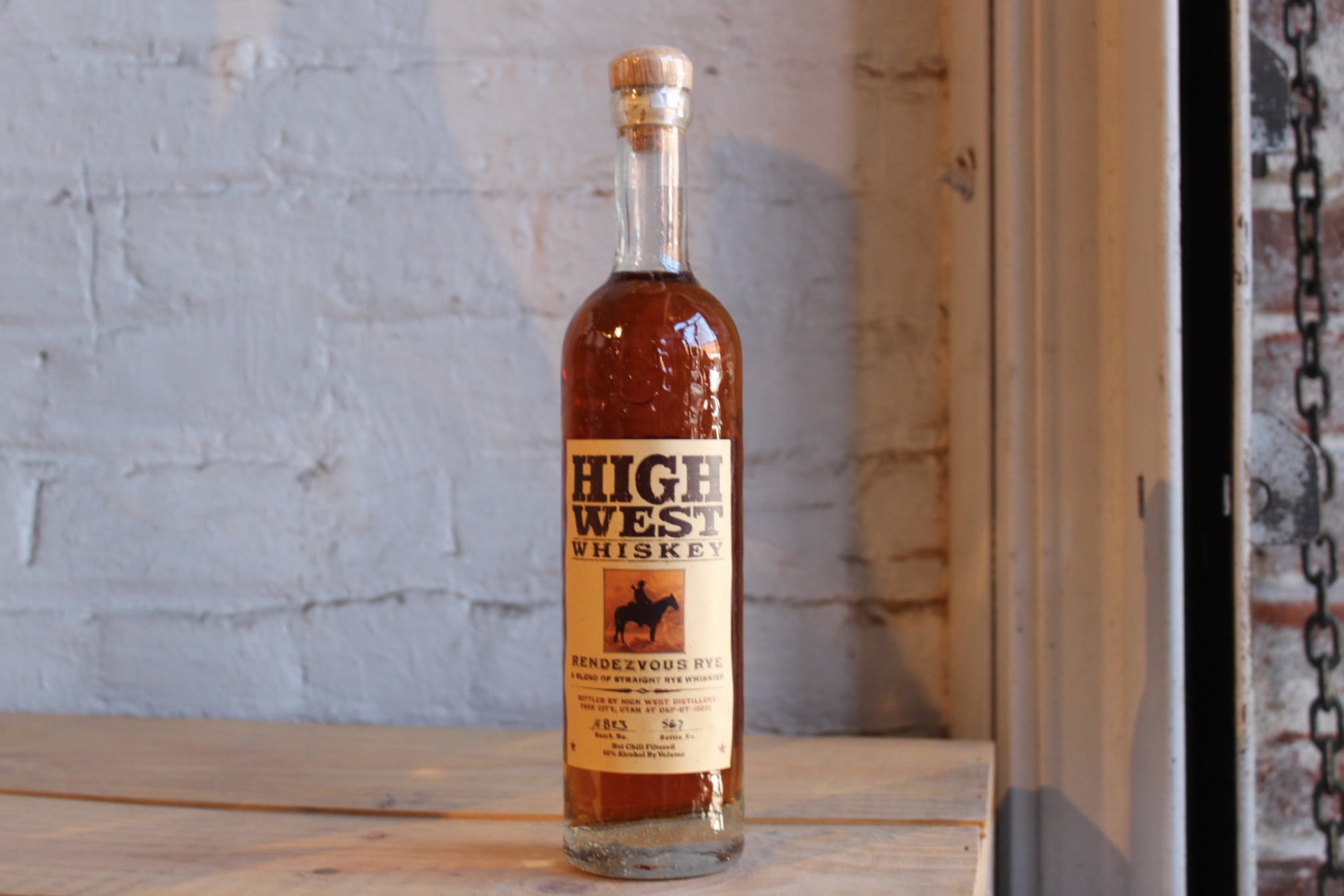 About High West Rendezvous Rye Whiskey
Rye High West Rendezvous is a special limited collection of whiskey, which was released only once a year and is considered the flagship. Since 2021, Rendezvous Rye has been released annually, but in a limited edition, as the company announced a label change with artwork from ever-changing artists. For example, Ed Mell was such an artist in 2021 to become the face of the bottle appearance. Every year, the company gradually introduces more and more distillate, which they produce themselves, into their products and brands. It is worth noting that what is unremarkable for rye whiskey is that the company adds 20% barley malt.
The High West Rendezvous Rye is a key moment of change for the long-time favorite brand Rendezvous Rye. It is no longer considered a standard release but becomes part of the annual seasonal releases. But despite this, its release is not as limited as, for example, Dram Midwinter Night or Bourye.
Color
As mentioned above, High West Rendezvous Rye is made with a high percentage of rye, which goes up to half of its composition. Therefore, it is not surprising that a passing person will call the color of the drink in a simple way – the color rust.
But if you ask a question an expert, you can get an answer in a more interesting way. The product is produced without cold filtration, so it has a natural color. It is described as an immense and severe color with a topographical contrast. According to the color scale, it is dark copper 1.0/2.0.
Smell
The 2017 High West Rendezvous Rye is characterized by its fresh scents of honey and oak. It has notes of rye grain and then covers with the smells of baking spices with cinnamon or salt. Fans of the drink describe it as unabashedly rye, smelling of toast and powdered sugar. Others compare it to the smell of a new Hermes leather belt. West Rendezvous Rye is slightly sweet with a subtle scent of something pungent like ginger gum.
High West Rendezvous Rye 2021 is a slightly different story that is loaded with other subtle flavors such as honey and fennel that can be recognizable as guava, a bit of banana, and lychee. This drink is for lovers of herbal and fruity flavor. After swirling the glass with the 2021 High West Rendezvous Rye, comes the next wave of tasting notes reminiscent of licorice, feel, and pine needles.
The fruity smell changes a little, and the banana is replaced by cherry and grapefruit. The coniferous smell creates a deep gentle atmosphere and creates a depth of smell. This drink can be considered old-fashioned and suitable for reflection.
Compared to other whiskeys that have a high rye content, Rendezvous Rye has a very bright, full-bodied, and slightly tropical smell that many whiskey drinkers love.
Flavor
Experts point out that the palate is very silky on entry and is ideal for beginners or those who prefer softness. There is a certain buttery quality to the drink, which makes the ABV even slightly higher than 46%. The brightness of the age of whiskey is given by the tastes of rye, mint, honey, and oak, which never go beyond their concentration so as not to spoil the taste. Experts note that the manufacturer really tried at the expense of the combination.
After the so-called "chewing," you can feel the tastes of licorice, honey, fennel, guava, citrus with vanilla, and mint with dill. The taste of oak with cinnamon appears, which is accompanied by the taste of cocoa and grain. Gradually, the taste of oak is replaced by other flavors that are delicious in their own way. The heat is not present for long, but this should not be surprising.
Finish
In the end, the brightest taste disappears quickly – oak dissolves among other aromas, despite the fact that it plays a big role in the composition. The ending feels short, so this whiskey can be described as just a fun rye drink but very well made. It is considered not difficult and is suitable for those who want to have fun and those who love rye in their glass with a touch of crushed mint.
The aftertaste can also be lengthened by the same "chewing" that gives new flavors of honey, orange, licorice with vanilla, and oak with vanilla, but unfortunately also does not last long. The tingling sensation from alcohol may last about 5-6 seconds. It is desirable that the aftertaste from this drink last longer and thus be more impressionable.
High West Rendezvous Rye Alternatives
There are a lot of competitors on the market today. Whiskey brands are trying to develop products that will stand out from the rest: quality, taste, and originality. Of course, it is better to focus not on price but on personal taste preferences or proven quality and not on advertising or marketing moves. High West Rendezvous Rye is a whiskey that has proven itself, but there are a number of other world-famous brands that are gaining attention.
Whiskey Johnny Walker Black Label
This whiskey is considered one of the most popular and consumed whiskeys in the world. It may seem that this whiskey can be found in any restaurant or store. This makes it a good option as it will always be available for its fans. This drink is considered average in terms of flavor, and for those who are looking for something more impressive, it is not the right choice.
Whiskey Johnnie Walker Red label
Those who have tried Scotch whiskey at least once in their lives have probably heard of the Johnnie Walker Red label. As well as the Black version described above, this one is actively sold all over the world. Red label, by definition, is a blended Scotch whisky. The manufacturing company has done a great job with marketing and distributing the drink that even in Japan, it can be found in every wine shop and restaurant. The red label has become recognizable to almost every person.
Buffalo Trace Kosher Wheat Recipe
The Kosher edition of the Buffalo Trace after Pesach includes 3 whiskeys (1 rye, 2 bourbons), and this product is included in their list. It is considered to be one of the oldest wheat bourbons produced by Buffalo Trace – in many ways, the customer is getting a 7-year-old whiskey because the same wheat mash is used as in the distiller's other whiskeys.
Verdict
Rendezvous Rye is a drink that is great to drink by experts or those who are just getting acquainted with whiskey. The drink lover enjoys every glass, but some believe that he lacks something to become a "Top Shelf" and remains at the "Mid Shelf +" level. Comparing this drink with its alternatives, we can definitely say that it can surprise with smell and taste and stand out. The other side of the coin is that the price for this drink could be lower, given its short aftertaste. Its alternatives will cost $30-40 less and will be a worthy choice for many.
FaQ
Is High West Rendezvous Rye Worth the Money?
Rendezvous Rye is considered a good line that has decent whiskey in it. But whiskey that costs $70 is a slightly different story. This drink is produced in a limited edition, featuring an interesting and unique taste experience, but as the reviews show, this whiskey still lacks something to justify its price and for some to buy it.
How Much is a Bottle of Rendezvous Rye?
Whiskey High West Rendezvous Rye is released every year under the status of a vintage whiskey, and the company gives a capacious unique design. High West releases one bottle of 750 ml for about $70 and attracts the attention of a fairly large circle of people.
Does High West Increase In Value?
Over the years, the High West brand has established itself as a good brand in the market, keeping the prices of its products at a stable level. Numerous fans have already appreciated the refusal to increase prices in comparison with its competitors. Rumor has it that the move wasn't sincere but rather forced, as the lineup went through a drastic change, and they can't get over their head in terms of quality or impressive features. High West products, in particular Rendezvous Rye, were rated by experts as holding up well but not reaching the high bar they were able to achieve before the advent of the competition.
Is High West Rendezvous Rye Better Than Buffalo Trace and Johnny Walker?
The idea behind High West Rendezvous Rye is to have a high amount of rye in the drink. This is what distinguishes it, containing from 51% to 53% rye. The drink is produced in a limited edition and is a mixture of Straight Rye whiskey of old varieties, which have aged 4-7 years.
What Makes Rendezvous Rye Special?
Since High West Rendezvous Rye contains such a high amount of rye (51-53%) per bottle, it has an uncompromisingly interesting taste. The brand pays homage to the methods that used to be used to produce rye whiskey.