| | |
| --- | --- |
| Distillery | Jim Beam |
| Type&Region | Bourbon, USA |
| Alcohol | 43%  |
| Composition | 75% corn, 13% rye, 12% barley |
| Aged | over 8 years  |
| Color | Dark Amber |
| Price | $23(750 ml) |
The Art of Making 
The first step in making Jim Beam Black is selecting only the finest grains. The grain selection process starts with identifying which grains will bring out the right flavor profile and aroma, including corn, rye, barley, malt, and wheat. These grains are then milled and converted into mash in order to extract sugar from them. Then, yeast is added to the mash, which helps convert glucose into alcohol content during fermentation. 
The Second Step: Distillation & Aging  
The next step in creating Jim Beam Black is distillation. At this stage, water and a high-proof spirit called "low wine" are heated in copper stills until it reaches an alcohol content between 80 – 160 proof (40 – 80% ABV). After distillation, the spirits are aged in new charred oak barrels for years until it reaches their peak flavor profile – mellow yet robust notes of vanilla and oak with hints of caramelized sugar. When ready, it's bottled at 86 proof (43% ABV).    
The Final Step: Quality Assurance
Finally, Jim Beam undergoes rigorous quality assurance tests to ensure that each bottle meets its exacting standards before being released to the market. This meticulous process ensures that each bottle of Jim Beam tastes as good as the last one – no matter where you purchased it or who made it!  
Tasting Notes
Note: A board of vanilla, caramel, and honey.
Taste: Sweet, vanilla, and honey
Finish: At the end of your sip, notes of acidity and vanilla swirl together in harmony with a subtle sweetness from honey and an oaky finish.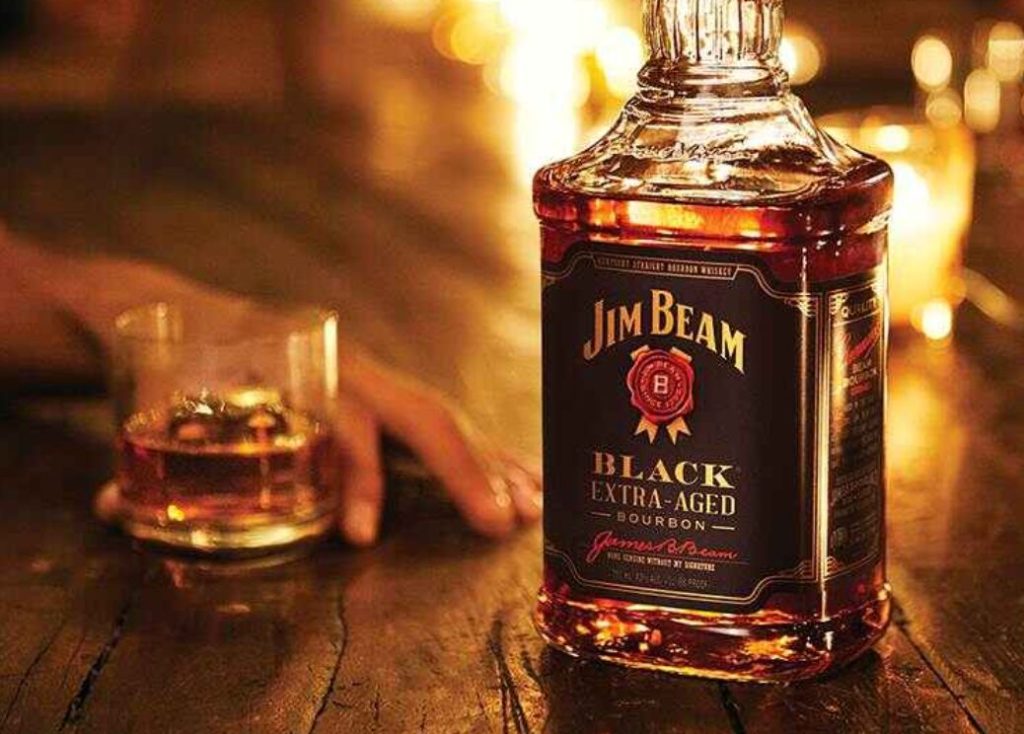 The History of Jim Beam Black 
Whiskey lovers around the world know and love Jim Beam Black, a premium whiskey produced by none other than the iconic American distiller Jim Beam. But what is the history behind this famous whiskey? Let's take a closer look at how Jim Beam Black was born and why it has remained an American favorite for generations. 
The Origins of Jim Beam Black 
Jim Beam has been producing whiskeys since 1795, when Jacob Beam first distilled his own recipe on his family farm in Clermont, Kentucky. However, it wasn't until 1968 that the company released its iconic Black Label Bourbon—which would later become known as Jim Beam Black. The whiskey was created with a special blend of 8 to 10-year-old Bourbons and bottled in distinct black glass. This combination gave the whiskey a deep amber color and a robust flavor profile that set it apart from other whiskies of its time. 
Jim Beam's Reputation Grows 
As more people discovered the unique flavor of Jim Beam Black, word began to spread about the quality of this bourbon. For many years, it was seen as an exclusive whiskey reserved for only those with discerning taste buds or deep pockets—but that all changed in 1983 when James B. "Jimmy" Russell joined Jim Beam as master distiller. Under Jimmy's leadership, Jim Beam began to expand their offerings and make their products more widely available to consumers across America. This increased availability helped to solidify the brand's reputation for creating exceptional whiskies at affordable prices—which allowed them to capture even more market share over time.  
Unforgettable Cocktails with Jim Beam Black
The Manhattan 
This classic cocktail is sure to become a crowd favorite. To make this drink, you will need 2 ounces of Jim Beam Black whisky, ½ ounce of sweet vermouth, and 4 dashes of Angostura bitters. Combine all ingredients in a shaker with ice and shake until chilled. Strain into a chilled glass and garnish with a maraschino cherry or lemon peel for an added touch of sophistication. 
Whiskey Sour 
Nothing says summertime like this refreshing twist on a classic cocktail. To make this drink, combine 1 ½ ounces of Jim Beam Black whisky and ¾ ounce of freshly-squeezed lemon juice in a shaker filled with ice. Shake until chilled and strain into an ice-filled rocks glass or lowball glass. Top off with 1 teaspoon of sugar syrup (or simple syrup), and add orange zest for garnish if desired. Enjoy! 
Old Fashioned 
This timeless drink has been around since before Prohibition—and it's still going strong! For this recipe, you will need 2 ounces of Jim Beam Black whisky, 2 dashes Angostura bitters, 1 teaspoon of sugar (or simple syrup), and one orange peel (for garnish). In an old-fashioned glass filled with ice cubes, combine whisky, bitters, and sugar; stir until combined. Rub the orange peel around the rim of the glass to release its oils; discard the orange peel after use for garnish if desired. Enjoy!