Distillery
High West &YKY
Type&Region
American Whiskey, Utah, USA
Alcohol
46%
Composition
a blend of rye mash bills: 95% rye, 5% barley malt from YKY,

80% rye, 20% malted rye from High West Yippee Ki Yay

Aged
NAS (Blend of straight rye ranging in age from 2 years)
Color
Rust
Price
MSRP 84$ (750 ml)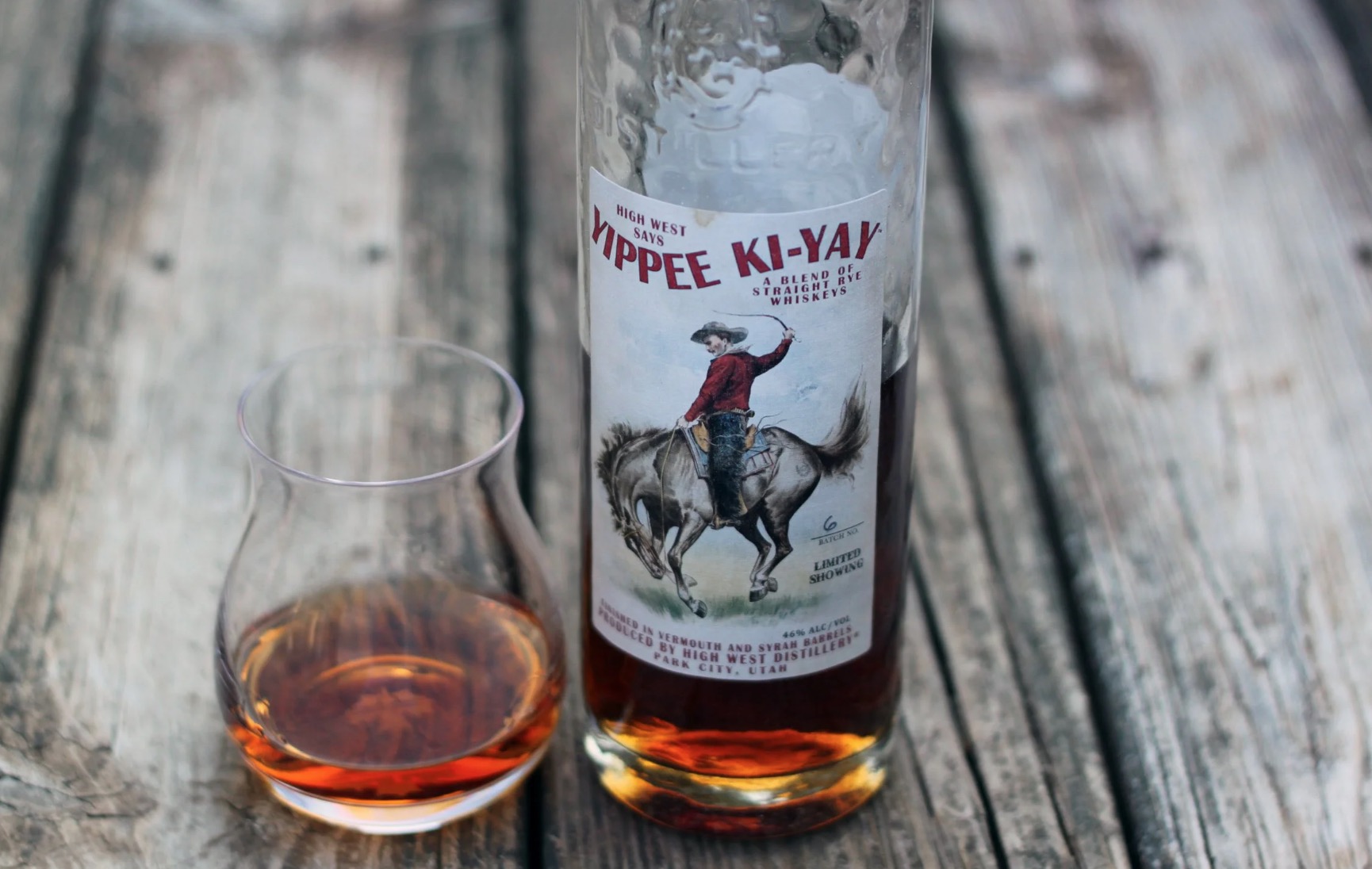 High West Yippee Ki-Yay is a blend of three rye whiskeys. It was produced by the creative minds of High West, a distillery that started from humble roots when David Perkins and his wife Jane founded it in 2006. After visiting the Maker's Mark distillery in Kentucky, the future winemaker became interested in the process of distillation and fermentation and wanted to learn as much as possible about the processes.
Behind a delicious drink is a long history. The founding family moved to Park City, Utah in 2004. David's love of the wild west took over. However. there were very few winemakers and in the end, the new place became an ideal place to start their adventures. Already by 2006, David Perkins' family decided to buy the equipment and received permission to produce and distribute whiskey. Thus, High West became the first legal distillery in Utah in 1870. Since 2007, the winery's stock has doubled. Now, what started out as one man's dream continues to grow and thrive as a huge company. The business once looked like a 250-gallon alembic and saloon in downtown Park City, Utah. However, it has now grown into a globally recognized brand with four unique offices in the country and a famous appearance on the label.
Today, the Saloon story continues in Park City. Tourists must visit. In 2018, High West opened an additional distillery in Wanship, Utah. There they offer tastings of different types of whiskey. Their Nelson Cottage offers unique whiskey dishes, and their tasting bar at the Salt Lake City Airport allows for last-minute tastings of whatever you want to try.
As mentioned earlier, this is a blend of three types of rye whiskey, which is then aged in barrels that are used to hold Californian vermouth and Syrah wines. Straight messenger rye from MGP (5%, 95% rye, barley malt), Burton (37% corn, 53% rye, 10% barley) and High West itself (20% rye malt, 80% rye). The actual percentage of each rye in the blend is kept secret and they are all bottled at 93 proof.
Color
How to describe High West Yippee Ki Yay? You can make an association with a ruddy blonde with a strawberry tint. The color of the whiskey is very light, reminiscent of a feminine shade of a rose. Sometimes, the whiskey seems to overflow and become a creamy golden pink. Judging by the reviews of connoisseurs of the drink, it looks like rose gold or an overripe peach.
Smell
The aroma of whiskey is as delicate as the color. It is in many ways reminiscent of flower fields and sweetness. However, if you get close, you will hear a bright aroma of spices and herbs that will fill your nose. This slightly nominates notes of wormwood or sage.
Flavor
The taste of High West Yippee Ki Yay is reminiscent of chocolate-covered citrus and other fruity notes. Whiskey has a woody aftertaste that intersects with nutty and woody flavors. The drink can be compared to a sweet cherry pie followed by a bitter taste. It vaguely resembles coffee beans or dark chocolate. Some people even refine the palate to feel more tasting notes.
Finish
The drink is a mixture of pure rye whiskey and fragrant spices. The whiskey has been aged for many years. The drink is infused in French oak barrels. Additionally, whiskey is aged in French oak barrels. The price of the drink ranges from $80 for a 750 ml bottle.
High West Yippee Ki Yay Alternatives
Whiskey is one of the most popular drinks in the world today. Many real gourmets prefer long exposure and delicate taste. There are many popular manufacturers. Most famous whiskey brands develop drinks that stand out for their originality, taste, and quality. Of course, connoisseurs of the drink will be guided by personal preferences. In this case, even the most advanced marketing ploy will not work. However, High West Yippee Ki Yay is distinguished not only by its reputation but also by the positive feedback from the players. There are several other world-famous brands that attract the attention of tasters.
Whiskey Johnnie Walker Red Label
Scotch whiskey connoisseurs have probably heard of the Johnnie Walker Red label. This is a very popular blended Scotch whisky. The drink has many connoisseurs around the world. Marketers have done their best to distribute the drink. It is so popular that it even made its way to Japan. Most restaurants present this drink on their alcohol card.
Buffalo Trace Kosher Wheat Recipe
Buffalo Trace after Pesach is one of the best multi-age drinks. The drink is considered to be one of the oldest wheat bourbons from the company. By purchasing a drink, the client receives many years of aging and the original wheat brand. This brand truly occupies a worthy niche in the top three alternative drinks.
Whiskey Johnny Walker Black Label
Connoisseurs of alcoholic beverages confirm that this whiskey can be found in most prestigious restaurants. This largely confirms the magnificence of the drink. In addition, it makes the drink accessible to its fans. Whiskey is suitable for almost everyone, but nothing stands out in taste and smell. Among drinks with many years of aging, the drink is considered average in taste. If you are an experienced taster, then we advise you to look for more alternative drinks.
The Verdict
Fruity smells and tastes are perfectly intertwined in the drink, reminiscent of a summer fruit cocktail. This whiskey has won many fans and such popularity is well deserved and justified. Thanks to many years of aging, the drink combines the freshness of fruits with a delicate floral aroma.
FAQ
Is High West Yippee Ki Yay Worth the Money?
Absolutely yes. High West Yippee Ki Yay is considered a good line, which has whiskeys worthy of attention from customers. The price of whiskey ranges from 80 to 95 dollars. This is an adequate price for a drink that is produced in a limited edition. The only small gripe I have with High West Yippee Ki-Yay is that overall I could have used a little more spice and oak. Maybe put it back in some rye casks for a while to keep the sweetness, but help some of the spices get higher in profile along with a bit more oak. However, this is a bit of a nitpick and overall this whiskey is worth $80.
How Much is a Bottle of High West Yippee Ki Yay?
Whiskey High West Yippee Ki Yay is produced annually in a limited edition. The taste qualities of whiskey and its method of preparation cause a high price. High West Yippee Ki Yay releases one 750 ml bottle for about $85 and attracts the attention of a fairly large circle of people.
Does High West Yippee Ki Yay Increase In Value?
Over the long years of existence, the High West brand has established itself in the market as a good brand, keeping prices for its products at a stable level. The company's customers appreciate the position of manufacturers not to raise prices for products. There are different opinions regarding this position. However, today the price and quality of the drink remain consistently good. High West products, in particular High West Yippee Ki Yay, were judged by experts to be holding up well, but falling short of the high bar they could achieve before the emergence of dozens of competing suppliers.
Is High West Yippee Ki Yay Better Than Whiskey Johnnie Walker Red Label?
This whiskey is somewhat superior to its competitors. Due to the high rate of rye and two years of aging, the drink gets an unforgettable taste. This lower bill rye ends up having a milder rye presence which can often result in it tasting more like bourbon compared to something with a very high bill of 80%+ rye. Sweetness and spiciness collide with each other in a way that creates interesting layers of flavor that complement each other quite well.
What Makes High West Yippee Ki Yay Special?
The composition of whiskey deserves special attention. It may include a large number of different distilled spirits. They are made from fermented grain must. It most often comes from grains such as corn, wheat, rye, and barley malt. The popularity of whiskey lies largely in its versatility, it may cost rather much per bottle. Imagine that you can enjoy the original taste of whiskey. Alternatively, you can mix it with soda or other ingredients. In addition, it is ideal in combination with ice. You can experiment and prepare mixed drinks yourself to choose the perfect option for yourself. It is the basis of Manhattan, Old Fashioned, Whiskey Sour, and many others.