| | |
| --- | --- |
| Distillery: | Lagavulin Distillery |
| Type & Region: | Lagavulin, Isle of Islay PA42 7DZ, Great Britain |
| Alcohol: | 56.5% |
| Composition: | Blended scotch whisky, water, plain caramel (E150a), peat, malt |
| Aged: | 12-year age |
| Color: | Sparkling gold |
| Price: | $187 for 750ml (per bottle) |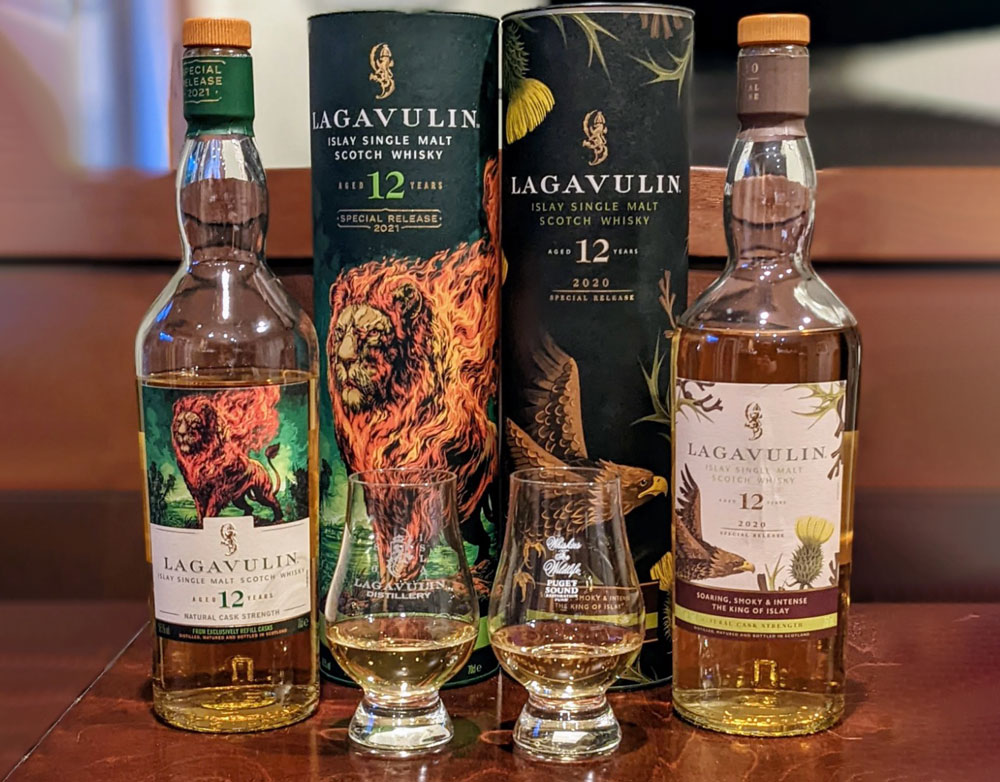 About Lagavulin Whiskey
Lagavulin is a 12-year-old whiskey for true lovers of high-quality alcohol. The whiskey is produced on a Scottish Island named Islay. It is one of the most popular single-malt alcohol beverages, which is produced in Lagavulin Distillery. It is a perfect whiskey to consume together with blue cheeses that emphasize its salty flavor. The Lagavulin whisky has a pleasant scent of tobacco, vanilla, and spice. It is associated with Scottish folklore. People have loved it for its smoky smell and taste for many years. So, you definitely need to try the whiskey. You will delve into the Scottish culture and enjoy the perfect taste of quality alcohol.
Color
The Lagavulin 12-year-old whiskey has a pleasant amber color. Its attractive appearance looks more like the light gold color that reminds of Scottish fields.
Smell
The whiskey has a spicy nose mixed with caramel and fresh hay. Some people may think the smell is similar to Lapsang Souchong tea. The aroma of the whiskey is also full of smoky and spicy scents together with vanilla. That is why it has a lot of lovers today.
Flavor
Lagavulin has a thick and malty flavor. The whiskey has a rich palate that tastes like sherry combined with fruity tasting notes. The Lagavulin whiskey is sweet and rich in flavor. It also has some notes on oak and peat of mushrooms. At the same time, the taste of Lagavulin is quite soft and gentle. So, you can easily drink it without feeling the alcohol rate. Spicy flavors give you an exciting feeling of a true and quality whiskey.
If you add some water to the beverage, you can feel the flavor of the sea. You will make the whiskey taste sweeter and more vanilla. The alcohol percentage gets lower, but you still feel its spicy palate.
Finish
After you have drunk the whiskey, you feel a fantastic pleasant finish. The finish is long, and you mainly feel spicy tasting notes. The finish also feels like figs and dates together with a smoky vanilla flavor. In the finish taste, you almost do not feel the peat flavors, and the flavor is drier.
Lagavulin Alternatives
Lagavulin is a spicy whiskey that is produced using peat. For this reason, there are not many alternatives your can drink instead of it. Today, there are only three whiskies that can replace Lagavulin 12. They include Lagavulin 12, Ardbeg, and Laphroaig. All the alternatives you can buy are also highly peated and popular among whiskey lovers. They are produced in Scotland, but each of the options has different smokes and is produced in a special way. Anyway, each whisky is tasty and has similar qualities to Lagavulin 12.
Lagavulin 16
Lagavulin 16 is a 16-year-old whiskey produced at the Lagavulin Distillery. The cost of the whiskey is about £200. Its smell is mainly composed of dry peat notes with coastal sea elements. The 16-year-aged whiskey is high in iodine, and the flavor is similar to seaweed. When you drink the beverage, you can also feel some lemon and apple taste.
Compared to Lagavulin aged 12 years, Lagavulin 16 is less sweet. It only has faint notes of sweetness and malt. The whiskey has an oily palate and is a bit salty like caramel. It has some controversial taste that only enhances the palate. The flavor also contains smoky and lemon elements together with spicy pepper. Sometimes, the taste of Lagavulin 16 whiskey can remind you of olives or chalk.
As Lagavulin 16 is the 12-year-old Lagavulin alternative, it also has a long finish. The finish notes are rather smoky, together with wood and lemon tastes. The finish leaves you with some sweet flavors from the sea coast. It is another classic whiskey that you will definitely love. It is much similar to Lagavulin of the 12-year distillation. Yet, you can drink it if you want some diversity in whiskies and are interested in new flavors.
Ardbeg
Ardbeg is the second alternative for the Lagavulin 12-year-aged whiskey. Compared to Lagavulin, Ardbeg is 10-year-old and is produced in bottles. Ardbeg is also high in peat and popular among lovers of alcoholic beverages. This whiskey is produced and distilled on the Kildalton Coast of Islay. So, it comes from almost the same region as Lagavulin. This explains a lot of similarities between them.
Ardbeg is a single-malt whiskey that is not subject to any filtration. It provides you the sea coastal tasting notes and smells that allow you to refresh yourself. What is more, it has smoky noses that will make you eager to try it. The Ardbeg whiskey is like a vanilla-tasting beverage. It also has some fruit and citrus notes. The finish of the whiskey is long, like in the Lagavulin 12. After you drink it, you feel some sea-salty flavors that remind you of a sunny beach.
Laphroaig
Laphroaig is another great Scottish whiskey also produced on the Isle of Islay. The Laphroaig whiskey is also distilled in the Lagavulin Distillery. It is produced using high malts and barley. The production of the whiskey uses an active malting floor. It is a fantastic beverage that reminds us of ocean air close to the island of its origin. It also has bitter and spicy notes that make it pleasant to many people.
The Laphroaig whiskey is 10-year aged and has a sparkling gold color. The color is also similar to caramel, together with the flavor. The nose of the whiskey is highly smoky, at the same time feeling like sea air. If you smell it, you will also feel some sweetness like sugar in the nose.
The taste is also sweet and sugary, together with grapefruit tasting notes. The palate also includes butter and varnish elements you may like. It also has salty and peaty flavors. When you start drinking the whiskey, you feel some ashy aromas, and then the flavor gets more powerful. In the finish, the palate becomes weaker, and you only feel a dry, stale taste. Like Lagavulin 12, Laphroaig has a long finish and iodine elements.
So, the Laphroaig whiskey is a smoky alternative to Lagavulin containing sugary malts. The whiskey has recently become even sweeter than before. This makes it perfect for people who can't drink bitter beverages. The palate also reminds of some oak wood notes and has a wide range of spices. For example, you can find chili pepper, black pepper, and cardamon flavors in it. Some people can find savor tastes that only make the beverage tastier. You can also drink it together with water to open the palate to the largest extent and add some new flavors.
The Verdict/Conclusion
To sum up, we can say that Lagavulin 12 is one of the best Scottish whiskeys, which is also costly. But it is definitely worth the money because it has fantastic taste. The whiskey has a peaty and malty flavor with faint coast noses together with wood notes. The smell and taste are, at the same time, spicy and powerful, and sweet. The flavor of Lagavulin 12 is great and will fit anyone. So, if you are a lover of high-quality whiskeys with a refined taste, this option is perfect for you.
FAQ
Is Lagavulin 12 Worth the Money?
The whiskey is definitely worth the money you pay for it. It has exciting new flavors and noses that you will certainly love. You can find a palate for any taste in the beverage. It also has a vivid contrast between sweet and spicy tasting notes. So, it will attract your attention wherever you decide to try it.
How Much is a Bottle of Lagavulin 12?
A typical bottle of the Lagavulin 12 whiskey contains 700 or 750 ml of beverage. The alcohol rate in one bottle is 56.5%.
Does Lagavulin Increase in Value?
There has been some increase in the value of whiskey in recent years. The price mainly depends on the age years of the product. For example, an eight-aged Lagavulin can cost 66 dollars per bottle, while the Lagavulin 12 whisky costs about 187 dollars.
Is Lagavulin 12 Better Than Laphroaig?
Lagavulin has three main alternatives, and they are quite similar to each other. As we can notice, Lagavulin and Laphroaig, together with Ardbeg, are all good. We can't emphasize one best whiskey as they are all of the high quality.
What Makes Lagavulin 12 Special?
The main thing that makes the whiskey special is its unique production method. It is produced using an active malt floor together with peat. The whiskey is also special because it is created with a well-thought composition. It is also aged for 12 years, which makes it costly.