| | |
| --- | --- |
| Distillery | Jim Beam |
| Type&Region | Kentucky |
| Alcohol | 94 proof (47% ABV) |
| Composition | 75% Corn | 13% Rye | 12% Malted Barley |
| Aged | NAS (Non Age Statement) |
| Color | Bourbon is a dark and rich amber color. Its appearance is reminiscent of a moderate maple syrup color. |
| Price | $39.99 |
The first association that arises in connection with the word "bourbon" is an alcoholic drink, which is considered the national hallmark of the United States. However, it has long gained fame worldwide and is quoted as high as, for example, elite Scotch whiskey or French cognac.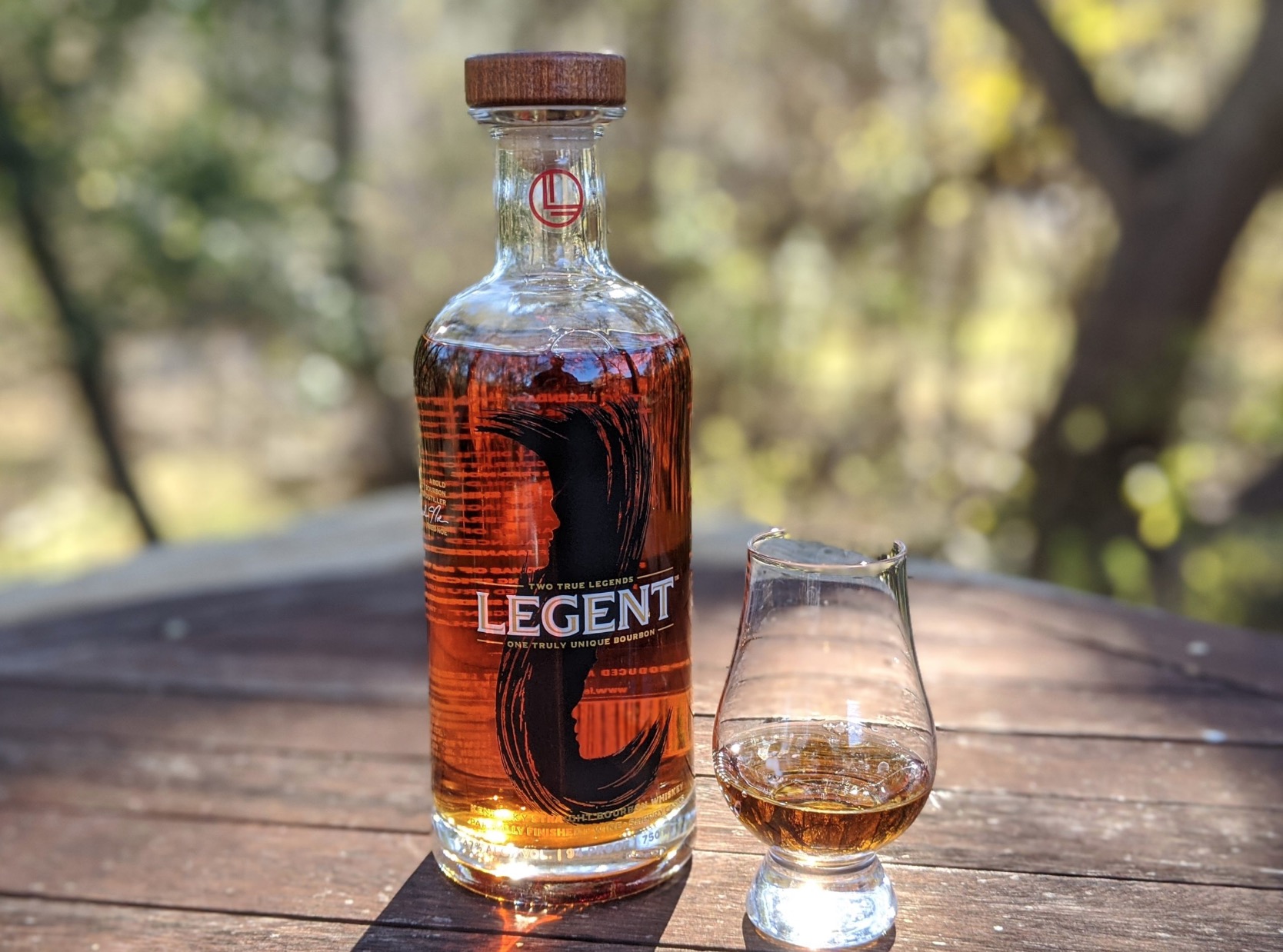 About Legent Bourbon Whiskey
Currently, there are several trademarks of bourbon that have gained worldwide fame. In America itself, they have long become a cult, and the popularization of the national drink in other countries is largely associated with them. One of them is Legent Bourbon.
What is popular? What happens when two whiskey-making legends get together? Let's find out the answer. Fred Noe and Shinji Fukuyo had different approaches to whisky. The first is superior, outgoing, and inherited Kentucky whiskey. The second is restrained.
These two different ways of curing whiskey come together. Is it balanced? Not so much. Is it fascinating and tempting? Absolutely. The most challenging thing about this whiskey is that no one can predict what to expect. It can be insanely tasty and makes you drink it more and more. Or it tastes like tart timber and alcohol.
At first sip, its taste is straight and barely abrasive. The taste of stewed fruit and the baking spices extending over time are typical Fukuyo. Those who like sherry-heavy scotch will appreciate the aftertaste but may find it hard to feel all the fruity notes.
Legent Bourbon is a rare case when adding a quarter teaspoon of water to feel stewed fruit, vanilla, and cloves are recommended. However, the initial taste of the wood and alcohol will soften it up a bit, and you will be able to explore more complex tasting notes.
Color
The bourbon body is very liquid and almost doesn't cling to the glass walls. This way, you can admire the natural color. It draws the eye every time. Yes, this is a typical dark gold color for bourbon. However, the realization of the fact that the drink absorbed it exclusively from a freshly fired barrel, and didn't receive it from the outside, has some kind of magic of its own.
Smell
Bourbon has its own special, unique aroma and taste. However, it mostly pronounced shades of oak barrels, cherry, and vanilla. You can also catch a touch of spice and sweet fruity tones.
Flavor
The flavor of bourbon is unmistakable to the nose. First of all, it delicately but persistently hits the receptors with sweetness and burnt wood. The main flavor is simple but no less pleasant. A drop of marinade quickly gives way to cherry and canned sweet corn, and a light woody sourness comes in the end. Unobtrusive alcohol leaves the glass irrevocably after a couple of minutes. Further, with every minute, the vanilla sweetness comes out brighter. Finally, after 10-15 minutes, the drink turns into natural syrup.
Finish
A sweet taste finally appears, with elements of classic sherry (like plum, raisin, or vague rancio) in the end. It continues with a nutty taste and some rye spices and not-at-all bitter oak.
It should be noted that bourbon can only be aged in barrels previously charred from the inside, made of American oak. This material provides the drink's unique taste because it contains more lactones – substances that turn into alcohol. Thanks to them, woody, fruity, and coal nuances appear in the bouquet.
Legent Bourbon Alternatives
Legend Bourbon is high-quality bourbon that meets all the requirements and criteria. It doesn't allow the presence of additives and dyes. But does it have alternatives?
Eagle Rare 10 Year
The 10-year-old Kentucky straight bourbon is the flagship in the Buffalo Trace range. It is aged in new and charred oak barrels. The aroma has complex toffee notes with hints of orange peel, honey, leather, and dried fruit. The palate is rich and buttery with spicy vanilla, candied almonds, leather, walnuts, and light tones of red fruit. The finish is long and spicy. It is a very smooth bourbon with an almost thick sweetness. Perhaps this bourbon is not for beginners – the oak tones are too bright. However, it is well balanced. Before use, it is better to let it breathe for 10-15 minutes.
Four Roses Single Barrel
It is premium bourbon. It has high rye content (35%), and yeast with light fruitiness is used. No time limits are specified. Deviations in taste are possible depending on the properties of the barrels, so they are carefully selected. The aroma is rich and fruity with toffee, vanilla, spices, and chocolate notes. Taste with notes of fruits, prunes, cherries, cocoa, and vanilla on the background of oak spices. The finish is long with hints of oak and chocolate.
Despite the overabundance of oak on the palate, this is classy bourbon that makes a solid impression. Many say that it is bold and pleasant in every way. Adding a couple of drops of water helps add some of the flavors and brighten them up.
Jim Beam
It is one of the world's leading brands and, as such, occasionally releases something really special, like this 12-year-old premium bourbon. In its composition: 77% corn, 13% rye and 10% malted barley. Surprisingly, the company didn't have a 12-year-old bourbon until 2013. It is produced in a limited series. The aroma is saturated with subtle notes of cinnamon, vanilla, and fragrant oak. The taste is slightly smoky, with notes of vanilla caramel, spices, and cinnamon on an oak background. Later, a slight peppery note appears. The finish is lingering, dry, and slightly peppery.
It is a very good bourbon that is surprisingly easy to drink. A little smokiness adds some exciting and spicy notes. The influence of oak is noticeable for a few moments, but very quickly, it is followed by notes of caramel and vanilla with a touch of spices that harmoniously blend in and make the taste balanced.
The Verdict
Legent Bourbon is an excellent manifestation of the wonderful things that can be performed when two great cultures come together as one, sharing their idea of how to bring real innovation and best-in-class spirits to the world. If you love pure bourbon, then it is for you. If you're a Scotch whiskey drinker accustomed to base and wine finishes, it is also for you. If you like delicious cocktails, it also tastes great. So, it can be called universal.
Legent Bourbon is one of those trendy bourbons that doesn't quite fit easily into one of the established and standard classifications. Instead, it brings something new and fresh to the everyday bourbon production process with a rather unconventional aging process.
FaQ
If you still doubt whether to try Legent Bourbon, here we have answers to the most asked questions:
Is Legent Bourbon Worth the Money?
Legent Bourbon is a drink created for enjoying its pleasantly mild taste in the company of friends. Sipping and listening to every drop of corn whiskey, saturated with the smell of white oak, you just want to have a heart-to-heart conversation or indulge in humor and witticisms.
How Much Is a Bottle of Legent Bourbon?
At $40/750 ml, you're making the right choice. This bourbon is great to drink. It has hints of stewed fruits and wood. Moreover, you're drinking a piece of history.
Does Legent Bourbon Increase in Value?
According to statistics, bourbon sales worldwide have grown steadily in recent years. The price for it, in general, is quite democratic. But, of course, it pleases, and anyone can buy it. Legend Bourbon has a reputation for good, easy-drinking bourbon at an affordable cost per bottle. So, it increases in value.
Is Legent Bourbon Better Than Jim Beam?
Special alcoholic drinks attract all connoisseurs of quality and taste in their way. That is why for everyone who considers themselves a connoisseur of a good alcoholic drink to some extent, it is important to be as clear and precise as possible about the features of bourbons. There is no absolutely identical alternative to Legent Bourbon. All other bourbons differ slightly in taste.
What Makes Legent Bourbon Special?
You can find different reviews about this bourbon. Not everyone likes its taste, but this is a purely individual matter. The drink has a golden color. The aroma of bourbon is powerful. It is associated with male physical strength. It has notes of wood, coal, and spices. The drink's taste is also rich and strong, slightly sweet, with nuances of burnt caramel and popcorn, as well as oak, vanilla, and other spices.
The manufacturing technology of Legend Bourbon and its subsequent use requires compliance with specific rules that allow you to reveal all the positive qualities of this drink. However, when drinking this alcohol, it must be remembered that it is a strong alcoholic drink (over 40%). Therefore, it may quickly make you drunk.