| | |
| --- | --- |
| Distillery: | Macallan |
| Type & Region: | Scotch, Scotland, UK |
| Alcohol: | 43° |
| Composition: | 100% malted barley |
| Aged: | 18 years in sherry seasoned oak casks |
| Color: | 1.3/2.0 on the color scale (auburn) |
| Price: | $400 (750mL) |
About Macallan Whiskey
Macallan is one of the world's best single-malts. This Scotch whisky has been produced since 1824, and now it is sold as a luxury product. The production of the brand's whiskey is very unique and attracts much attention both from ordinary people and connoisseurs. The Macallan distillery is the only one that uses sherry casks to age its products, although many "sherry-style" casks are used for aging. The process gives the Macallan whiskey a unique taste.
There are several branded whiskey lines: Double Sack and Tripple Cask, depending on the type of barrel it is held in. Those are sherry from American oak, sherry from European oak, and oak from bourbon barrels. The color varies greatly – gold, amber, and dark – depending on the character of the grain and the type of the cask used for aging. In the case of Macallan 18, these are exclusive barrels selected manually from Jerez, Spain — sherry seasoned oak cask. So what makes Macallan 18 so special? Let's take a closer look at it and discover some insight into whether or not Macallan 18 is worth your money!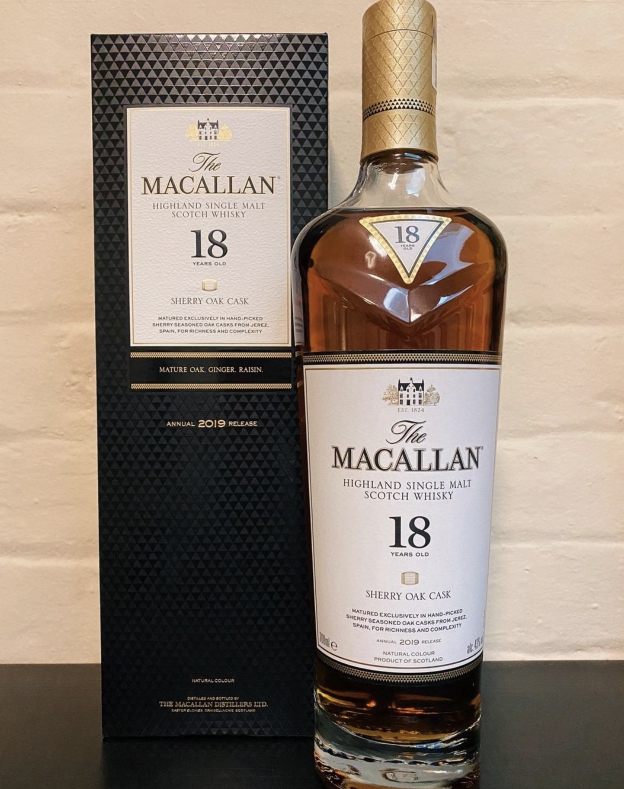 Color
Looking at the bottle, the scotch looks mature. Appearance makes the first impression, right? ​​The bottle design is minimalist and very elegant, like a man in a suit with a tie. The branded cork was made of solid oak, and it didn't need to be pressed. When poured, you should let it breathe for a minute or two.
The color is not very bright. If the whiskey had been in the first half-baked barrels for 18 years, it would have been very dark. In this case, it's dark amber with a slight shade of mahogany. Its texture seems intact, slightly smooth, and full-bodied. His legs are short and numerous on the glass side, forming a delicate lace.
Smell
After smelling the first coat, the
aroma
of the first roles is not dominated by sherry. It is there, but it is soft, gentle, and quite deep. There's a strong sweetness that includes notes of dried fruit: prunes, dried apricots, and quince. Gradually, the smell becomes sweeter: vanilla and caramel are added, and a bit of cinnamon. No nemesis for alcohol overwhelming. You can feel that the scotch has become of a decent
age
.
Upon closer inspection, this whiskey reveals a range of tropical fruits and citrus. Dried fruits, oak, and brandy-like aromas. A floral smell is noticeable. When you describe Macallan 18 in perfumery terms, it's white flower notes — jasmine. There is vanilla, and in the background there is peat.
Taste
Unlike the nose, which hardly will surprise you, the flavor is very impressive. The cedar is immediately thrown into the attention. Then it becomes even sweeter and even a touch of tasting notes of jam. You can distinguish Macallan 18 by the typical taste of aged whiskey from the aroma of citrus candy, walnut, almonds, and also woodiness. As you move toward the end of a tasting of Macallan 18, a strong gingerbread flavor is felt, along with soft elements and cream, and you can feel a powerful influence from oak. The Macallan 18 keeps its spices at bay until well into the distance, but once they appear on the nose and palate, they do so with understated elegance. The spices burst, but there's not a lot of them. Besides cinnamon, most flavors are barely noticeable. The berry notes transform as the whiskey opens up, becoming darker and lighter at different points. However, it's always balanced, with no single flavor dominating.
Aeration brings out the flavors, and with Macallan 18, the flavor awakening is irresistible. Oxygen takes from the chained alcoholic claws the essential oils and gradually gives it a new aromatic bouquet. The oaky taste of the whiskey smooths down, and it becomes sweeter. A mixture of walnut and grape notes is also more pronounced toward the end of the tasting. There is no typical Macallan mango flavor. Unlike some other whiskey, a Macallan 18yr old has none of the usual leather and tobacco notes. Therefore it works very well with a cigar. 
Finish
You will like how the sherry in it is just enough to give it an extra twang without being too strong. The aftertaste's flavors of Macallan 18 whiskey feel like they're pulling you into the space between your ears and relaxing. Add some water and you can taste it: the candied mango. The sweetness of vanilla, caramel, and citrus is even more evident. However, the taste is much softer and more tender. If you want to taste the whiskey at its purest, drink it neat and give it time to open up. It's 'Carmen' play among whiskey. Macallan 18 will excite the passion of the southerners, and you can feel it with every sip.
Macallen 18 Alternatives
There are a lot of similar products coming from a wide range of distilleries, but there are also alternatives to the Macallan 18. Let's discover what are the options. 
The Macallan Classic Cut
Macallan Classic Cut is one of the many limited releases from the storied and esteemed distillery of Macallan. Limited releases from Macallan are a big deal. They almost always get a lot of hype and Macallan's limited releases are always great value for money. Some of Macallan's limited releases fetch higher prices than the standard bottling and this has made limited releases from Macallan highly desirable in recent years.
The Macallan's cinnamon spice on the nose made me think of a blend of butterscotch and macadamia nuts with a drizzle of maple syrup. The palate is reminiscent of honeyed apple crumble, butterscotch sauce, and mince pie. It ends smoothly with a tickle of menthol without being overly smoky. It is a great daily sipping whisky — delicate and refined enough to sip neat or with ice, but bold enough for mixing as well.
In the beginning, you will taste dark plum, roasted almonds, oak wood, honey, vanilla with delicate spicy notes of clove and black pepper. After that, you will notice some sweety-fruity notes of pear, mango, peach, and apricot. All this is accompanied by a slight tingling sensation on the lips.
Knob Creek Longhorn Steakhouse 14 Year Single Barrel
Knob Creek Longhorn Steakhouse is back with an upgraded label and a brand new bottle. They've also included more information about the contents of this specific bottle. Much like some of those private stash bottles, we now know that this was bottled and selected by KC Master Distiller, Chris Morris, and it was barreled on June 1st, 2005 and then picked on July 17th, 2019 – 14 years and 8 months later – for this release.
Cutting into the Knob Creek Longhorn Steakhouse 14 Year Single barrel reveals a deep amber color. The aroma from the bottle transfers very nicely onto my olfactory sensors, bringing forth a rich and bold bouquet of caramel, sap, vanilla extract, charred wood, chocolate-covered espresso beans, and a little "farmyard funk."
Knob Creek Longhorn Steakhouse 14 Year Single barrel has a very high, but nicely balanced alcohol presence. The oak is very sweet and lush at first, but it dries out in the finish leaving a light-tasting experience. This Bourbon is a lot smoother than standard Knob Creek due to its filtration process, which leads to a more soft and approachable palate.
Old Fitzgerald 15 Year
In its current version, Old Fitzgerald is Heaven Hill's premium line of bottled-in-bond wheated bourbons stored in stunning decanters. Let's be honest, though – it's a gimmick. They do a good job making quality bourbon and this marketing strategy has done well for them. But no one really drinks this stuff straight out of the bottle, do they?
The nose is a rich caramel, maple syrup, vanilla, honey, dried orange peel, and cherry extract lined with abundant roasted oak, toasted cinnamon, cloves, cocoa powder, and baked apple.
Old Fitzgerald 15 does a good job of making you think about caramel, vanilla, orange, and cherry. Aged for 15 years, this small-batch Kentucky Straight Bourbon Whiskey is one of few bourbons that comes from a single barrel.
The Verdict
Macallan 18 provides an excellent entry point for new whiskey drinkers while also providing more experienced whiskey drinkers with all the complexities they could ever want. It is a well-balanced and approachable scotch. 
FaQ
Is Macallan 18 Worth the Money?
There's a bunch of reasons why Macallan has been coming in interesting ad campaigns in recent years. They have a good product that is worth the price, and they have a willing audience that would like to buy it. The Macallan 18 is proof positive of this notion. It's a rich whiskey with great proof and less burn than other whiskies. Though it is highly-priced, with a ratio cost per bottle, you get what you pay for with this one.
How Much Is a Bottle of 18 year Macallan?
The price of Macallan 18 is around $400 but you should check with the local retailers as well.
Does Macallan Scotch 18 Increase in Value?
There are whisky investors out there who just buy whisky for the purpose of reselling it at a higher price after it has increased in value. Undoubtedly, Macallan is one of their most sought-after whiskies for this purpose. 
Is Macallan 18 Better Than Old Fitzgerald?
Macallan 18 is a high-shelf, luxury Scotch whisky that costs a pretty penny. However, according to certain people, Macallan 18 is not better than an Old Fitzgerald. You could say they're two premium equals.
What Makes Mcallen 18 Special?
It is the prestige, the elegance, the warmth, and undoubtedly its age. It is not only seen as a sophisticated drink, but it can also be pretty darn rich in history and innovation.