| | |
| --- | --- |
| Distillery: | Wild Turkey |
| Type & Region: | Bourbon, Kentucky, USA |
| Alcohol: | 50.5° |
| Composition: | 75% Corn, 13% Rye, 12% Malted Barley |
| Aged: | ~6 years in virgin white oak barrels |
| Color: | 1.1/2.0 on the color scale (burnished) |
| Price: | $3 (50mL), $25-30 (750ml) per bottle |
About Maker's Mark Whiskey
Maker's Mark is a classic premium bourbon, produced in Kentucky and adhering to traditional practice. Its distinctive appearance is instantly recognizable, as well as its iconic red wax seal. This is a bourbon made using wheat instead of rye as the main secondary grain. Wheat whiskey, while not as spicy as rye whiskey, has a sweeter, less-pungent flavor that makes it taste more like wheat bread than pumpernickel bread. The regular non-cask strength version (not the special releases) of Maker's Mark is a product that doesn't have batch numbers. Maker's releases the "recipes" they use to craft their product, but they don't release the mash bill either, so it can mean that there are different products sold under the same name. It might be fair to say that this was done to prevent counterfeiters from selling fake Maker's Mark products.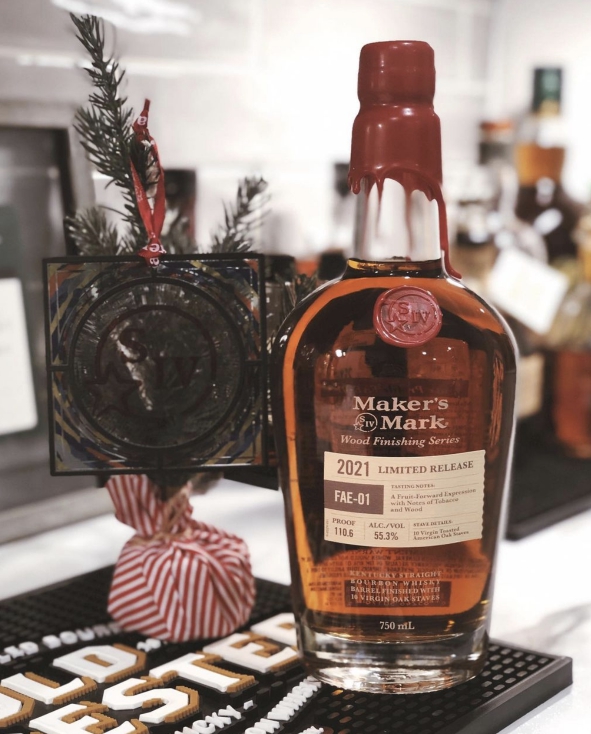 Color
Maker's Mark has an amontillado sherry or deep copper color. The bourbon produces long tears on the glass when poured, and the tears have a tendency to hold their shapes for several seconds before saturating the side of the glass. The juice of Maker's Mark is amber in color and viscous enough quite nearly to drip off a tilted glass.
Smell
 On the nose, it gives you a pretty distinctive sense of its identity. Marked by a mellowness that's distinctive to newer whiskeys, the Maker's Mark aroma hides a dry, grainy underbelly. It's not especially bold or assertive, and I find its delicate notes to be quite appealing. The first whiff of Maker's bears a pleasing resemblance to sweet tea, with notes of honey, orange, lemon, and alcohol. Noting the scent more deeply rewards you with hints of slightly sour corn and wheat, along with the taste of pre-distillation mash. "You know," says my friend, "This makes me think of a summer day. Chores are done and you are sitting out in the sun, just enjoying a cool drink. Nothing on your mind but what to do next."
Flavor
The tasting notes of Maker's Mark are much more subtle but have a fuller mouthfeel. The main taste of Maker's Mark is honey. This starts out sweet, and it's the vanilla honey flavor that really stands out. You'll notice that flavor as soon as you start sipping on your Maker's Mark, and will continue to notice it until you swallow (though it does get a bit milder with each passing moment).
At first, it walks you through the hay, vanilla, and a little bit of mint. But underneath that, there are additional flavors of vanilla, lemon tea with honey, and some wood spice you can feel on the palate. This makes for a sip that is very enjoyable from start to aftertaste.
Finish
There's a bit of sweetness at the beginning which is soon attacked by a small amount of bitterness, spiciness, and extreme rye flavor. The aftertaste is very subdued after the first sip. There's a little bit of lemon, with a slightly bitter finish comparable to drinking black tea.
In my tasting experience, the Maker's Mark tumbler is refilled with ice and water a couple of times during the entire experience. I don't know why, but it just makes the overall experience better. 
Maker's Mark Alternatives
There is a world of whiskeys beyond the shores of Kentucky. If you've been looking to try a different whiskey than Maker's Mark, here is the ultimate list of other options. 
Knob Creek Straight Rye
If you like rye but don't want to pay the big bucks for a bottle of Pappy Van Winkle, Knob Creek straight rye from Jim Beam is an excellent option. It's available (though not always in stock) at most liquor stores, and prices around $25 for a 1-liter bottle. It's also 140 proof. At that price point and proof, it is a relative bargain among high-end ryes.
Knob Creek Rye is a smooth and very approachable whiskey. You'll notice a honey flavor, followed by some nutty flavors, then maybe a little lemon zest, but the rye is still dominant. Whiskey can't be great without balance, and this one definitely has it.
There's no mistaking Knob Creek Rye for anything other than a traditional rye flavor. That's not to say it's one-dimensional. On the contrary, each mouthful reveals a multidimensional cornucopia of rye and cornbread flavors that evolve as you sip. This evolution is what keeps your interest as you work your way through the bottle.
Sagamore Spirit Rye
From the bottle Sagamore Spirit Rye Whiskey is the first rye whiskey from Sagamore Spirits. It is distilled from a mash of 95% rye and 5% malted barley, rye whiskey's traditional grain bill. The spirit was come o age for at least 4 years in new, charred, white oak barrels before bottling. 
Sagamore Spirit Rye is a particularly glossy whiskey, with a distinct bronze glow in the glass. Its aroma is rich, complex and evocative of vanilla, burnt sugar, ripe fruit, and baking spices. 
The palate echoes the nose with sweet, herbal, and tropical honey notes upfront. There are also some nice fruity flavors of candied dried pineapple, orange, and apple along with some dill and anise. This leads to a medium-to-long finish that's savory with a slight herbal bitterness that lingers with oak and dill.
Gentleman Jack Whiskey
Gentleman Jack is a story of over 150 years old Tennessee whiskey but it is also one of half-truths and ambiguity. Sure, it's an exceptional rendition but so many enthusiasts still wonder whether Jack Daniel selects specific barrels to turn into Gentleman Jack Whiskey or they just divert some percentage of regular Jack for the second filtering.
It's ultimately a very sweet flavored whiskey with charred undertones rather than a smoky whiskey. The sweetness from the honey, graham cracker, and mild fruits echo the sweetness of molasses sauces. Gentle wood spice adds depth and brightness that helps balance the sweetness. Uncooked rice is present for its mild nutty flavor. Below that sits charred oak, which forms an unobtrusive middle note with gentle spice, char flavor, and a subtle earthiness.
From the first sip, I can tell Gentleman Jack's a rather soft-spoken whiskey. I can really only pick up on honey, oak, and pepper. With each sip more wood, pepper and mint come through after a bit of a slow start on my taste buds.
The Verdict
If you were to give someone this bourbon blindfolded, they would easily assume it was made from rye grain. The one thing I wasn't expecting was the blast of spice that lingers on the tongue after swallowing this whiskey. But it does, and there's no mistaking Maker's Mark for any other bourbon when you experience it for yourself.
FaQ
Is Maker's Mark Worth the Money?
No one can argue the cost of a bottle of Maker's Mark or any premium bourbon. The price is often steep and shocking to anyone who is about to buy their first bottle. You probably already know that a bottle of Maker's Mark costs around $30. And if you live in the United States you might even be sick of hearing about how it costs so much. However, Maker's Mark is worth every penny.
How Much Is a Bottle of Maker's Mark?
The price for Maker's Mark bourbon is $3 per 50ml bottle and $25-30 per 750 ml bottle depending on where you're buying it from. There are many different factors that determine the price of a particular bottle of Maker's Mark. This has led to a significant increase in sales as people are buying many bottles at one time.
Does Maker's Mark Increase in Value?
According to the statistics, the quest for American whiskey is on the rise. Between 2016 and 2020, the price of a 750-milliliter bottle of bourbon, Tennessee whiskey, or rye increased by $3.49, according to International Wine & Spirit Research data, an increase of 9 percent. Maker's Mark increase in value is one of the most recent enigmas to shake the liquor market. So, there is an absolute certainty that the demand for premium and super-premium American whiskey will continue increasing for at least another 10 years.
Is Maker's Mark Better Than Gentleman Jack Whiskey?
Most people won't argue over Maker's Mark vs Jack Daniels. They'll just assume it's about taste and the Maker's is superior. I've been researching liquor all day and I'm happy to report that Maker's Mark is much better than Gentleman Jack whiskey. The only challenge you will face when trying to learn this fact is in convincing your local liquor store owner that they should sell you a bottle of Maker's Mark if they don't already happen to have it in stock.
What Makes Maker's Mark Special?
Maker's Mark is putting in a lot of work to ensure its product is consistent and tastes great considering you have to age the whiskey for 6 years before it is bottled. But this isn't how most other products are done. Maker's Mark is aged for 5 years and 9 months before being bottled, with each barrel taking between 4-9 months to be emptied. This means batches can vary based on the location of the barrel at any given time — down to a few feet if you think about how they're stored in a warehouse.