| | |
| --- | --- |
| Distillery: | Michter's (sourced) |
| Type & Region: | Rye, Louisville, Kentucky |
| Alcohol: | 46.4° |
| Composition: | Unknown |
| Aged: | 10 years in virgin white oak barrels |
| Color: | 1.3/2.0 on the color scale (tawny) |
| Price: | $100 (750 ml) per bottle |
About Michter's Barrel Strength Rye
Michter's Barrel Strength Rye is a Kentucky rye whisky, sourced from an unknown Kentucky distillery though most suspect it comes from Old Forester or another of the state's whiskey distilleries. This rye whiskey is difficult to find in the United States. Although Michter's has been producing its own whiskies since 2015, its core range still remains a difficult find as the distiller keeps production limited. Previously, the company used other distillers' products and bottled them under the Michter's brand name. I was lucky enough to buy mine in Japan. 
Michter's whiskeys are chosen from the best casks and bottled at barrel strength for an exceptional drinking experience. However, after you sample them, your tasting notes tend to disappear into thin air like magic. Shall we dive into its traits to discover what makes it so special?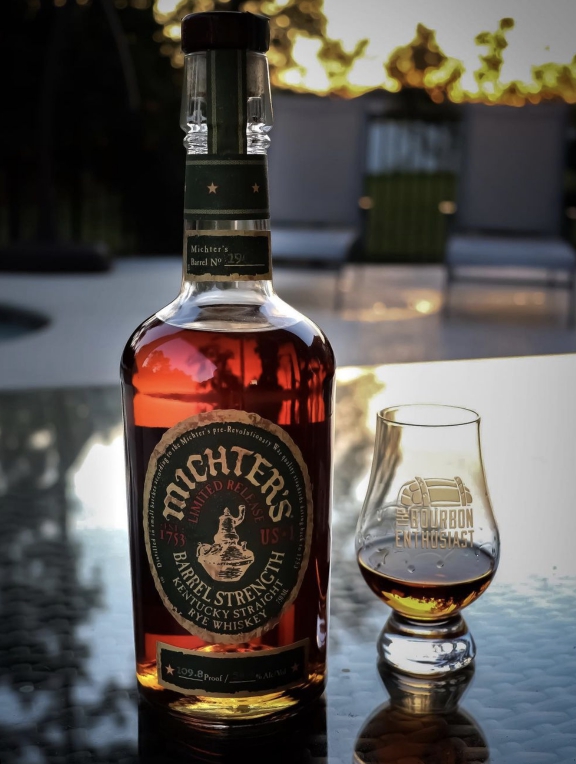 Color
Let's get right to it. If appearance tells us anything, Michter's Barrel is a winner. Its color resembles dark caramel coated with a thick layer of honey which was a pleasant surprise considering it's a cask strength 100 proof rye whiskey. To increase the enthusiasm towards drinking this bottle of rye hold the heavy glass high from the bottom before moving it counterclockwise to form an S-shaped curve created by the whiskey and air entrapped within the glass itself.
Smell
At first, the nose of this whiskey smells softer than one would expect from a bourbon aged for more than ten years in charred oak barrels, but it fills out in time. This spirit has a complex and alluring aroma, combining the scents of dark honey, dried cherries, dark licorice, and fennel. There is also a very dry orange peel, rose, dried ginseng (a traditional Asian medicinal herb), dry oak, clove, nutmeg, and grilled pineapple. 
Letting this rye sit for a minute or so before swirling and sniffing allows the whiskey's aromas to blossom. Overall, it's a sweet mint that is very cool to the nostrils with a hint of sweetness. With a little time in the glass, all of these notes combine to make a semi-thick, oily coating in the back of your throat and in the nasal passages.
Flavor
While the nose is mellow at the outset, the palate shows strength immediately. The first thing that hits my tongue is rich caramel and maple syrup. It is a decadently sweet treat. If those were the only flavors in the whiskey, it would be too cloying for me. After that vanilla, and dark licorice follow. Then I notice cherry, dried blueberry, and grilled pineapple. There's a spritz or orange and dried apple chips followed by roasted oak, cinnamon, clove, rose, and ginseng.
Michter's Rye is a strong whiskey with a taste complex, deep, rich, and viscous. What does a 46.4° alcohol taste like? It tastes like Michter's Barrel!
Finish
The aftertaste has fantastic caramel sweetness, which is combined with fennel and licorice herbalness; there's also a little bit of rosemary and ginseng, as well as some dried oak, grilled pineapple, and rose. It leaves you with sweet and earthy herbalness lingering. This whiskey is so delicious that you would have to be a hardened atheist to not be convinced of its divine nature.
Michter's Barrel Strength Rye Alternatives 
Michter's is a stupendously great rye whiskey. If you can get your hands on it, I highly recommend that you do. But if you find the price a bit high, I've got some other options for you to consider.
Kooper Family Rye
Good rye whiskey is a hard thing to get your hands on these days. Rye production has declined over the years and you have to look much harder to find a good glass. Thankfully the Kooper Family Rye has been brought into this world by Troy and Michelle Kooper, the founders of Copperhead Distillery in Texas. They're passionate about rye whiskey, but also so much more — namely their family.
The nose for Kooper Family Rye leaps out the glass with dill, anise, guava, pineapple, and rosemary accompanied by honey, grilled peaches, toasted grain, and dry oak.
Its taste is black tea-like, on the flavors with honey, licorice, anise, a lot of dry herbal notes — tea leaves, oak tannins, guava, dill, and lemon. The finish has soft, sweetish oak tannins and sweet spice that evolve into peppery spiciness.
Barrel 13 Year Single Barrel Rye
Barrell Distilling Company uses more than 15 different types of malted barley to make its spirits, giving it a lot of flexibility while crafting each whiskey. Barrell is one of the most awarded names in whiskey thanks to its blending prowess and single barrel releases.
Peer over the edge of the glass and see if you can smell hints of Asian pear, apple, guava, and rye bread with caraway seeds. Sure, there's a little fruit-picking going on (it's 13-year-old single barrel rye whiskey we're talking about), but what clearly rises above is alcohol. You don't sip this — you swig it.
The flavor starts out with a very distinct rye flavor. It has a lot of woodiness to it but also displays oak and a bit of caramel. The taste lingers for a long time and has strong sweet licorice and anise flavors. It almost tastes like the sweetness comes from honey at first, but it's not nearly as smooth as a complex whiskey should be.
Lot 40 Cask Strength 12 Year
This is another whiskey in the Northern Borders Rare Collection from Canada's northern neighbor, which usually gets lumped in with the US whiskey industry more than many realize. Things have picked up over the past couple of years in this country, with more and more craft distilleries opening up.
Though it may appear a bit droopy, this expression of Lot 40 is rich with notes of sweet honeyed anise and a generous serving of licorice, fennel, and mint. On the nose, it has an intense aroma of wet fresh cut grass, damp flowers, pine trees, and a bit of dark honey and preserved lemon.
Lot 40 Cask Strength is an intense whisky giving more rye than any other Canadian whisky I've tried so far. It brings the same intense herbal and sweet honey with anise, licorice, and fennel from rye, but not much mint. The grains are very sweet and hearty making this a good Christmas time whisky or whisky to have on a proper cold evening.
The Verdict
Michter's Strength Rye is hitting the market, and one can't help but wonder if they've finally found Michter's elusive and highly-coveted unicorn. Some say this whiskey is the result of blending old with new, combining Michter's extensive understanding of and mouthfeel for rye whiskeys with an experimental (perhaps even magical) sense of taste that comes naturally to independent craft distillers. 
FaQ
Is Michter's Barrel Worth the Money?
This whiskey may be considered pricy but it is surely worth the money. The rye is distilled in small batches and runs just below 100 proof. This maturity brings you a smooth and spicy whiskey from start to finish.
How Much Is a Bottle of Michter's Barrel Strength Rye?
If you are looking for a bottle of whiskey to send some lucky person on their merry way, then you should know that the cost for Michter's Barrel is $160.
Does Michter's Barrel Strength Rye Increase in Value?
Personally, as a consumer, I'm kind of obsessed with studying how certain products increase in value over time. The presence of this excellent rye whiskey has arrived on the market and, in spite of its higher price, it does not disappoint. It comes in a limited edition bottle embossed with gold. The label contains much detail on the history and production methods of the whiskey that are sure to be really interesting for whiskey enthusiasts. 
Is Michter's Barrel Better Than Lot 40 Cask Strength 12 Year?
Despite the fact, that Lot 40 Cask Strength is a 12-years-old whiskey, I still give my heart to the younger Michter's Rye. I think it is one of the strongest batches of rye whiskey ever made. Michter's is on my list of all-time favorites. It has no equals since there are not so many producers of rye whiskey, who do the hard work with their barrels. I believe that it would be absolutely rational if in comparison with the diamonds this whiskey will appear such as a diamond of grade 5.
What Makes Michter's Barrel Strength Rye Special?
While many distilleries struggle to find quality old barrels for their finished product, Michter's has been stockpiling theirs for years. Their immense collection of quality oak has been in use since before the creation of the company itself. This is evident by their new 10-year-old, 100 proof, Barrel Strength Rye. It's bold, it's rich and it will blow you away. This rye instantly asks for attention and respect.