| | |
| --- | --- |
| Distillery | William Grant & Sons |
| Type&Region | Speyside (Highland) region of Scotland |
| Alcohol | 86 (43% ABV) |
| Composition | vatted malt (blended malt), made by blending three of William Grant & Sons' Speyside malts – Balvenie, Glenfiddich and Kininvie. |
| Aged | NAS (Blend of straight rye ranging in age from 2 years) |
| Color | Rust |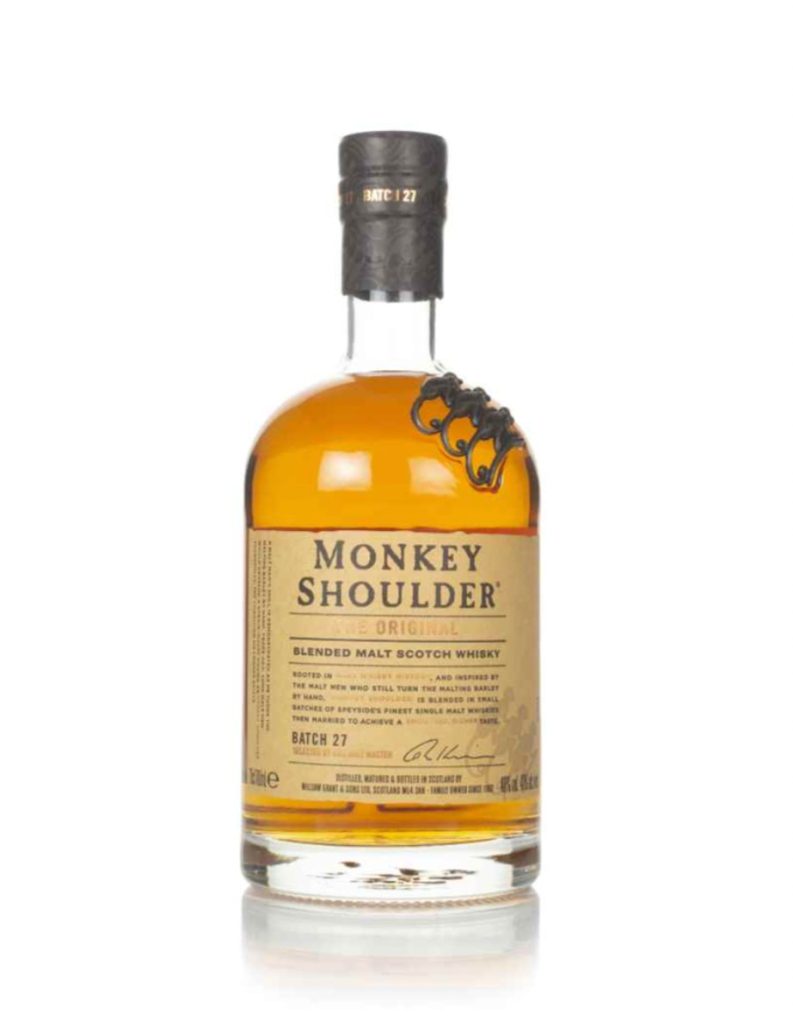 The Art of Making
The first step in making Monkey Shoulder whisky involves combining single malt whiskies from three different Speyside distilleries—Glenfiddich, Balvenie, and Kininvie—to create a unique blend of flavors. The combination of these three distinct malts gives the spirit its signature smoothness and complexity.
Next, the blended malt is placed in oak casks to mature over time. During maturation, two things happen that give Monkey Shoulder its unique character: evaporation (the 'angel's share') and interaction with the wood of the cask (the 'wooden angel'). Over time, some of the liquid evaporates away as alcohol vapor, leaving behind a more concentrated flavor. As for the wooden angel element, compounds from within the wood interact with the liquid to help create its characteristic sweet notes.
Finally, after several years in oak casks, it's time for bottling! Just before bottling, water is added to reduce the alcohol content to 40%. This last step ensures that every bottle contains only the perfect balance of flavors and aromas that are characteristic of this fine Scotch whisky.
Tasting Note
Nose: The nose of this elegant and stylish beverage is reminiscent of marmalade, Crema Catalana (yes, you read that correctly!), cocoa, and malt. Notes of vanilla combined with winter spices such as nutmeg, cloves, and cinnamon tantalize the senses, while a hint of aniseed adds to its charm.
Palate: An incredibly malty and creamy concoction with a hint of berry fruit, this brew features juicy toasted barley, cloves, butterscotch Manuka honey, hot-buttered toast, and dried apricot. The finish is medium-length with spicy oak balanced by a delicate peppermint aftertaste.
Overall: Monkey Shoulder whisky promises to make you feel like a suave James Bond in a tuxedo wetsuit or like an adventurous explorer on the wild moors of Scotland with a flame-haired maiden. Make no mistake; this is whisky made for your enjoyment!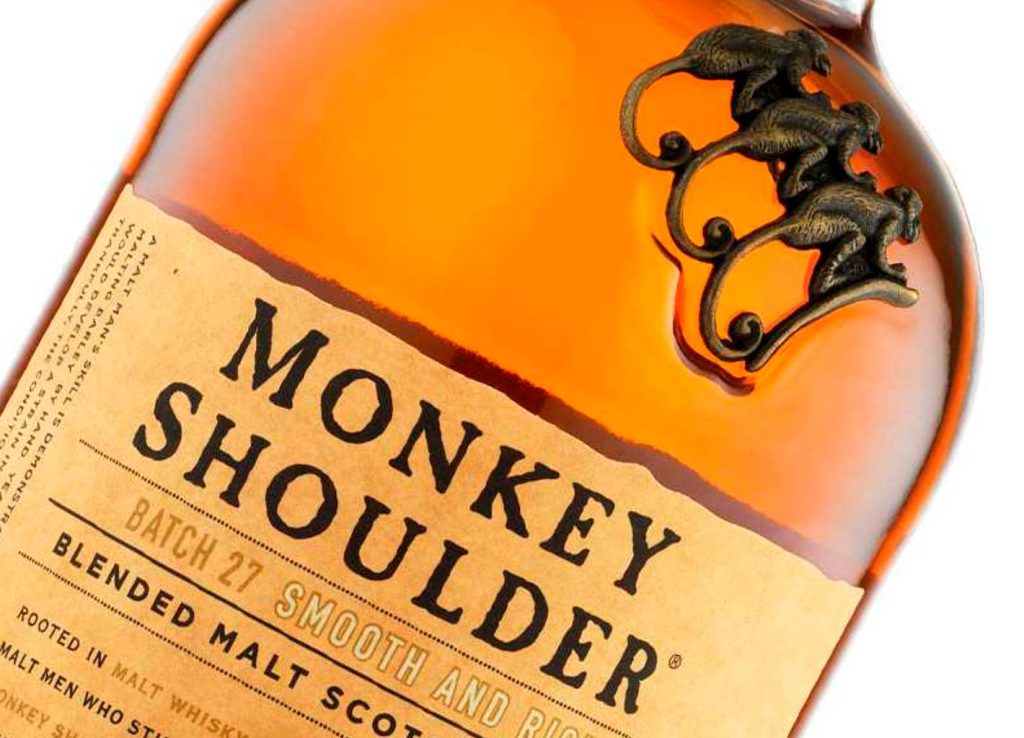 The History Of Monkey Shoulder
In 2006, William Grant & Sons celebrated their centenary year with the launch of a new product: Monkey Shoulder Blended Malt Scotch Whisky. This iconic whisky had been in production since 1906, but it was only in 2006 that it was released as its own product. The name "Monkey Shoulder" has its roots in the early days of Scotch whisky making when distillers worked long shifts turning the barley by hand in large copper stills. After an especially long shift, some workers would develop an affliction known as "Monkey Shoulder" due to their labors—this inspired the name for this special whisky.
Fast forward to today, and Monkey Shoulder is one of the world's top-selling blended malt whiskies, with sales increasing every year since it was launched in 2006. It is now available worldwide and has become synonymous with quality craftsmanship and smooth flavor. Unlike most other single malts, which are generally aged for 12 years or more before being bottled, Monkey Shoulder uses a unique triple maturation process that gives it its unique flavor profile without sacrificing quality or smoothness. This process involves aging the whiskey in oak barrels for up to nine years before transferring it into specially crafted casks, where it ages for an additional two months before bottling. This careful aging process gives Monkey Shoulder its distinctive flavor profile while preserving its smoothness and complexity on the palate.
The Best Cocktails Made with Monkey Shoulder
Monkey Sidecar
This twist on the classic Sidecar is sure to become a favorite. To make it, combine equal parts Monkey Shoulder, Cointreau, and fresh-squeezed lemon juice in a shaker filled with ice. Shake until chilled and strain into a martini glass rimmed with sugar. Add an orange wheel for garnish, and enjoy!
Monkey Mule
Put a new spin on your favorite mule by substituting Monkey Shoulder for traditional vodka. Combine one part Monkey Shoulder, two parts ginger beer, and a squeeze of fresh lime juice in an ice-filled copper mug or highball glass. Garnish with a lime wedge, and you're ready to go!
Monkey Manhattan
If you love Manhattans but want something different, try this version made with Monkey Shoulder whiskey. Simply combine 2 ounces of Monkey Shoulder, 1 ounce of sweet vermouth, and two dashes of bitters in a shaker filled with ice. Shake until chilled, then strain into a rocks glass over one large ice cube or sphere. Garnish with an orange peel or cherry, and enjoy!