| | |
| --- | --- |
| Distillery | Nikka |
| Type&Region | Honshu, Japan |
| Alcohol | 45% |
| Composition | 95% corn, 5% malted barley |
| Aged | NAS |
| Color | Light amber |
| Price | $80(750 ml) |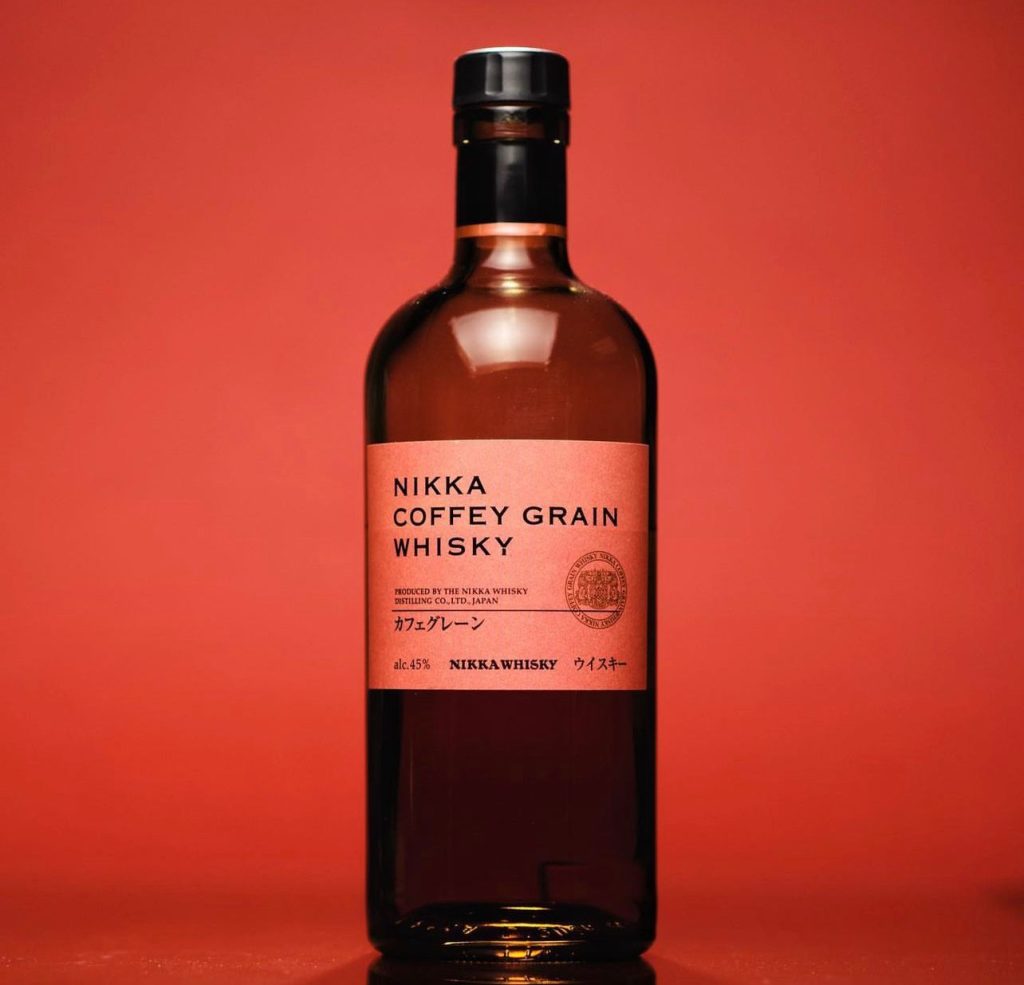 The Art of Making
The Nikka Coffey Distillery was established in 1969 in Sendai, Japan by Masataka Taketsuru, the founder of Japanese whisky. His vision was to create a whisky that would appeal to both Japanese palates and those from around the world. To achieve this goal, he sought out the best grains available and developed a unique distilling process for his whisky, which involves two separate steps called "Coffey" and "Mash" distillation. The first step involves boiling malted barley in copper stills to produce a clear liquid with a high alcohol content. This liquid is then returned to the same stills for another round of boiling before being cooled down and put into oak barrels for aging.
The second step involves mashing unmalted barley in wooden tanks to produce a liquid that is lower in alcohol but contains more flavor compounds than the first distillation step. This liquid is then distilled again in copper stills before being blended with malted barley and aged further in oak barrels. The end result is an exceptionally smooth whiskey with notes of honey and sweet grain on the nose, followed by flavors of vanilla and caramel on the palate which linger into a long finish.
The artistry behind making Nikka Coffey Grain Whisky doesn't end at its creation; it also extends to how it's presented. Each bottle comes housed in an elegant wooden box adorned with delicate artwork depicting traditional Japanese imagery such as cherry blossoms or cranes in flight—a fitting tribute to its creator's passion for blending tradition with modernity.
Tasting Notes
NOSE: Exquisitely sweet and syrupy, this aroma is laced with hints of caramel, vanilla, nuts, fruits, and fresh hay. It may not be the most complex scent in existence but it still makes for a pleasant smell overall.
PALATE: This delightful treat carries a tantalizing aroma of dark sweets, grains, nuts and spice with just the slightest hint of smoky mesquite barbeque. The flavor is simple yet enjoyable; it's truly an irresistible indulgence!
FINISH: A subtle blend of caramel, toasted bread, char and smoky ham make up this exquisite flavor.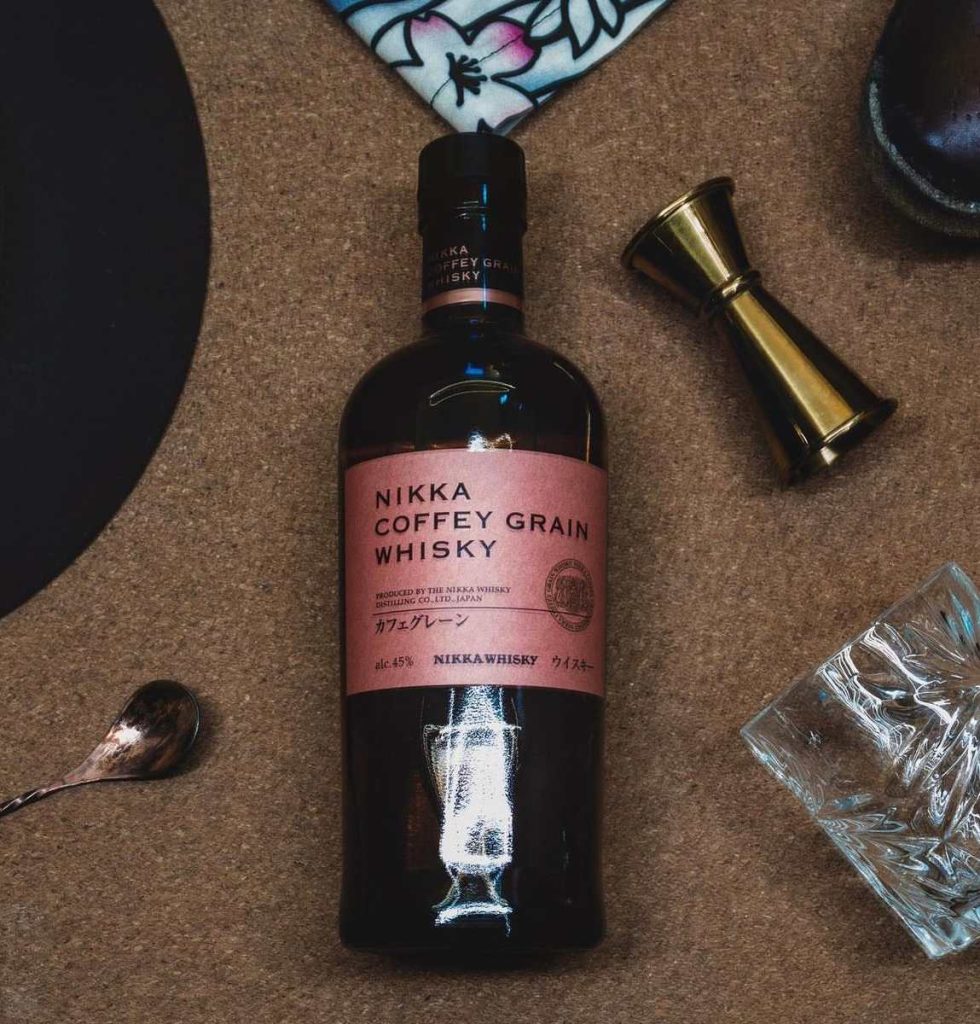 The Origins of Nikka Coffey Grain Whisky
Masataka Taketsuru first ventured to Scotland in 1918 to learn more about whisky production. After two years, he returned to Japan with his Scottish wife and knowledge on distilling techniques. While working for other distilleries, such as Kotobukiya (later Suntory), he began planning his own business—the House of Nikka. In 1934, his dream became reality when the first distillery opened in Hokkaido.
Coffey Grain was one of the first whiskies produced by Masataka Taketsuru and his team at House of Nikka. First released in 1979, this single grain whisky is made using malt and corn sourced from across Northern Japan, before being distilled and matured in oak casks for several years. Its unique flavor profile has become an instant hit among whisky connoisseurs around the world.
Modern Day Production
Today, Coffey Grain is still made according to Masataka Taketsuru's original recipe from decades ago. It's made with a combination of malted barley and corn that is gently heated up before being put into large continuous stills for distillation. After that, it is aged for several years in American white oak or ex-bourbon barrels before being bottled at 45% ABV (90 proof). This classic blend produces a sweet aroma with hints of honey and vanilla on the nose followed by notes of citrus fruit on the palate.
The Art of Crafting Cocktails with Nikka Coffey Grain Whisky
The Japanese Highball
As one of the signature drinks in Japan, this classic highball combines equal parts Nikka Coffey Grain Whisky and soda water over ice. In order to make it truly authentic, use chilled soda water with a hint of lemon or lime juice. You can also add a few drops of bitters for an extra kick. This light and refreshing cocktail is the perfect way to enjoy Nikka Coffey Grain Whisky on its own or in combination with other ingredients.
The Perfect Manhattan
Looking for a bolder flavor? This classic drink mixes 2 oz Nikka Coffey Grain Whisky, 1 oz Sweet Vermouth, 2 dashes Angostura Bitters, orange peel (for garnish). To make it even more special, try adding a touch of Luxardo Maraschino Cherry Liqueur in place of the orange peel. Stir all ingredients together until they are well blended before straining over fresh ice into a rocks glass. Enjoy!
The French 75
This bubbly cocktail pairs perfectly with Nikka Coffey Grain Whisky as it adds subtle sweetness and complexity to the drink. For this recipe you will need 2 oz Nikka Coffey Grain Whisky, 1/2 oz Lemon Juice, 1/2 tsp Sugar Syrup (or simple syrup), and 4 oz Champagne (or sparkling wine). Shake all ingredients together except for champagne in an ice-filled shaker until cold before straining into an ice-filled Collins glass. Top off with champagne before garnishing with lemon peel or maraschino cherry. Cheers!
Conclusion
If you're looking for something new to try or just want to experience something really special, then you should definitely check out Nikka Coffey grain whisky! Thanks to its carefully crafted production process using traditional coffey stills and aging in ex-bourbon casks, this whisky has an incredibly unique flavor profile that can't be found anywhere else. With hints of tropical fruit on the nose and a sweet finish on the palate, this Japanese whiskey will have you wanting more after every sip! So go ahead and treat yourself to something special by trying out Nikka Coffey grain whisky today!