| | |
| --- | --- |
| Distillery | Nikka |
| Type&Region | Japanese whisky, Japan |
| Alcohol | 43% |
| Composition | 100% malted barley |
| Aged | 3 years old |
| Color | deep copper |
| Price | $70(750 ml) |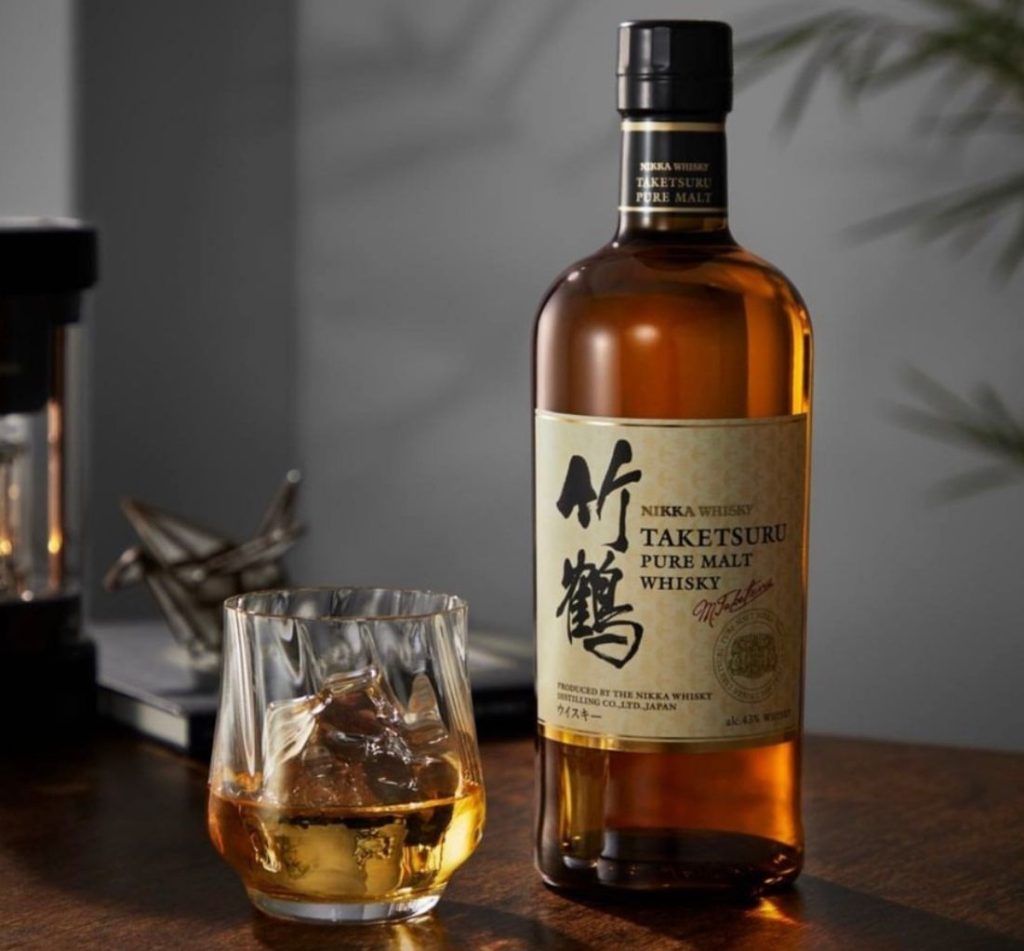 The Art of Making
The process of making Nikka Taketsuru whisky starts with carefully selecting the finest grains for fermentation. The fermented liquid is then distilled twice, first in pot stills and then in column stills, before it is matured in oak barrels. During maturation, the whisky takes on its unique flavor from the wood casks and develops its distinct aroma and color. Finally, it is blended with different types of whiskies from Scotland, Canada, and Ireland to create a smooth yet complex flavor profile.
What Makes Nikka Taketsuru Unique?
The unique combination of traditional production methods with modern technology makes Nikka Taketsuru one-of-a-kind. Its distinctive taste comes from the perfect balance between American white oak barrels used for maturation and Japanese Mizunara oak barrels which give the whisky its characteristic fruity aromas. Additionally, since all grain used for fermentation is locally sourced in Japan, each batch has a distinct flavor profile that can vary slightly depending on where it was produced. This adds an extra layer of complexity to the product making it one of the most sought after whiskies today.
Tasting Notes
NOSE: As you savor this delightful beverage, a symphony of flavors plays on your palate. Invigorating grapefruit and sherry mingle harmoniously with the sweetly herbal licorice accents. Raisins, red wine notes, and roasted malt lend depth to complete this complex flavor profile that will surely satisfy even the most discerning connoisseur.
PALATE: Smooth, dried fruits from Sherry provide a mellow taste while crisp green apples add zest and clarity. Enjoy the perfect balance of smoothness and crunchiness in every sip.
FINISH: Oak and malt initiate the conclusion of this experience, with an aftertaste bursting with sherry and ripe red fruits.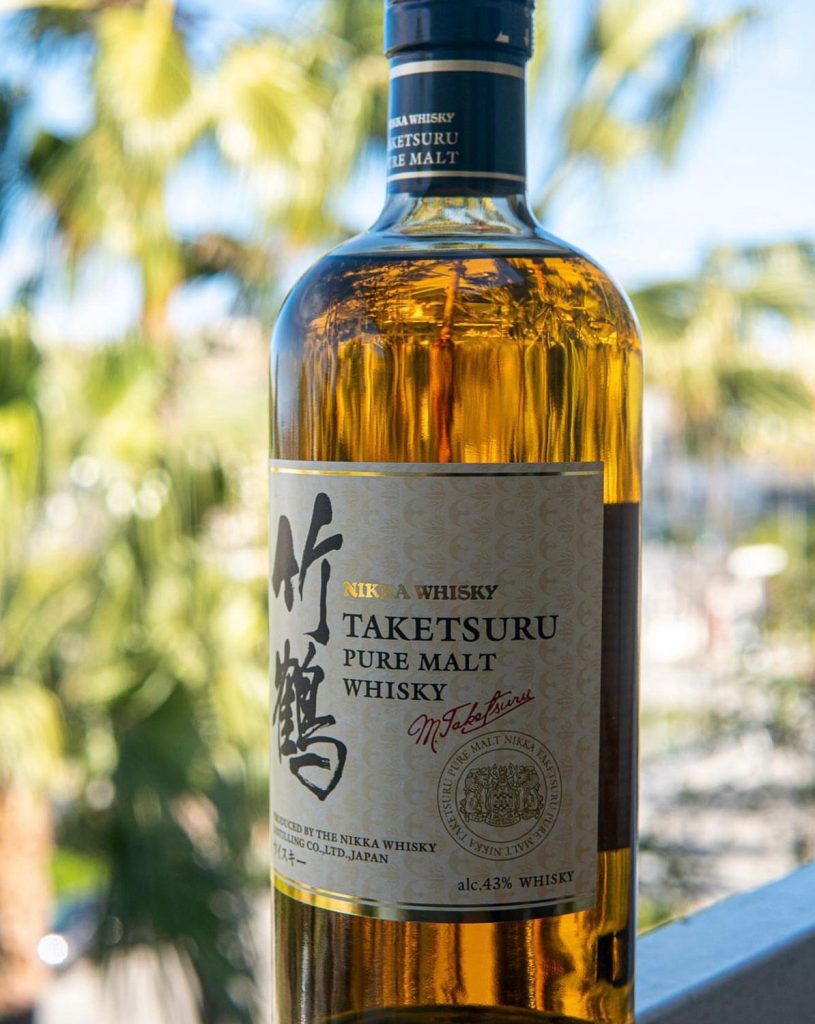 Exploring the History of Nikka Taketsuru Whisky
The story of Nikka Taketsuru whisky begins in 1924 when Masataka Taketsuru, a chemist from Hiroshima Prefecture, traveled to Scotland to learn about Scotch whisky-making techniques. After two years spent apprenticing in various distilleries, he returned to Japan with his new knowledge and began making whisky in 1934 at a small distillery in Yoichi (Hokkaido). In 1937, he established Dai Nippon Kaju Company Ltd., which later became known as Nikka Whisky Distilling Co., Ltd. His whiskies quickly gained fame across Japan for their smooth flavor and high quality.
The Legacy of Masataka Taketsuru
In 1969, Masataka released his masterpiece: Nikka Taketsuru Pure Malt Whisky. The blend was named after him in recognition of his achievements and contributions to the world of Japanese whisky-making. To this day, it remains one of the most popular whiskies on the market and is credited with helping to introduce Japanese whiskies to an international audience. In 2017, Masataka was posthumously inducted into the Keepers of the Quaich—an exclusive society dedicated to recognizing exceptional contributors to Scotch whisky culture—becoming only the second ever non-Scotish person to receive this honor.
Nikka Today
Today, Nikka Taketsuru remains one of the most popular whiskies on the market thanks to its unique flavor profile and its rich history. It is still made according to Masataka's original recipes using traditional methods and ingredients that are sourced from all over Japan. With each sip you can taste not just the smoky notes of peat but also hints of honey and fruit that make it truly stand out from other whiskies on offer today!
Cocktails to Make with Nikka Taketsuru Whisky
The Old Palme
This classic cocktail is perfect for any occasion, but it especially pairs well with Nikka Taketsuru Whisky. You'll need 1 oz of dry vermouth, 1 oz of Campari, and 2 ounces of the whisky. Combine all the ingredients in an ice-filled shaker and stir until chilled. Strain into a rocks glass filled with fresh ice cubes and garnish with an orange twist. Your Old Palme is ready to enjoy!
Rob Roy
For a Scotch-style version of the Manhattan, try out the Rob Roy! This one requires 2 ounces of sweet vermouth, 3 dashes Angostura bitters, and 2 ounces of Nikka Taketsuru Whisky. Add all the ingredients to an ice-filled shaker and stir until chilled. Strain into a rocks glass filled with fresh ice cubes and garnish with a maraschino cherry or lemon twist. Enjoy!
Whiskey Sour
A whiskey sour is always refreshing on a hot summer day! To make this one you'll need 2 ounces Nikka Taketsuru Whisky, ¾ ounce fresh lemon juice, ½ ounce simple syrup (or maple syrup), 1 egg white (optional). Combine all ingredients in an ice-filled shaker and shake vigorously for 10 seconds (if using egg white). Strain into an old fashioned glass over fresh ice cubes and garnish with lemon wedges or twists. Enjoy!
Conclusion
Nikka Taketsuru stands out among other whiskies because it is steeped in tradition but still manages to be accessible enough for all types of drinkers. Its deep aroma coupled with its rich yet smooth taste make it an excellent choice for those seeking something truly special when they indulge in a glass of whisky. Whether you're an experienced connoisseur or simply looking for something new to try, there's no denying that Nikka Taketsuru is one spirit worth exploring!