| | |
| --- | --- |
| Distillery: | Old Forester |
| Type & Region: | Bourbon, Kentucky, USA |
| Alcohol: | 63.5% |
| Composition: | 72% corn, 18% rye, 10 barley |
| Aged: | NAS (rumored about 6 years) |
| Color: | 1.4/2.0 on the color scale (tawny) |
About Old Forester Single Barrel Barrel Strength Bourbon
Old Forester is one of the few major brands still in existence today that survived the Federal Prohibition of alcohol in the United States. It was reintroduced to the market in 1934 by Brown-Forman, where it has since become a classic bourbon enjoyed around the country. Fans of the brand have long been accustomed to its signature 73-degree taste and amber color, but now they can enjoy a new experience with another taste sensation. The company presented its Old Forester Single Barrel bourbon.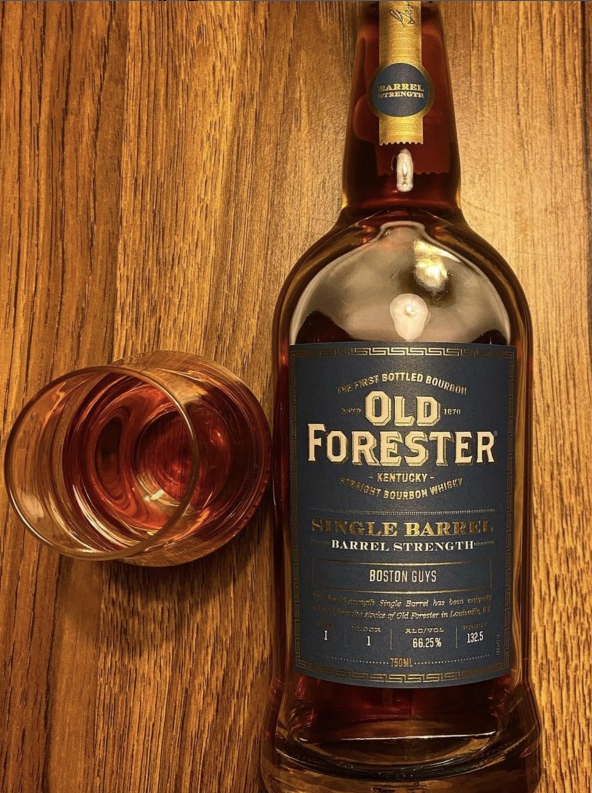 Color
The bottle's distinctive appearance — bold rectangular shape, with that iconic white print — is instantly recognizable. And the deep reddish-brown color is just as unforgettable. It's the color that pops out at you first, with a deep rust-colored tinge that speaks of time spent in a barrel. This deep color also hints at what's inside. It forms dense short tears on the glass that leave a lot of residues behind and I would say has a slight caramel tone to it, but this is very subtle. That means that there is an abundance of spicy rye flavors and aromas. This releases oils into the whiskey barrel and also makes it evaporate relatively quickly after it's bottled, creating those dense tears.
Smell
Upon uncorking, this barrel-proof bourbon unleashes a nose of caramelized banana, dried apple, citrus peel, and vanilla, with oak, cinnamon, nutmeg, clove, and caraway seed in a supporting role. The palate echoes the nose with dried cranberries joining the party as it wraps up. The aroma is composed of caramelized banana and browned fruit, along with a citrusy note that I associate with oak. The herbal notes of caraway seed, rosemary, and peppermint bring the overall scent of this bourbon to the dark side. When you swirl, the dark caramelized banana with the cinnamon character really comes through and those flavors mingle with the oak and playfully dabble with the honey-stained bee pollen.
Flavor
Much like the look, the Old Forester Barrel Strength is hard not to notice the moment it touches your lips. You get caramel, vanilla, and a lot of earthy tasting notes (rosemary, thyme, and caraway seed), along with citrusy notes, roasted grains, oak, cinnamon, and more. This bourbon still has a light touch, but it's also got a bit of spice to go along with the sweetness, and it goes down easy.
After "chewing" I can taste caramel, banana, vanilla, baked apple, citrus peel, rosemary, thyme, charred oak, caraway seed, cinnamon, and roasted grains on the tip of my tongue. I can also taste faint hints of licorice and black tea.
Finish
As it hits the back of your tongue, you'll notice that the sweetness begins to dissolve into a slightly dry spiciness. The aftertaste features a light, sugared oak is complemented by hints of rosemary, caramel, and grilled bananas that fade into a long-lasting sweetness. I'm tasting the oil, which coats my mouth and then turns sweet and vegetal as it passes through my taste buds. I can taste just a bit of corn, like on a cob of roasted sweet corn. And underneath that, there is a well-to-do nuttiness that suggests pine nuts and macadamia nuts.
Old Forester Single Barrel Barrel Strength Bourbon Alternatives
Anyone who has tried a premium bourbon will probably have a bottle of Old Forester Barrel Strength on the shelf. However, if you are seeking a more affordable alternative, here are the options.
New Riff Single Barrel Bourbon
New Riff Distilling, established in 2014 in Newport, Kentucky, is one of a new generation of distilleries that are working to increase the availability of its product to consumers. New Riff may be small, but it has big plans for expansion. New Riff is set out to produce quality bourbon, rye, and corn whiskeys in an effort to drive the growing whiskey industry in Kentucky.
On the nose, it smells like honey and caramel, with a touch of citrus and vanilla as well. It also has a floral quality to it with hints of dill and thyme, among other herbs. It smells very fresh overall. Thanks to its higher rye content, New Riff Single Barrel Bourbon becomes spicier after it's done swirling around.
When you taste it, honey and caramel flavors strike your palate first. Then you'll notice dill, licorice, fennel, vanilla, roasted oak, cinnamon, and cloves. You'll taste hints of butterscotch as the sweetness slowly transitions to a peppery finish.
Wilderness Trail Single Barrel Bourbon
The Wilderness Trail distillery is one of a large number of distilleries that have been established in Kentucky in the last few years, giving whiskey aficionados an amazing selection of bourbon, rye, and single-malt whiskey to choose from.
As you smell it first, you get roasted coconut meat as a prominent flavor backed by delectably sweet caramel, strong eucalyptus, citrus peel touching on sour notes, oak char, and baked apples touched with cinnamon and mint. This single-barrel expression is moderately oaky and dark, less from the aging in wood and more so from the addition of roasted sugar.
​​When you take the first sip, it's very sweet and spicy, with a good mix of caramel, malted grain, vanilla, oak, and cinnamon. I could also taste peachy and apple notes. And this is not sweet like you would find in a Jack Daniel's or Jim Beam. This is sweet in a really good way — like you just got done eating some pumpkin pie from grandma.
Woodinville Cask Strength Single Barrel Bourbon "Grootinville"
Woodinville Whiskey Company, a distillery in Washington State that makes a range of bourbons and ryes, is one of the latest players to enter the bourbon market. With its focus on cask strength bourbons, it uses a maturing method that is often overlooked by its competitors. Besides, for a more pronounced oak taste, they toast the barrel heads as well as the staves.
The first thing you notice is a dark and dense caramel smell, like sticking your nose in a fresh bag of coffee. If it weren't for the rosemary, you'd get a nice whiff of cherry and apricot. There's a hint of funkiness, which adds to the scent. Baked apples are coated with cinnamon, fennel, charred oak, clove, eucalyptus, licorice, and hints of baked bread.
As soon as you taste it, you're hit with the flavor of caramel and almost feel the texture of rosemary, thyme, apple, and roasted oak. After savoring the strong apple, peach, licorice, and cinnamon flavors for a brief moment, you're brought back to the caramel. There's also a suggestion of grassy nuts in the finish of this bourbon.
The Verdict
Old Forester's Barrel Strength is a dark, flavorful, and full-bodied bourbon that is made in a small batch process. This results in a bold and oaky beer with more character than its lighter counterparts. Because of its barrel-aging qualities, it gives you a unique flavor profile; most bourbons will have certain smoothness to them but this bourbon has full texture. Its bourbon flavors are complex and emerge the more you enjoy it.
FaQ
Is Old Forester Single Barrel Barrel Strength Worth the Money?
Sure, this bourbon is going to set you back quite a price. But if you're looking for something expensive, but from a trusted source, this is the stuff you need to try. It has a nice blend of sweetness and spice (more of one than the other). Some have even described it as having a light taste, although I'd say it's not as light as some of the more popular bourbons out there.
How Much Is a Bottle of Old Forester Single Barrel Barrel Strength?
Typically, a price tag per bottle of Old Forester bottle ranges between $80 and $100. That's the retail price, depending on where it is purchased from. Sometimes it is slightly higher or lower but rarely are bottles more than a hundred dollars. Despite the high cost, I decided to buy a bottle anyway. This bourbon worth the cost.
Does Old Forester Single Barrel Barrel Strength Increase in Value?
This bourbon surely does increase in value. Like a fine wine or nice cigar, it's only going to get better with age. It's a limited reserve, so you might want to add it to your collection now and wait 10 or 20 years for the price to go up. If you're like me and love collecting unique whiskies, here's one just for you. This is another one you can add to your private collection of liquors.
Is Old Forester Single Barrel Barrel Strength Better Than New Riff Single Barrel Bourbon?
I'm going to start this off with saying I love New Riff. It's my favorite cheap bourbon. However, here's the thing — Old Forester Single Barrel is better. It is an older brand that's known for being super smooth and extremely drinkable. It was so revered back in the day that people would sell fake versions of it for more money during prohibition. 
What Makes Old Forester Single Barrel Barrel Strength Special?
This Woodford Reserve Distiller's Select is a stunner. It does not skimp on the strength that came from being aged in one of our favorite places, the "Old Forester" warehouse (hence the name of this bottle). This whiskey is smooth and rich, caramel and oak attacking through the banana with a little bit of rye spice.