| | |
| --- | --- |
| Distillery: | Jim Beam |
| Type & Region: | Bourbon, Kentucky, USA |
| Alcohol: | 57% ABV |
| Composition: | 63% corn, 27% rye, 10% barley |
| Aged: | NAS |
| Color: | 1.3/2.0 on the color scale (russet, muscat) |
| Price: | $25-35 (750 ml) per bottle |
About Old Grand Dad 114
If there were one thing we could say about Old Grand Dad 114, it'd be that it is high proof. It is, after all, 114 proof. Now, you might think this is a bold statement to make but rest assured when I say it's true. Jim Beam's Old Grand Dad 114 bourbon (or OGD114 as many call it) is one of five bourbon offerings in the Old Grand Dad line. Unlike the company's other bourbons, this one is 57% ABV and 114 proof (as it is given in its name). It is also one of the cheapest bourbons on the market and it's no wonder why. Jim Beam is aiming to bring in a new demographic here. The concoction of this bourbon might be a bit different (more on that later) but for $20 you can't really beat it.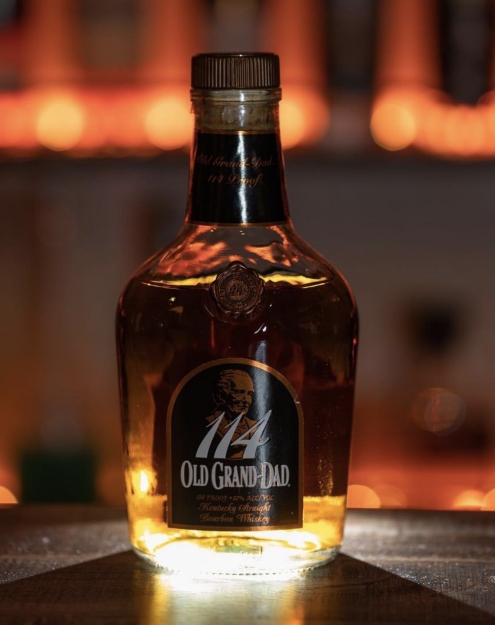 Color
It would be remiss of me if I didn't point out that the whiskey appearance is true quite a sight to behold. The liquid in my glass has some opacity to it. It is a little thickened with a nice russet hue. It has the color of rust and Muscat grapes as if you were pouring autumn into your glass. Like tears in rain, the bourbon slides down the side of the glass.
Smell
Like an old grandpa, Old Grand Dad 114 starts off with grassy new-mown hay and molasses-glazed popcorn hot out of the popper. The woody herbs, dried citrus, and earthy undertones are sure to please your grandpa's taste. It's rather dry at first, but the ginger gives it a positively spiced vibe. The nose offers up the spicy cinnamon scent and brown sugar aroma, with hints of rye sweat. This whiskey is a bouquet of brown leaves and old wood with a hint of smoke. The oakiness is toasted. The sweetness is caramel. The nuttiness is gingery. There's a lot of toasted-oak notes swirling around with the sweeter notes of caramels and vanilla tones in the background.
Flavor
The tasting notes have caramel that's dry as a desert, some smooth rosemary, a hint of vanilla and ginger, an oak that's as dry as bones out in the sun for months, and some nutty grass. The palate of this bourbon is pretty good, but nothing extraordinary. The taste is typical of good quality bourbon. It has a sweet vanilla and caramel flavor but lacks depth and complexity. We were surprised by the small amount of spice that came through.
"Chewing" this bourbon triggers a flurry of flavors that reminds me of holiday spices such as rosemary and ginger, followed by notes of vanilla and pepper, with a hint of orange and apple rounding out the mixture. There's a hint of corn, but it comes off as less sweet than other bourbons and instead cranks up the heat and spice for those winter nights that are colder than a witch's tit. 
Finish
It's smoky with a hint of spice that can easily knock your socks off given enough water. It has the smoothness of bourbon but still has a kick like a whiskey, which I was surprised to see because of how old this bottle is. It starts out strong with heat and spice before leaving this slightly sticky and drying taste in my mouth that could be oils or even just that black tea sensation of dryness from the smoke coming from it burning, which actually amounts to nothing. The flavors in this spirit remind me of peanut butter, caramelized sugars, and oak. You get a nutty and sweet finish, with a little spice, vanilla, and buttery-ness. 
Old Grand Dad 114 Alternatives
Old Grand Dad 114 isn't the most unique of bourbons but that doesn't mean there aren't others like it. Here are a few good alternatives if you're hankering for a high-rye bourbon with a heavy char.
New Riff Single Barrel Bourbon
New Riff is an exciting bourbon distiller that has only been around for a few years, but it's already on the move. It's New Albany, OH facility opened in 2014, and operations are still young inside. However, this hasn't stopped them from taking home awards from some of the top competitions in the world — including the New York International Spirits Competition and the International Review of Spirits Awards. 
The scent has a ton of herbal dill, fennel, and thyme with a little less licorice. On the nose, it is like a mix of honey, caramel, freshly opened tangerine, dried citrus peel, and a little vanilla. There's a lot going on in this whiskey which is awesome. Upon first nosing, New Riff's Single Barrel Bourbon is a tad light, with hints of caramel and vanilla, but the moment I put my nose in for a second sniff after swirling it around slightly, I could already smell the roasted oak foundation through all that rye.
You first get the sweetness of honey and caramel, then all hell breaks loose as dill and licorice, fennel and vanilla, roasted oak and cinnamon, and cloves all crash into you at once — but it's good hell. With all these flavors blending together, it's like a boxing match between spicy and sweet. Round after round of enticing new flavors emerge. At the finish line, warm spice and smooth caramel linger on your tongue.
Woodinville Cask Strength Single Barrel Bourbon 
Woodinville Whiskey Company is a distillery out in Washington State that makes a range of bourbon and rye whiskeys. They're also not afraid to be a little different, as evidenced by their single barrel release. Each barrel gets bottled as its own expression with no blending, no aging, just an age stated on the label. And each bottle is individually numbered too.
The nose is fairly light and inviting considering the Cask Strength. It starts off with dark and dense caramel, vanilla, and light oak followed by more intense earthiness from the rosemary. It's almost like a forest of rosemary smells. The apricot and baked apples come through next and they carry a lot of cinnamon. 
The Woodinville Cask Strength Single Barrel Bourbon is a very fine and complex small batch of bourbon. The nose begins with caramel sweetness which gives way to rosemary, thyme, licorice root, roasted oak, and more. The taste follows immediately as apple, peach, roasted almonds, and cinnamon ride above caramel sweetness and finishes with a moderate burn.
Willett Family Estate 4 Year Rye Whiskey
This whiskey is from Kentucky and made by distiller Willett at one of their two Kentucky locations. This is not a blended whiskey, it's all-grain, 100% rye made at the Bernheim Distillery (located in Louisville, Kentucky).
Willett 4 Year Rye greets me by wafting me in licorice and honey with dark berries, anise, fennel, caraway seed, darker blood orange, hints of burnt bread crust, and dry tea leaves, and some gin botanicals. I really like this nose for sipping neat or using in cocktails.
The flavor is also remarkable. Sharp rye upfront with a lot of pepper and herbal notes, but it stays sweet and smooth, rather than getting really spicy or bitter. There's a little vanilla sweetness in there, as well, but it's primarily spicy rye forward.
The Verdict
I'm not gonna sugarcoat it for you, Old Grand-Dad 114 might not be for everyone. Its 114 proof can definitely come through, but it does leave the flavors of the other ingredients coming through strong as well. It has a long, rewarding finish that leaves me wanting just a little bit more every time I finish my glass. 
FaQ
Is Old Grand Dad 114 Worth the Money?
It is a storied whiskey and one of the most popular ones in its line. It is a quality bourbon, and if you are about to buy it, you won't regret it. 
How Much Is a Bottle of Old Grand-Dad 114 Bourbon?
The cost per bottle of this whiskey makes you a bargain. It will set you back 25-35 bucks, which is a good deal.
Does Old Grand Dad 114 Increase in Value?
This line of whiskey has been around for a long time and has always been good for a cheap high-proof bourbon fix. It's one to grab up for your collection sooner rather than later because this bottle will probably go the way of most other cheap high-proof bourbons — outta sight, outta mind, and out of the market.
Is Old Grand Dad 114 Better Than New Riff Single Barrel Bourbon?
If you like a simpler bourbon flavor without as much of that barrel taste, the Old Grand Dad 114 is a great choice. It's pretty smooth and has an easy-going sweetness to it that even non-whiskey drinkers seem to like. If the New Riff Single Barrel Bourbon has too much of an aftertaste for you, this might be a good middle ground.
What Makes Old Grand Dad 114 Special?
The heart of American whiskey culture, the high-rye mash bill provides a dry, spicy mouthfeel and a peculiar aroma. The high-rye mash bill in the Old Grand Dad 114 makes for a different flavor than your typical wheated bourbon. With rye whiskey all the rage these days, this comes off as a serious entry. This is a bourbon that's manly and straightforward, but also friendly and approachable.