| | |
| --- | --- |
| Distillery | McCormick Distilling |
| Type&Region | Missouri, USA |
| Alcohol | 40% |
| Composition | Mashbill of at least 80% corn |
| Aged | 3 years |
| Color | Pear juice |
| Price | $20(750 ml) |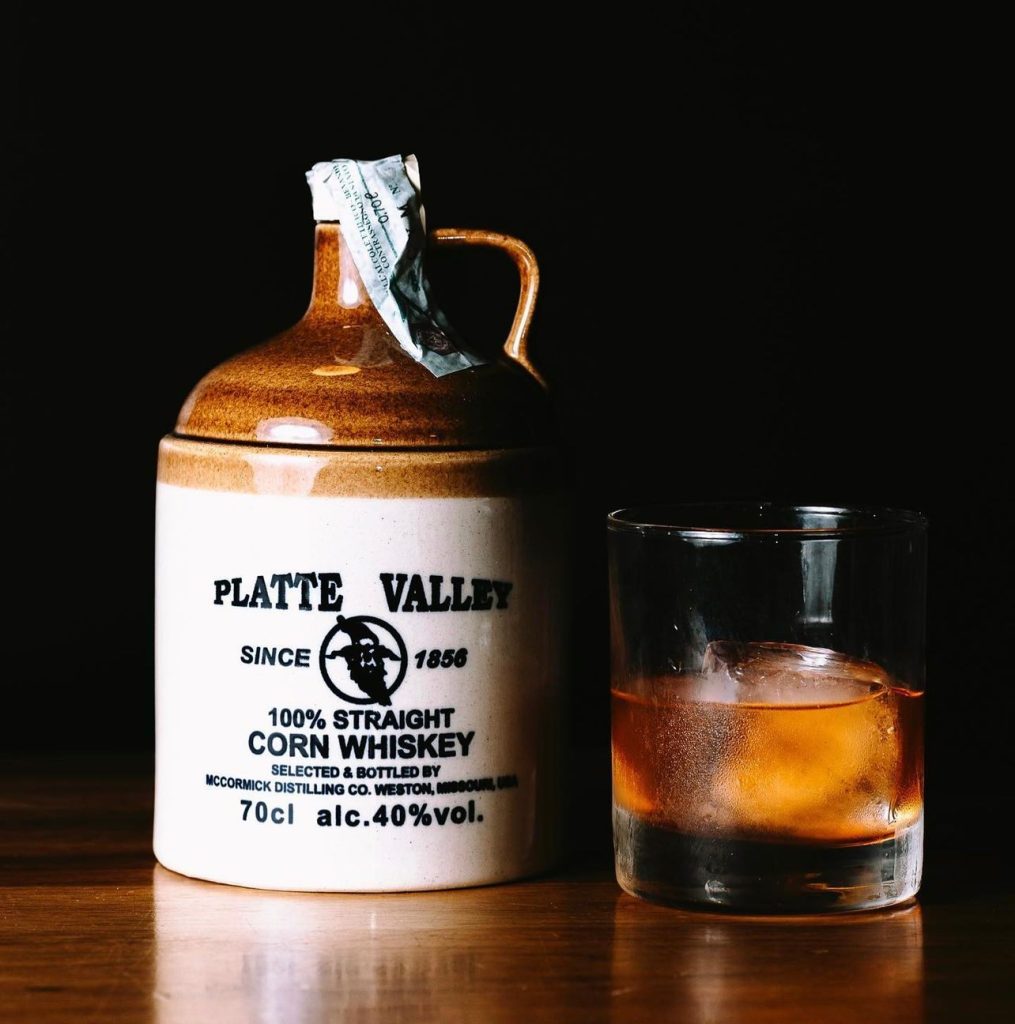 The Art of Making
Platte Valley Corn Whiskey is made using a unique process of fermentation and distillation that makes it stand out from other whiskeys on the market. The mash used to make this whiskey is made from corn, rye, barley malt, sugar cane, and yeast. This mash is then fermented for several weeks in oak barrels before being distilled twice in copper stills. After distillation, the finished product is filtered through charcoal for further refinement before being aged for up to four years in charred oak barrels.
The Aging Process
The aging process plays an important role in developing the flavor profile of Platte Valley Corn Whiskey. During maturation, this whiskey absorbs many flavors from its environment such as vanilla, caramel, oak tannins, and spices. As time passes, these flavors become more pronounced until they reach their peak after four years when they are finally bottled and sold to consumers.
Tasting Notes
NOSE: An undeniable combination of corn, vanilla, strawberry gummies layered with a hint of spice and caramel creates an ideal balance that is neither too strong nor noticable. It's just enough to tantalize the tastebuds without any off or spirity notes derailing its soothing taste experience.
PALATE: Enjoy a combination of sweet corn, aromatic vanilla, succulent fruits and subtle spices. The taste profile is like a delicious blend between tropical and orchard fruit – think banapple with an extra nutty twist!
FINISH: In an instant, a burst of sweet aromas fills the air with notes of corn, vanilla and dried fruit before quickly evaporating.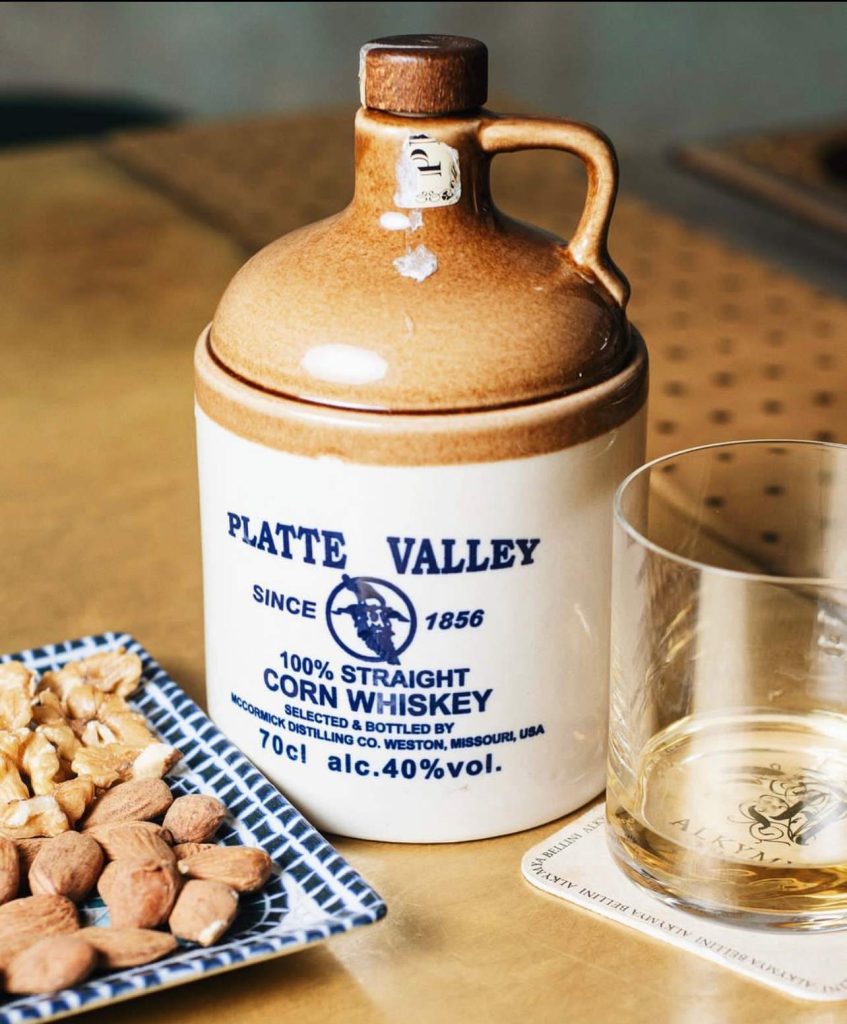 A Brief History of Platte Valley Corn Whiskey
Platte Valley was first produced in 1891 by the Glaab Distillery in Weston, Missouri. The distillery was founded by Henry Glaab and his sons who had emigrated from Germany in 1883. The original recipe for Platte Valley was based on a traditional German grain distillation process using corn mash as the main ingredient. The distillery's success encouraged Glaab to expand production and open new locations all across Missouri and Kansas.
Platte Valley became incredibly popular during the Prohibition era because of its high quality, smooth taste, and low price point. When other companies were forced to shut their doors due to prohibition laws, Platte Valley survived thanks to its popularity with bootleggers who smuggled it across state lines. When prohibition ended in 1933, Platte Valley continued to grow and eventually became one of the most popular whiskeys in America.
The Top 3 Cocktails Made with Platte Valley Corn Whiskey
Old Fashioned
For those who prefer their cocktails on the stronger side, there's the Old Fashioned. Begin by muddling two dashes of Angostura bitters and one teaspoon of sugar in an old-fashioned glass until combined. Add two ounces of Platte Valley Corn Whiskey and stir until dissolved, then fill up the glass with freshly cracked ice cubes before stirring again for about 30 seconds or so. Finally, garnish with an orange peel twisted over the drink to release its essential oils onto the surface before dropping it into the glass – enjoy!
Manhattan
The Manhattan is another classic whiskey cocktail that's sure to please even picky drinkers. To make it, combine two ounces of Platte Valley Corn Whiskey (or any other good quality whiskey), one ounce sweet vermouth, and two dashes angostura bitters into a shaker filled with ice cubes before shaking vigorously for about 30 seconds or so until chilled through. Strain into a martini glass (or any other suitable glass) filled halfway up with fresh ice cubes; finish off by garnishing with either a maraschino cherry or an orange peel – your choice!
Whiskey Smash
This refreshing summertime cocktail will be sure to hit all the right spots after a long day in the sun! Begin by muddling 10 mint leaves in a rocks glass until they release their essential oils (about 30 seconds should do). Fill up half way up with crushed ice before adding 2 oz Platte Valley Corn Whiskey; stir gently before topping off with more crushed ice if needed – enjoy!
Conclusion
Ultimately, there's no better way to experience the rich flavors of Midwestern craftsmanship than with Platte Valley Corn Whiskey. Whether you like your spirits neat or prefer them shaken up in cocktails, this smooth yet robust spirit offers something for everyone. If you haven't tried this American gem yet, what are you waiting for? Pick up a bottle today and discover why this small-batch whiskey has become one of America's best-kept secrets!