| | |
| --- | --- |
| Distillery: | Redbreast / Midleton |
| Type & Region: | Irish Whiskey, Republic of Ireland |
| Alcohol: | 55.8% |
| Composition: | 100% barley, malted and unmalted |
| Aged: | 12 years in ex-bourbon and ex-sherry barrels |
| Color: | 1.3/2.0 on the color scale (russet muscat) |
| Price: | $70-90 (750ml) per bottle |
About Redbreast 12 Cask Strength
Redbreast is an Irish whiskey brand that was first distilled in the 1970s. While the brand has ties to Gilbey's, it is currently produced by Irish Distillers (aka Jameson). And in fact, the Redbreast 12 casks-strength is a blend of whiskies from Midleton, Co. Cork, and a column still grain whiskey from the Cooley Distillery in County Louth. Cask strength means that it's bottled straight from the cask, no additional water is added due to the high alcohol content. Usually, Irish whiskey is diluted before bottling and only a few bottlings are released in Cask Strength.
Redbreast 12 Cask Strength Irish Whiskey is triple distilled in copper pot stills and aged in first-fill Olorosso sherry casks. The 57.2% alcohol by volume spirit is non-chill filtered and bottled at full strength.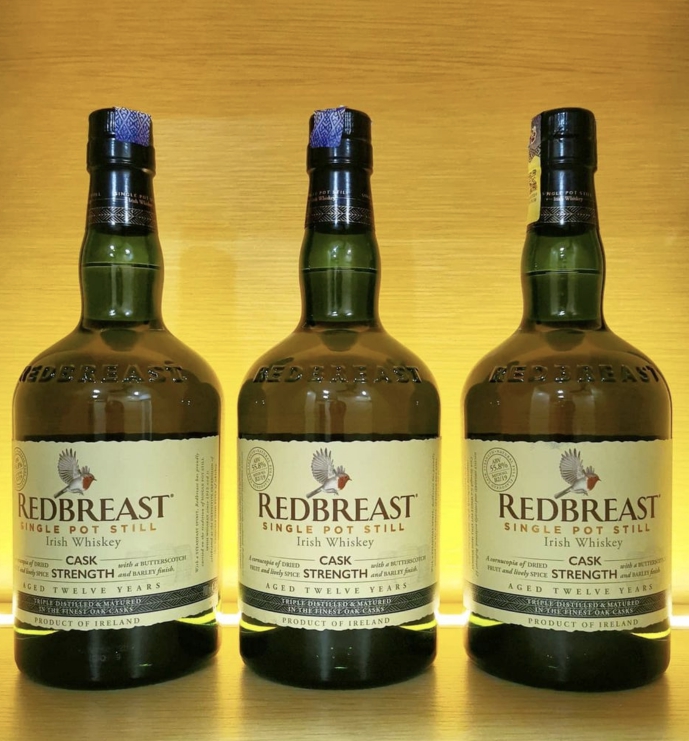 Color
The appearance is the first impression, and often a very crucial part of the first encounter with a whiskey. The Redbreast 12 Cask Strength comes in a squat, green-tinted bottle. When poured, the whiskey suggests a slightly pale russet with a deep ruby glow. The crests that form at the top of the oily sheen inside the glass, once you begin to tilt it and give it a slow twirl, don't let go of their droplets willingly. A few thin leglets formed, but most of the crest remained attached.
Smell
On the nose, there's a combination of caramel-filled and fruity aromas from the Irish Pot Still Whisky and sherry barrel. The initial aroma is rich with a combination of caramel and fruity notes (cherries, raisins, plums). 
Once you swirl the whiskey, you get a lot of caramel and citrus, followed by vanilla, apple, date, and berry. It then opens up to reveal fragrant roasted oak, cinnamon, and hay. As I sniff further, I discover that a hint of oak has joined the spicy aroma, adding a touch of brown sugar and toffee. Then I notice an orange peel-like scent that is growing even stronger. The cereal grain and malt flavors in this dram bring to mind honey-flavored graham wafer cookies. The glass and its contents breathe out in a satisfying way. I let the whisky rest in the glass for ten minutes, and when I returned I noticed that the rich scents and aromas had become even more pronounced. Let's take the first sip. 
Flavor
The first taste overwhelms my palate with oak and spice. It has a lot of sweet tasting notes, like honey, vanilla, orange, grapefruit and apple cider, berries, and plum. It also has hints of roasted oak and cinnamon. A creamy pot still influences mingles with other flavors: sweet marzipan, malty cereal, robust grain aromas, and hints of honey cover graham crackers.
As I sip the whiskey, I can taste its firm rum-like presence. Sweet, dried fruit and a hint of rum-like spice draw me back to my New England roots, reminding me of Privateer rum and the caramel-oakiness of bourbon. The sweet baking spices and vanilla have combined with a light caramel sweetness to bring out the Demerara-like quality of the whiskey. 
Finish
The aftertaste starts off with a pleasant oakiness and sweetness, which is then followed by orange, plum, and dried grass flavors. This whiskey lingers for a long time after it goes down and the combination of strong pot still whiskey flavors, along with the potency of cask-strength whiskey, makes it so that even 20 minutes after swallowing it I can still taste the rich flavor.
Redbreast 12 Cask Strength Alternatives
When it comes to Irish whiskey, each year seems to bring out new releases from old favorites and new whiskey brands alike. I'm here to help with a guide to the best Redbreast 12 Cask Strength alternatives on the market.
Jameson 12 Distillery Reserve
This is a special edition product that can only be purchased in Dublin at the Jameson Distillery or in County Cork at the Midleton Distillery, where all the distillation and aging happens. Unlike most Irish whiskies, when the pot still's raw spirit goes into a European oak sherry cask, it's married with its own unaged whiskey. 
It's a fruit-forward Irish whiskey with the unmistakable and noticeable smells of cherries, dates, prunes, caramel, and honey from the whiskey aged in oloroso sherry butts. It tastes delightful and full-bodied to leave your mouth watering for more.
The first thing you notice is the sherry. It's not present in the nose, but it is in your mouth. Jameson 12 Reserve has a sweet taste to it with a mix of dates, prunes, malted barley, and raw cocoa powder. The fruity taste is lightly spiced with cinnamon, nutmeg, and cloves. Jameson has done an exceptional job of producing the J12. 
The Irishman Founder's Reserve
The Irishman Founder's Reserve is an Irish whiskey sold by Walsh Whiskey, founded in 1999 interestingly as an Irish Coffee company. Although they have a reputable presence, the source for their whiskey has been a point of contention from various sources.
The nose is epic. It's long and complex, hits your senses like a brick, and dances like a snake in the breeze. At first whiff, you will probably get a scent of pineapples and canned pineapple juice, but that's just the beginning.
The Irishman Founder's Reserve begins with touches of honey, vanilla, and pineapple. As the scent deepens, the nose detects underlying notes of grassy cocoa from malted barley and just enough wood and cinnamon to prevent the scent from being overly sweet. "Сhewing" reveals the flavors transformed with a bit of texture, making chocolate and honey taste sweeter, vanilla flowery, lemon and lime more refreshing, and the roasted barley more earthy.
West Cork Single Malt Single Cask Rye Finish Irish Whiskey
This is some interesting whiskey. At its heart, this whiskey is a single malt (100% malted barley) Irish Whiskey, but then it's finished in a single rye cask for at least 18 months (the obligatory time for all whisky to spend in new oak). This gives the final product a spicy kick that really helps soften the flavor of the high-rye mash bill used. It's a wonderful drop.
On the nose, it starts off with dark sorghum syrup, dense vanilla, licorice, fennel, quite a lot of green grape, toasted oak, pumpernickel bread, fresh spring greens, prune, floral citrus, and brighter cherry. The Irish whiskey comes through with some spicy and warm baking spice notes, as well as subtle curry notes.
Taste is initially sweet before balancing nicely towards the spice component with a long medicinal and fruity finish. A strong whiskey that should appeal to lovers of darker spirits. I noticed a dark and slightly earthy sweetness after "chewing." It tastes herbally sweet, slightly toasty with licorice, fennel, dark sorghum syrup, and roasted oak. At the finish, you will also taste the green grape, rosemary, and thyme.
The Verdict
Even among single malt whiskeys, Redbreast 12 Cask Strength is a standout. It embodies characteristics — flavors and aromas — reminiscent of bourbon as well as rum. Aged in ex-bourbon oak barrels, this single malt whiskey is lightly oaky, toasty, and wood-spicy. With hints of toasted cinnamon buns and wood spice, Redbreast 12 Cask Strength may be the most to-go single malt whiskey out there.
FaQ
Is Redbreast 12 Cask Strength Worth the Money?
Though it's a bit pricey, I recommend it for the Irish Whiskey connoisseur. Its quality is better than its cheaper counterparts, and it's not as hard to find as other high-quality Irish Whiskeys.
How Much Is a Bottle of Redbreast 12 Cask Strength?
The cost of a bottle of this remarkable Irish whiskey falls between $70 and $90. Some may find it a bit over the budget. However, if you can afford to buy it in your local liquor store, you won't regret it.
Does Redbreast 12 Cask Strength Increase in Value?
Whiskey is rising in popularity. With the increase in demand, bottles of whiskey do command premium prices. One example of this comes from Irish Distillers, who are releasing such an ultra-premium whiskey as reviewed. The drink is said to be so high in quality, it will rise in value and sell at a much higher price than its current price tag.
Is Redbreast 12 Cask Strength Better Than Jameson 12 Distillery Reserve?
While single pot still Irish whiskeys like Redbreast are quite different than blends, such as Jameson, both are deliciously sipped slowly after dinner or with friends. If you prefer a single-pot still whiskey, try Redbreast; if you prefer a blend of pot-distilled malt whiskey and grain whiskey, then Jameson is your choice. It's important to remember that this whiskey is what's called cask strength, which means it's extra-potent, which indicates a high alcohol content, not a stronger flavor.
What Makes Redbreast 12 Cask Strength Special?
This whiskey is one of the more oaky and woody whiskeys out there. It doesn't have the sweetness typical in other single malts. Besides, I've never tasted a single malt whiskey with that toasted cinnamon-bun flavor. This whiskey is a unique experience, having been aged in Ireland to create its flavor.