| | |
| --- | --- |
| Distillery | Wild Turkey |
| Type&Region | Kentucky, USA |
| Alcohol | 55,5%  |
| Composition | 75% Corn, 13% Rye, 12% Malted Barley |
| Aged | NAS (78% 6 yo Bourbon, 22% 4 yo Rye) |
| Color | Amber |
| Price | $50(750 ml) |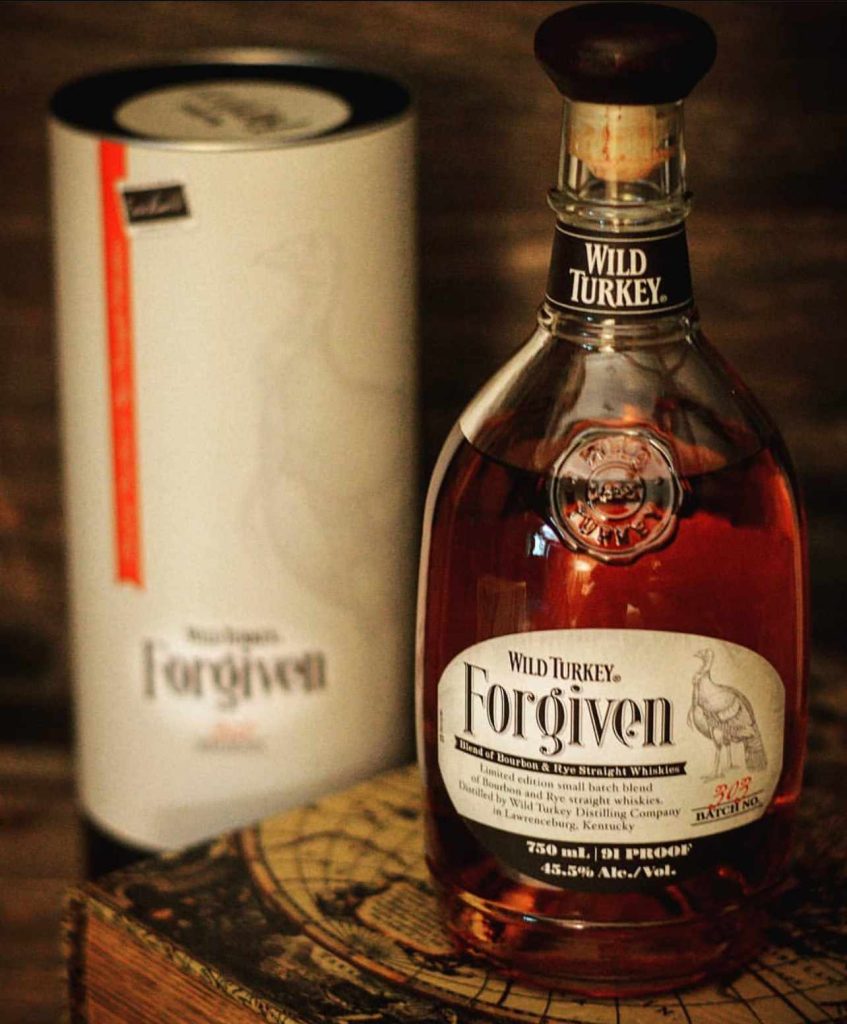 The Art of Making
Wild Turkey uses a unique process to create the perfect blend for its Forgiven whiskey. First, they use freshly-distilled corn mash with natural yeast to create the base spirit. This base spirit is then aged separately in new American white oak barrels and used bourbon barrels for 8-10 years. After aging, the whiskeys are blended together to create the unique flavor of Wild Turkey Forgiven. 
Once blended, the whiskey is then put into custom-made charred oak barrels and allowed to rest until it reaches peak flavor. During this resting period, the whiskey begins to pick up notes of vanilla, caramel and spice from the charring process. Once resting is complete, each barrel is hand-selected by master distillers to ensure that only premium quality whiskey makes it into every bottle of Wild Turkey Forgiven.  
The finishing touches on Wild Turkey Forgiven are where all the complexity really comes out in this premium whiskey blend. To complete production, each barrel is tasted one last time before bottling and any imperfections are removed so that only top quality spirit makes it into every bottle of Wild Turkey Forgiven. Once approved for bottling, each batch of whisky is hand signed by Eddie Russell—the master distiller responsible for creating this unique blend—ensuring that every bottle contains his personal touch and seal of approval! 
Tasting Notes
NOSE: The bouquet of this bourbon is an opulent blend of caramel and dessert notes, which give way to a pleasant rye spice. Sparklingly fresh with hints of citrus, vanilla, cherries and ripe orchard fruits alongside cinnamon – this bourbon will delight your palate!
PALATE: As you savor this unique blend, the tantalizing notes of rye spice and Wild Turkey come first. Subsequent nuances include caramelized flavor, orange zestiness, peppery warmth, a touch of leathery robustness along with chocolate richness as well as a subtle melon sweetness – all rounded off nicely with an overarching nutty overtone.
FINISH: Boasting an assertive rye spice and oak start, this long dry finish evolves into a smooth caramel syrup.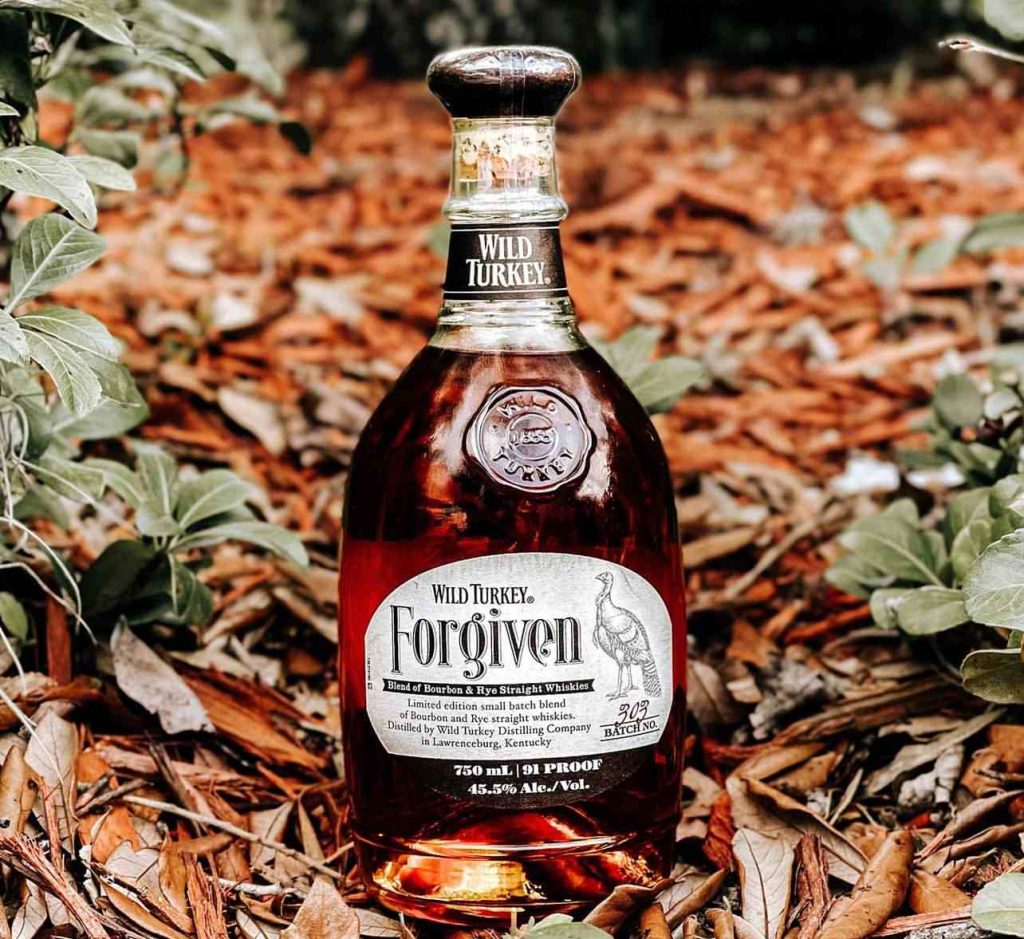 Exploring the History
of Wild Turkey Forgiven
Wild Turkey Forgiven was created by accident in 2009 when Eddie Russell, Master Distiller at Wild Turkey, decided to experiment with a new whiskey blend. He wanted to combine two different whiskeys—one made from rye and one made from corn. However, when he added the rye whiskey to the corn whiskey in the barrel warehouse, something strange happened: the liquid turned pink! This phenomenon had never been seen before in Kentucky bourbon production—or anywhere else for that matter. 
The Story Behind Its Name 
Eddie Russell was both perplexed and intrigued by his accidental discovery, but he decided to keep experimenting with it anyway—and eventually came up with a product that he was very happy with. He named it "Forgiven" because of how much trial and error had gone into its development. After all, if it weren't for persistent experimentation and a bit of luck, there would be no such thing as Wild Turkey Forgiven! 
Wild Turkey Forgiven Cocktails 
The Fiery Mule 
A classic mule cocktail with an extra zing, the Fiery Mule is perfect for those who enjoy a bit of spice in their drinks. Combine two ounces of Wild Turkey Forgiven, one ounce of lime juice, and half an ounce of jalapeño simple syrup in a shaker full of ice cubes. Shake vigorously and strain into a rocks glass filled with fresh ice. Top off with ginger beer and garnish with a lime wedge to complete this tasty treat!  
The Red Snapper 
This spicy twist on the classic Bloody Mary is sure to be a favorite among your friends! Start by combining one and a half ounces of Wild Turkey Forgiven, four ounces of tomato juice, one teaspoon Worcestershire sauce, quarter teaspoon celery salt, and quarter teaspoon ground black pepper in a shaker full of ice cubes. Shake vigorously and strain into an ice-filled highball glass. Garnish with lemon slices and celery stalks to complete this savory cocktail.  
The Smoked Manhattan 
For those who appreciate the smoky nuances that whiskey can bring to a drink, this Smoked Manhattan will be right up your alley! Start by adding two ounces of Wild Turkey Forgiven, three quarters ounce sweet vermouth, two dashes angostura bitters, and three drops liquid smoke flavoring into an old-fashioned glass filled with ice cubes. Stir until chilled and strain into a martini glass. Garnish with an orange peel to complete this flavorful concoction! 
Conclusion 
Wild Turkey Forgiven Whiskey is truly one-of-a-kind—both in terms of its story and its flavor profile! Its smooth taste combined with notes of honeyed fruit, baking spices, and oak make it perfect for both sipping neat or adding into your favorite cocktail recipes. So if you're looking for something interesting yet delicious next time you go out for drinks or want to keep some in stock for your home bar collection – don't forget about Wild Turkey's incredible Forgiven Whiskey!