| | |
| --- | --- |
| Distillery | Wild Turkey |
| Type&Region | United States |
| Alcohol | 40%  |
| Composition | mix of 75% corn, 13% rye, and 12% malted barley |
| Aged | over 8 years  |
| Color | Gold |
| Price | 40$ (750 ml) |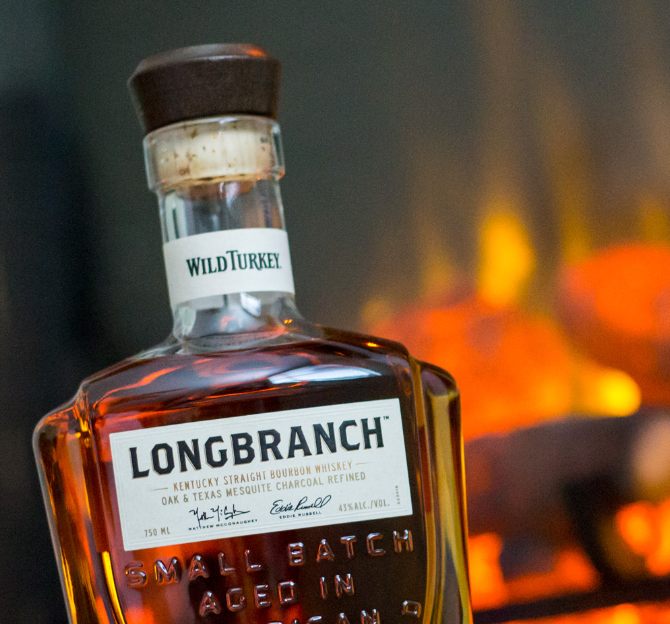 The Art of Making 
Wild Turkey Longbranch is made using only two ingredients – eight-year-old Kentucky Straight Bourbon Whiskey and Texas Mesquite Charcoal Filtering. The charcoal filtering process gives the whisky its distinctive flavor. First, eight-year-old Kentucky Straight Bourbon Whiskey is filtered through ten feet of Texas Mesquite Charcoal, which softens its flavors without losing any of its characters. Afterward, it is combined with the same whiskey that was used for its original barrel aging, giving it a unique blend of flavors. 
The Aging Process 
Once the whisky has been blended, it goes through a rigorous aging process in new white oak barrels that have been charred to enhance their flavor. The barrels are then filled with the blended whiskey and left to age for six months in special warehouses. This aging process helps further develop the distinctive smoothness and robust flavors found in Wild Turkey Longbranch whisky. Finally, after six months of aging, each barrel is inspected by Master Distiller Eddie Russell for quality before being bottled and distributed worldwide for your tasting pleasure.
Tasting Notes
NOSE: Delectable dark sweets with a heavy caramel base, such as maple and brown sugar, are complemented by fragrant notes of char, vanilla, cinnamon oil, and pepper for an unforgettable flavor. To add to the complexity of this indulgence are hints of roasted corn along with oak and fruit undertones.
PALATE: Rich, velvety caramel and butterscotch. Sweet corn laced with subtle hints of oak. Warm cinnamon spice interlaced with cocoas and leather. Singular notes of vanilla and nuts add complexity to this delightful bouquet of flavors.
FINISH: Medium-sized treats such as sweet delicacies, corn, char, and nuts are a delectable combination.
Exploring the History of Longbranch 
Longbranch was first released in 2018 after two years of development between Matthew McConaughey and Eddie Russell, the master distiller at Wild Turkey. The goal was to create a unique blend that celebrates the spirit of Texas. The result was an 8-year-old Kentucky Straight Bourbon Whiskey with distinctive flavors of oak, leather, and tobacco. 
The name "Longbranch" comes from a term used by cowboys in the 1800s to refer to a ranch that was situated near running water, such as a river or stream. This type of ranch was particularly desirable due to its easy access to clean drinking water and abundance of wildlife—ideal for raising livestock. It captures the spirit and flavor profile of American resilience and grit that is also found in Wild Turkey's whiskey portfolio.
The Perfect Cocktails for Wild Turkey Longbranch Whisky 
The Boulevardier 
This classic cocktail is sweet yet still has a bit of a kick, thanks to the whiskey. It's made with equal parts Campari, sweet vermouth, and Wild Turkey Longbranch Whisky. Shake them all together in an ice-filled shaker, strain them into a martini glass, and garnish with an orange twist. Enjoy! 
The Manhattan 
The Manhattan is one of the most popular cocktails out there, and it just so happens to be made with Wild Turkey Longbranch Whisky as well! To make it, combine two ounces of Wild Turkey Longbranch Whisky, one ounce of sweet vermouth, and two dashes of Angostura bitters in an ice-filled shaker. Shake until cold (about 20 seconds) and strain into a coupe glass. Garnish with a brandied cherry if desired. Delicious! 
The Old Fashioned 
If you want something that packs more punch than the other two options above, then an Old Fashioned might be just what you need. To make it, muddle an orange wedge with one teaspoon of sugar in the bottom of an old-fashioned glass until the orange releases its essential oils. Add 2 ounces of Wild Turkey Longbranch Whiskey along with two dashes of Angostura Bitters, stir to combine everything together, fill up the glass with ice cubes, and garnish with another orange wedge if desired. Enjoy!