| | |
| --- | --- |
| Distillery: | Woodford Reserve (Brown Forman) |
| Type & Region: | Bourbon, Kentucky, USA |
| Alcohol: | 45.2% |
| Composition: | 72% corn, 18% rye, 10% malted barley |
| Aged: | NAS, aged in virgin American white oak then finished (double oaked) in another virgin American white oak cask |
| Color: | 1.7/2.0 on the color scale (burnt amber) |
| Price: | $50-60 MSRP (750 mL) per bottle |
About Woodford Reserve Double Oaked 
Woodford Reserve Double Oaked is given second aging in an equally charred oak barrel which supposedly gives a richer, deeper flavor by marrying the flavors of both barrels' contents. As opposed to other (current) all-barrel finishes, this bourbon is not put into a regular 55-gallon new charred oak barrel but uses barrels built the same way as the ones they use for their Barrel Select and Kentucky Spirit single barrel bourbons.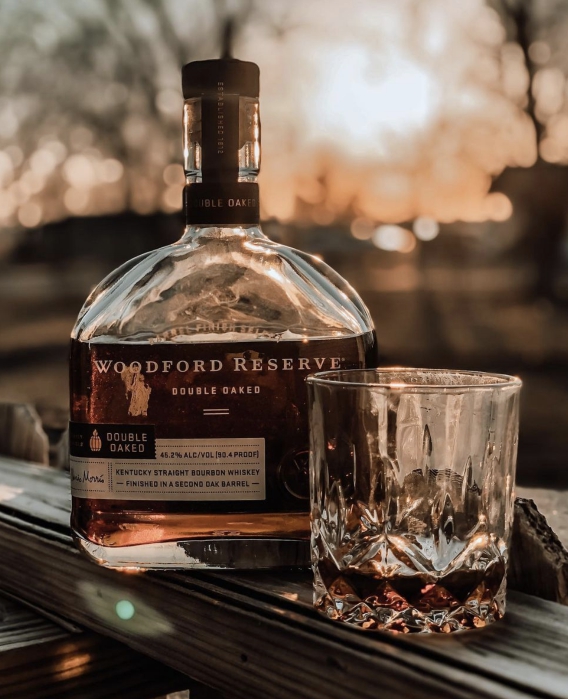 Color
At first glance, the appearance of a Double Oaked bourbon is surprisingly dark, a color bordering on a solid block of dark chocolate. The bourbon looks like very old whiskey. The color of Double Oaked is quite dark for a bourbon. The dark amber tint permeates the liquid and gives it more of a brown hue than that of regular Woodford Reserve, but it retains the lighter amber coloring at the edge of the liquid, where the light enters more easily. 
​​Smell
The nose gives off notes of dark chocolate, vanilla, and molasses. I could definitely tell this was a Woodford product just by taking a sniff — it has that signature oaky aroma. Hints of mint and cinnamon can also be detected but are subtle compared to the other aromas. It's like a chocolate bar made by blending milk chocolate with coarsely ground coffee beans, ground cinnamon and nutmeg, chopped maraschino cherries, and a squirt of vanilla extract.
Of course, alcohol also comes to mind. However, after that initial blast of alcohol subsides, this bourbon starts to show its true colors (which may be shocking if you never expected anything beyond the alcohol punch). It's velvety ripe with rich oak, orange zest, some caramel, brown sugar, and a suggestion of hazelnuts in the background. 
Flavor
This is a rich and flavorful sipping whiskey, yet it's so smooth. The first experience of the whiskey is sweet, with brown sugar and cherries — much like the scent. There are times when the taste is soggy, like chocolate doused in skim milk or cereal milk infused with cocoa pebbles.
The second part of the vanilla, chocolate and the faint hint of cherry from the nose erupts onto my palate. I don't know if it's a result of a lot of charred oak casks in their aging, but the chocolate isn't sweet enough to compensate for the bitterness and dryness that sets into my mouth after tasting libations like these.
The second third starts with some honeycomb and then I get a bit of vanilla. After the second third, it's now rather creamy and actually smooth, with powdered chocolate cake-like tasting notes. 
Finish
In the aftertaste of this bourbon, you will notice that it is dominated by light oak bitterness and milk chocolate. It is a little thin and milky like skim milk — not so dark and dense. It's still sweet, but the sweetness has a much deeper rich caramel, chocolate character to it—and it's overlaid with a gentle bitterness that reminds me of the bittersweet herb called gentian (which I know as Kamille). This comes from the presence of both sugarcane spirits and wood aging in this whiskey.
Woodford Reserve Double Oaked Alternatives
Woodford Reserve is all about keeping things simple and letting the basic, natural ingredients drive the final product. But sometimes you want to go above and beyond. You want that extra something in your whiskey. That's when alternatives come into play.
Michter's Toasted Barrel Finish Sour Mash
For bourbon fans, Michter's Toasted Barrel Finish Sour Mash Whiskey is an interesting new offering. Toasted barrels are very commonly used by Kentucky distillers to impart a vanilla note to their whiskies. The wood of charred oak is rich in vanillin, the characteristic flavor and main constituent of the extract of various vanilla orchids. The use of charred wood allows for greater extraction of vanillin from the oak. 
Michter's Toasted Sour Mash leaves a nice first impression with honey, mint, and oak with subtle bready notes. I can sense that extra oakiness, but it's not in the form of extra darkness (such as what older bourbons have). There's also a bit of interesting smokiness that comes out to round this bourbon out.
Michter's Toasted Barrel Finish Sour Mash is extremely soft, almost as if it were blended or mixed with a touch of water. Except for a speckle of small bitter barrel char, it's very nearly sweet. There are honey and nutty notes with medium sourness and hints of green apple sour that are chased with a dash of coffee grounds.
Fighting Cock Bourbon
If you are a bourbon enthusiast then you should give Fighting Cock Bourbon, made by Heaven Hill Distillery, a try. It is not for the faint of heart because it's a full-bodied, sweet bourbon that even non-bourbon drinkers might enjoy. 
The nose on Fighting Cock bourbon is simple but enjoyable. Light wispy vanilla in the front along with a nice sweet corn smell, and a hint of oak. It smells young, overall, light, and not very complex scent-wise. 
The same notes carry into the palate along with some nice honeycomb and buttery caramel, lightly charred oak (surprising for 43% ABV), and a few fresh grains in the finish. The taste lingers on your palate like the bold mark of a true Southern gentleman.
Elijah Craig Barrel Proof
What is the best way to describe Elijah Craig Barrel Proof? Well, maybe the facts behind it. The best barrels from Heaven Hill (which owns the Elijah Craig trademark) are selected and set aside to only be bottled at barrel proof. The fine folks at Heaven Hill are pretty secretive about their process, but if you have a $50+ bottle on your hands, that's a good sign that there's something special inside.
The nose on this bourbon is very immediate and deep — maybe even intense. It's rich with plums and cherries, intense roasted wood, pine needles, and moderate alcohol for being 126.2 proof. There is also a noticeable amount of honey, caramel, and peanuts in this bourbon.
The first taste explodes with mint spice, brown sugar, corny sweetness, and peanuts. The mint and spice are especially prominent, bringing to mind gin's botanicals. The palate is much stronger than you'd expect, but it's well balanced against the strong sweetness of the nose. Strong alcohol flavors follow the sweetness and create an almost syrupy mouthfeel. Towards the end of each sip, you'll notice a dryness that reminds you of black tea as you get to the last drops in your cup.
The Verdict
Woodford Reserve Double Oaked is a unique bourbon with an interesting boilermaker-inspired story. The bottle itself is well crafted, with eye-catching art on the label and a classy cork stopper. ​​In the end, I think most people will enjoy this bourbon. It's different from other whiskeys and offers a unique experience — clearly something to drink neat or even on the rocks (or with Coke). As I come to the end of this bottle of Woodford Reserve, I raise my glass one final time to celebrate the flavor and memories this bourbon has given me. 
FaQ
Is Woodford Reserve Double Oaked Worth the Money?
I'm all about saving money, but in this case, you should spend a little extra. I've always been one to buy cheap liquor and avoid the fancy stuff that I don't particularly like. But when it comes to Double Oaked, it is worth every penny.
How Much Is a Bottle of Woodford Reserve Double Oaked?
The cost per this Double Oaked whiskey bottle is between $50 and $60 (depends on where you buy it). Everyone wants great value. It is no different when it comes to purchasing whiskey. At $50 a bottle, the Woodford Reserve Distiller's Select is a very good purchase.
Does Woodford Reserve Double Oaked Increase in Value?
My old man told me that whiskey only gets better with age and I'm inclined to agree. And with ​​Woodford Reserve, you might have an investment on your hands! The price for this bourbon does increase in value not only because you enjoy premium bourbon, but also because of the barrel used. 
Is Woodford Reserve Double Oaked Better Than Michter's Toasted Barrel Finish Sour Mash?
Both brands are produced in Kentucky and can be found just about everywhere you look. While both brands are extremely popular, each also has its own unique flavor profile. If you're like me and love to try new flavors and types of spirits, then I recommend checking out both Woodford Reserve and Michter's Toasted Barrel Finish Sour Mash. Those are both top-shelf, premium bourbons.
What Makes Woodford Reserve Double Oaked Special?
If you've ever developed a taste for bourbon, this Double Oaked bourbon is one that you have to add to your list if you haven't already. The flavor profile is something that makes this whiskey stand out among the rest. This special bourbon is crafted through a unique process that results in a liquid that stands out even in an industry filled with giants.